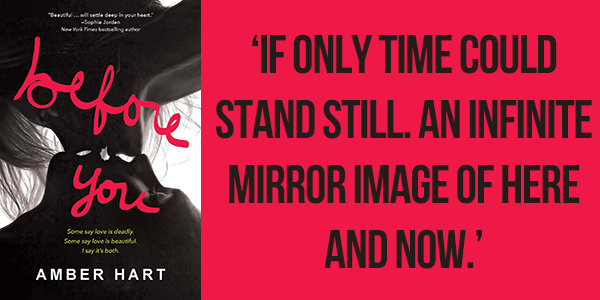 ABOUT THE BOOK
Before You by Amber Hart
young adult contemporary romance published by K-Teen on July 29th, 2014
first book in the Before & After series
Some say love is deadly. Some say love is beautiful. I say it is both.
Faith Watters spent her junior year traveling the world, studying in exquisite places, before returning to Oviedo High School. From the outside her life is picture-perfect. Captain of the dance team. Popular. Happy. Too bad it's all a lie.
It will haunt me. It will claim me. It will shatter me. And I don't care.
Eighteen-year-old Diego Alvarez hates his new life in the States, but staying in Cuba is not an option. Covered in tattoos and scars, Diego doesn't stand a chance of fitting in. Nor does he want to. His only concern is staying hidden from his past—a past, which if it were to surface, would cost him everything. Including his life.
At Oviedo High School, it seems that Faith Watters and Diego Alvarez do not belong together. But fate is as tricky as it is lovely. Freedom with no restraint is what they long for. What they get is something different entirely.
Love—it will ruin you and save you, both.