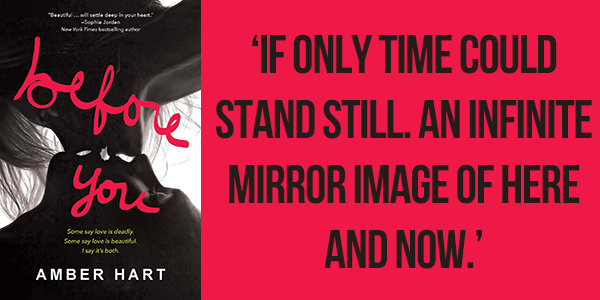 ABOUT THE BOOK
Before You by Amber Hart
young adult contemporary romance published by K-Teen on July 29th, 2014
first book in the Before & After series
Some say love is deadly. Some say love is beautiful. I say it is both.
Faith Watters spent her junior year traveling the world, studying in exquisite places, before returning to Oviedo High School. From the outside her life is picture-perfect. Captain of the dance team. Popular. Happy. Too bad it's all a lie.
It will haunt me. It will claim me. It will shatter me. And I don't care.
Eighteen-year-old Diego Alvarez hates his new life in the States, but staying in Cuba is not an option. Covered in tattoos and scars, Diego doesn't stand a chance of fitting in. Nor does he want to. His only concern is staying hidden from his past—a past, which if it were to surface, would cost him everything. Including his life.
At Oviedo High School, it seems that Faith Watters and Diego Alvarez do not belong together. But fate is as tricky as it is lovely. Freedom with no restraint is what they long for. What they get is something different entirely.
Love—it will ruin you and save you, both.
THE RATING
THE REVIEW
The blurb of Before You suggested a Perfect Chemistry like plot and I immediately wanted to read it. However, Before You turned out to be a typical, predictable contemporary romance with steamy bits that kept me mildly entertained. It delivered on the fluff part but, sadly, lacked in all the others. I went into Before You with every intention of loving it, but I was sorely disappointed.
Faith Watters wears a good girl mask. A mask put in place to save his father's reputation as a pastor which she thinks will be ruined if she lets her be herself. Her situation may be a bit complicated but her mindset has exaggerated it to the point of annoyance. When things start going against her, she rebels by going out to party and wearing clothes that actually show skin beyond her knees. Her father is somewhat uncomfortable, but wholly okay with the fact that it's time for Faith to own her choices. Faith thinks not, which is why all the reasons she's afraid to unmask herself got repetitive soon enough.
Diego Alvarez is trying to rebuild his life from scratch without any hope. In Cuba, he had to run away from an international drug cartel after a tragic incident and even though they think he died, he's still very much in danger of being recognized because of his tattoos branding him. So when members of the MS-13 gang try to recruit him, Diego is unsettled. He tries to blend in, live life the American way. However, when Faith catches him off guard, he throws caution the wind to try to get under her skin and make her take off her mask.
I enjoyed the way they both try to undermine each other just for the heck of it and try to slowly lose their inhibitions around each other; as it all made for a very interesting scenario. However, the story built up to a very unsatisfying end that just seemed so convenient for everyone involved. Moreover, the absurdity hasn't worn off yet and I doubt it ever will maybe because of the way it was all tied up so fast. Nevertheless, it could've been better.
Before You failed to impress me, plain and simple. Despite a fast read that I finished in a few hours and an engrossing story, I found Before You to be lacking. The unoriginal and bland writing was made worse with chock full of figurative language from absurd metaphors to silly similes. Before You is a lost potential since there's diversity in the book which is always a plus. I do look forward to reading After Us, as it's the story of Faith's and Diego's best friends, with the hope that I enjoy it more than Before You.
THE QUOTES
'Green, green, green if our envy, volatile and vain.
Blue, blue, blue is my soul, withering and chained.'

'My brain fights my heart, two organs separated by space and flesh, volleying shots back and forth, a war declared within. One will will. But somehow, I fear, as a whole I'll lose.'