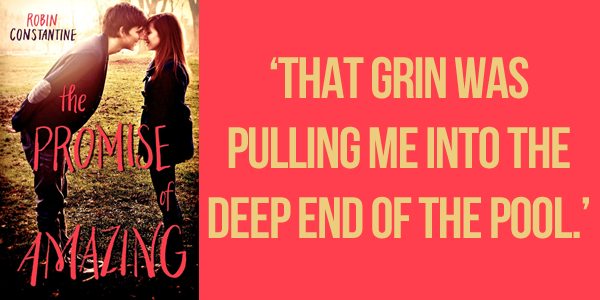 ABOUT THE BOOK
The Promise of Amazing
by 
Robin Constantine
young adult contemporary romance published by Balzer + Bray on December 31st, 2013
Wren Caswell is average. Ranked in the middle of her class at Sacred Heart, she's not popular, but not a social misfit. Wren is the quiet, "good" girl who's always done what she's supposed to—only now in her junior year, this passive strategy is backfiring. She wants to change, but doesn't know how.
Grayson Barrett was the king of St. Gabe's. Star of the lacrosse team, top of his class, on a fast track to a brilliant future—until he was expelled for being a "term paper pimp" Now Gray is in a downward spiral and needs to change, but doesn't know how.
One fateful night their paths cross when Wren, working at her family's Arthurian-themed catering hall, performs the Heimlich on Gray as he chokes on a cocktail weenie, saving his life literally and figuratively. What follows is the complicated, awkward, hilarious, and tender tale of two teens shedding their pasts, figuring out who they are—and falling in love.
THE RATING
THE REVIEW
At a glance, The Promise of Amazing seems to have everything: a girl who is at a crossroad about her future, a guy whose life sucks; then one day they meet and BAM. Yes, we've all read similar books. But what makes The Promise of Amazing so different and why did it fail to deliver on that particular difference it tried to make?
Cutesy romances being held back by conflicts are sweet and enjoyable only as long as they don't stray too far from the adorability factor. I was not comfortable reading The Promise of Amazing and had to cringe at several scenes. You see, Wren saves Grayson from choking at a wedding reception, where she's a waitress and is usually humiliated by being called the weenie girl (don't ask). If you were curious how it feels to save someone from choking, you don't have to be anymore.
According to The Promise of Amazing, the Heimlich maneuver is actually something to burn up thinking about because of just 'how intimately' you'd have already touched the person you saved. Moreover, it's actually okay to stare and subsequently puke at the person (or their shoes) who just saved your life a second ago and then be all, 'The distance between us closed, and it was just . . . her. And me. Calm in the chaos.'
All that under 50 pages into the book and it was enough to put me off of reading it. Alas, I couldn't, because I'd much rather cringe over the book than obsess over the fact that I DNF-ed said book. Suffice it to say that it all goes pretty much downhill from there on. The way of dealing with the main conflict is actually laughable and the characters manage to change for the worse as the story progresses.
The Promise of Amazing reinforces the fact that a cute cover and well err, a promise of an ever cuter romance can be misleading. The severely lacking, unrealistic romance, petty jealousies, weak conflict and weaker subplots upon subplots only made it harder for me to hold attention. Despite knowing that it's not possible to unread The Promise of Amazing, I really wish there was some way I could remove the memory of ever coming across the word 'brainathiminal' from my mind. Sorry book, you just turned out to be an epitome of disappointment for me.
THE QUOTE
'Everything kept changing so fast; I wondered if I'd ever catch up.'