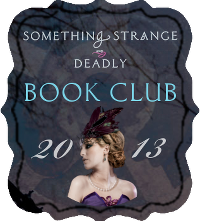 The other day Epic Reads decided to revamp their
Book Club
on Goodreads and picked up
Something Strange and Deadly
for the month of August. I decided to join in because I seem to need an extra bit of motivation when it comes to reading books set in the past. There are
pictures of 1876 Philadelphia
, first impressions of
Daniel Sheridan
and a discussion going on about
favorite characters in the series
.
Then I happen to discover that Susan Dennard also started her own
book club
for both the books in the Something Strange and Deadly series. It's a lot of fun because there's happen to be discussion questions going up every Monday and there's also participation and weekly giveaways (if you want to participate,
click here
).
Onto week four discussion question:
"'Eleanor, you have a choice,' [Jie] said softly. 'You always have a choice'" (p. 166, Something Strange & Deadly)
How do you think this quote relates to the overall theme of Something Strange and Deadly? Do you think Eleanor behaves as if she has a choice at the start of the book? What about at the end of the book? And do other characters behave as if they have a choice or do some see themselves as victims of circumstance?
I believe that the overall theme of Something Strange and Deadly are choices. One of my favorites quotes from the book is about choices and by Eleanor:
"The fault is not in our stars," I whispered to the ceiling. "But in ourselves. This was my choice."
At the start of the book, Eleanor does believe that she has a choice. An ordinary sister would've have given up on Elijah and moved on in life just as Mrs. Fitt did. But Eleanor's mindset isn't anything like that. She is quick to accept whatever situation she is in and acts accordingly. It is admirable and one of the reasons Eleanor is such a kickass character.
As for the other characters, the Spirit-Hunters are the epitome of making choices and working together on them as they go along. However, Allison and the Virtue Sisters (from what I could make of them) definitely see themselves as victims of circumstances which I find to be very weak. Clarence Wilcox does see himself as a victim but he acts on it despite not changing his mindset which sets him apart from all the other characters.
So choices are important, right. What do you think? I want to know!