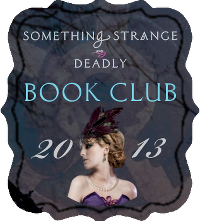 The other day Epic Reads decided to revamp their
Book Club
on Goodreads and picked up
Something Strange and Deadly
for the month of August. I decided to join in because I seem to need an extra bit of motivation when it comes to reading books set in the past. There are
pictures of 1876 Philadelphia
, first impressions of
Daniel Sheridan
and a discussion going on about
favorite characters in the series
.
Then I happen to discover that Susan Dennard also started her own
book club
for both the books in the Something Strange and Deadly series. It's a lot of fun because there's happen to be discussion questions going up every Monday and there's also participation and weekly giveaways (if you want to participate,
click here
).
I'm 38% into the book and I should say that it's going really, really well. So onto week one's discussion question:
Do you think, given the time period, Mrs. Fitt is justified in her demands on Eleanor? Why or why not?
While it's not hard to see where Mr. Fitt is coming from given the dire (my attempt to go historical) financial situation of the Philadelphia Fitts, it's also clear that for Mrs. Fitt keeping up appearances for the society is more important than happiness. She is not alone in wanting Eleanor to be who she wants to be because doesn't everybody's parents at some point (especially those of the 19th century!).
It is complicated because she seemed to have given up on Elijah to look after the family so she focuses on Eleanor; keeping tabs on her, dressing her up to make her look more appealing, forcing her to spend time with the richer members of the society and what not. This sounds so much more appealing and easy than losing their home, social status and money once and for all. Looking at it from this point of view might justify her demands of Eleanor but keeping Eleanor's opinions and emotions in focus becomes impractical this way. Eleanor does what she can to dodge her attempts at conforming her according to what the society will or will not find acceptable.
I'd like to point out here that Mrs. Fitt is not one of those haughty parental characters who cast a jaded eye towards their children's well being. She does care for Eleanor but it's clear that she places more importance on how society looks at the Philadelphia Fitts. However, her approach is definitely unjustified and infuriating. But given the time period, I'd say it is justified because that's what used to happen in those times.