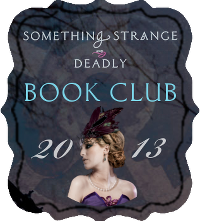 The other day Epic Reads decided to revamp their
Book Club
on Goodreads and picked up
Something Strange and Deadly
for the month of August. I decided to join in because I seem to need an extra bit of motivation when it comes to reading books set in the past. There are
pictures of 1876 Philadelphia
, first impressions of
Daniel Sheridan
and a discussion going on about
favorite characters in the series
.
Then I happen to discover that Susan Dennard also started her own
book club
for both the books in the Something Strange and Deadly series. It's a lot of fun because there's happen to be discussion questions going up every Monday and there's also participation and weekly giveaways (if you want to participate,
click here
).
Onto week two discussion question:
Magic and ghostly elements frequent the Something Strange and Deadly series. Even though corpses do awaken from time to time and hauntings are hardly that uncommon, the people of Philadelphia seem determined to pretend the Dead are not a growing threat.
Do you think that's part of human nature? To push on and ignore the danger at our door? Or do you think Philadelphia's ignorance—or for that matter, any ignorance/false sense of safety in modern days as well—can be pinned on politicians? Can you think of any examples where something similar happened, but rather than the Dead, it was a natural disaster/growing crime rate/etc.?
It is very easy to overlook things in life than to deal with them head on. Human nature has always been good at adaptation which could be a blessing and a curse. However, it's not always a bad thing to ignore danger. I say this because death itself is something which is inevitable and if we lived with a constant awareness that we could die any moment then what's the point of living? Not that constant awareness is bad but it is when it becomes an obsession because it'll simply speed up the inevitable.
That being said, part of Philadelphia's ignorance is due to that human nature and part due to the actions of the governing bodies. In order to feed upon the ignorance, humans tend to gorge on anything that would sustain it and so a simple reassurance will go far enough.
Today we're using up fresh water at an alarming rate (highest 600 litres per person per day), the freshwater which makes up a total percentage of 0.37% of all the water on earth. We're running out of water and instead of taking care in lessening our daily usage of water, what do we do? We console ourselves with the fact that seawater could easily be made into drinkable water. Yes, it can be through a desalination process. But is that reason enough to go on living as we are? No. But we still do because it's just human nature to ignore the danger at our door.
What do you think? Is this really human nature or something else entirely?