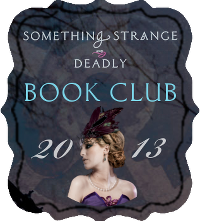 The other day Epic Reads decided to revamp their
Book Club
on Goodreads and picked up
Something Strange and Deadly
for the month of August. I decided to join in because I seem to need an extra bit of motivation when it comes to reading books set in the past. There are
pictures of 1876 Philadelphia
, first impressions of
Daniel Sheridan
and a discussion going on about
favorite characters in the series
.
Then I happen to discover that Susan Dennard also started her own
book club
for both the books in the Something Strange and Deadly series. It's a lot of fun because there's happen to be discussion questions going up every Monday and there's also participation and weekly giveaways (if you want to participate,
click here
).
Onto week three discussion question:
Eleanor finds herself more and more intrigued by (perhaps even attracted to) Daniel Sheridan, the inventor of the Spirit-Hunters. What is it about him that appeals to her? And vice versa, what do you think attracts Daniel to Eleanor?
Then there's Clarence Wilcox, the seemingly perfect eligible bachelor. Why do you think Eleanor doesn't like Clarence?
Daniel is complicated, he's mysterious, arrogant and intelligent. It's an interesting combination as opposed to Clarence who is merely someone who does things for himself and to his advantage. It took one meeting for Eleanor to figure Clarence out. He took her to be gullible, underestimated her.
On the other hand, Daniel simply chose to be indifferent to her which is far more interesting than someone who opens up to you after you call on their bluff. So I think that Daniel's personality is appealing to Eleanor because he fights Death despite it giving him no personal benefit on top of endangering his life. While, Clarence's selfishness isn't because she cares about other people and it's hard to connect with someone who's only looking out for himself.
What do you think of Daniel and Clarence? Do you agree with me? Disagree? I want to know!