On-time recaps are the new black haha.
LIST OF NEWSWORTHY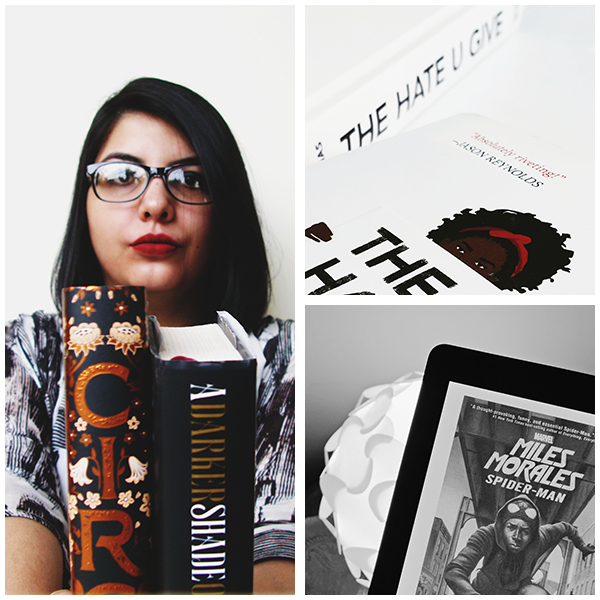 Ramadan and Lack of Sleep
The latter half of Ramadan ended up really making me miss full night sleeps no matter the fact that I'm currently still sleeping at dawn and everything is fucked up, sobs. Like on the night before Eid, I couldn't sleep at all and basically watched all of Vida in one go it was that bad.
When Life Happens in the Middle of a Reading Streak
I was on such a good reading streak up until the first three weeks of June and then a horrible road accident happened in the extended family where people got injured and died and I just couldn't make myself do much for ten days straight. I had to attend a funeral and I really hate them with a passion; I have only attended a handful in my life but I just can't with the whole tradition of looking upon the faces of the dead like wow, can we not. Anyway, I'm doing better mentally now but it was an ordeal and death is exhausting.
The Wait for THUG Intensifies
If you haven't still watched the trailer of The Hate U Give, go and do it right now. Seriously, it looks even better and more powerful than the book which is always great news for the movie itself. I'm so glad that they ended up casting KJ Apa for Chris's role because he's perfect! Although, it's kinda funny that he's half-Samoan and not fully white. I'd now like to forget about it until October because waiting is HARD.
TV WATCH
When the list of shows watched in a month keeps decreasing…

Marvel's Agents of S.H.I.E.D. – I admit I only watched one episode and couldn't make myself continue, I'm scared and I still have nine episodes left to watch. Great.
Sense8 – UGH THIS FINALE MADE ME SO EMOTIONAL. I cried for 20 minutes at one point, no joke. Sun Bak, Riley Blue, Lito Rodriguez and Will Gorski are my forever favorites.
Vida – I saw the buzz around Vida on Twitter when it got renewed for season 2 and decided to check it out mainly because it's a show about two Mexican American sisters. The first season only has six 30-minute long episodes and wow, both the sisters are a mess. I obviously liked Emma, who's a lesbian and a boss lady, more and Lyn not so much because she can be very manipulative, but it's clear that both need help stat. In all, it's a really good show, apart from all the cheating, as it shines a light on the lives of queer Latinx women, gentrification and homophobia in a largely Mexican community. Also, found family feels!
MOVIE WATCH
At this point, I'd be surprised if I end up watching more than one movie in a month.

Love, Simon (8/10) – I am so happy to have finally watched Love, Simon! I read the book back at the start of 2015 even before it came out (pun unintended LOL) and have been so excited for the movie adaptation especially after I guessed which actor was cast to play Blue. There are definitely changes from the book throughout and in the last scene but I love both the endings of the book and the movie.
LIST OF READS
Second best reading month in terms of quantity which makes me happy because I really didn't get to read as much at the beginning of the year.

This is Kind of an Epic Love Story by Kheryn Callender – The diversity and disability representation were done well and by a non-binary author at that, but most of the characters and the plot itself ended up being forgettable.
The Tea Master and the Detective by Aliette de Bodard – TOO GOOD. Shipminds are fucking adorable and I love the twist on Sherlock Holmes/Dr. Watson.
Moxie by Jennifer Matthieu – This is such an infuriating book about what girls have to face when it comes to dealing with the opposite gender on a daily basis and I'm hoping I can write a review to detail exactly why.
The Lightning Thief by Rick Riordan – I just couldn't take a 12-year-old's POV seriously but all in all, it's a fun book.
Void Black Shadow by Corey J. White – I should have reread Killing Gravity because it took me a while to remember who's who but I ended up loving the whole space prison premise and can't wait for the final showdown in Static Ruin.
The Kiss Quotient by Helen Hoang – A plus autism representation, a kickass heroine and a great half-Vietnamese love interest. Here's my review of the book.
Running with Lions by Julian Winters – I so wasn't expecting a gay Muslim love interest! It ended up being such a great love story with a main character who's undecided about his future plans. I'll be posting my review sometime this month.
Miles Morales: Spider-Man by Jason Reynolds – This is essentially about racism against Black people in the US, but also somewhat about Miles Morales as a superhero.
The Citadel of Weeping Pearls by Aliette de Bodard – Just as good as The Tea Master and the Detective with an equally adorable shipmind, but with a time travel mystery Thai time aaah.
A Very Large Expanse of Sea by Tahereh Mafi – This isn't out until fall and I'm so grateful that I got to read it already. I posted a pre-review on Goodreads which details why this book is so important.
Starry Eyes by Jenn Bennett – Best love interest, worst friends, a horrible dad and an amazing hiking adventure, I guess Zorie can't have everything in life.
Slave to Sensation by Nalini Singh – Too much focus on the romance but I'm into the world-building and really want to know more about the Psy so definitely continuing.
Iron and Magic by Ilona Andrews – Best fake marriage trope ever, still hate Hugh but the book is worth it due to the female characters and the disability representation.
LIST OF BOOK ACQUISITIONS
If anyone would like to know, I'm 33% through my 2018 TBR but this includes the multiple editions so it's not very accurate, ha.

The Tea Master and the Detective by Aliette de Bodard
Words in Deep Blue by Cath Crowley
From Darkest Skies by Sam Peters
The Last Adventure of Constance Verity by A. Lee Martinez
Steeplejack by A.J. Hartley
The Strange Case of the Alchemist's Daughter by Theodora Goss
A Thousand Beginnings and Endings by Ellen Oh, Elsie Chapman (ed.)
The Traitor Baru Cormorant by Seth Dickinson
Running with Lions by Julian Winters
The Kiss Quotient by Helen Hoang
The Cuckoo's Calling by Robert Galbraith
My Lady Jane by Cynthia Hand, Brodi Ashton, Jodi Meadows
My Plain Jane by Cynthia Hand, Brodi Ashton, Jodi Meadows
On a Red Station, Drifting by Aliette de Bodard
The Citadel of Weeping Pearls by Aliette de Bodard
Nice Try, Jane Sinner by Lianne Oelke
A Very Large Expanse of Sea by Tahereh Mafi
Everything About You by Heather Child
Hannah Green and Her Unfeasibly Mundane Existence by Michael Marshall Smith
Slave to Sensation by Nalini Singh
Starry Eyes by Jenn Bennett
Blackfish City by Sam J. Miller
Senlin Ascends by Josiah Bancroft
The Widows of Malabar Hill by Sujata Massey
The Woman in the Window by A. J. Finn
The Light Between Us by Katie Khan
Iron and Magic by Ilona Andrews
Kindling the Moon by Ilona Andrews
The City of Brass by S. A. Chakraborty
A Time of Dread by John Gwynne
Luna: New Moon by Ian McDonald
A Big Ship at the Edge of the Universe by Alex White
Valor by John Gwynne
PLAYLIST
Basically only listened to music for first half of June.

How was your June?