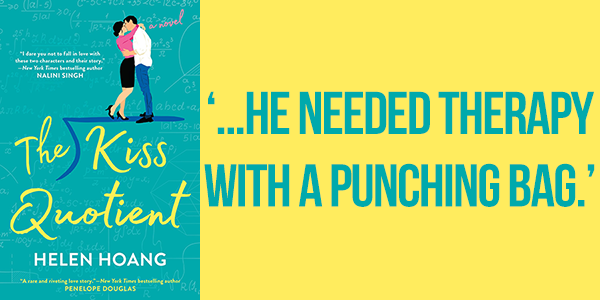 ABOUT THE BOOK
The Kiss Quotient by Helen Hoang
adult contemporary romance published by Berkley on June 5th, 2018
first book in The Kiss Quotient companion series
Stella Lane thinks math is the only thing that unites the universe. She comes up with algorithms to predict customer purchases–a job that has given her more money than she knows what to do with, and way less experience in the dating department than the average thirty-year-old.
It doesn't help that Stella has Asperger's and French kissing reminds her of a shark getting its teeth cleaned by pilot fish. Her conclusion: she needs lots of practice–with a professional. Which is why she hires escort Michael Phan. The Vietnamese and Swedish stunner can't afford to turn down Stella's offer, and agrees to help her check off all the boxes on her lesson plan–from foreplay to more-than-missionary position…
Before long, Stella not only learns to appreciate his kisses, but to crave all the other things he's making her feel. Soon, their no-nonsense partnership starts making a strange kind of sense. And the pattern that emerges will convince Stella that love is the best kind of logic…
THE RATING
THE REVIEW
WHO KNEW A BOOK ABOUT AN AUTISTIC HEROINE AND A MALE PROSTITUTE COULD BE SO CUTE AND HOT AND CUTE AND HOT?!
For real, though such a great debut. The author referred to it as 'reverse Pretty Woman' and it's basically that but while I pretty much abhor the movie itself and whatever it stands for, the basic premise is the only comparison. The Kissing Quotient has genuine depth and a lot more to offer than a movie that I basically couldn't even stand watching all of. I mean, Michael is even two years younger than Stella and their relationship is interracial so way to break stereotypes.
Anyway, I basically read this in less than a day because apparently that's what I do now when it comes to contemporaries. In all seriousness, it's addictive as hell and you really just have to know all the things once you start reading and instantly get curious about what compels an econometrician to hire a male escort.
Stella is a badass through and through. She has a strong sense of identity, is a hard worker, loves being an econometrician, takes promises seriously and is generally quite a determined person. Being an own voices representation of autism, all the situations involving Stella and her autistic tendencies from being unable to catch social cues to overstimulation are portrayed realistically and executed so well.
Michael is an all-around great love interest. He is familiar with money problems, is so genuine and kind like I really don't think there's a sleazy bone in his body which is great to see when paired up with his escorting ways. Also, I yelled when I found what exactly his day job is; it was just so refreshing to read about it. He has a great relationship with his mother and sisters, is Vietnamese Swedish and I seriously loved getting to know more about the Vietnamese culture via the ample presence of his family.
The Kissing Quotient explores quite a lot of things from how women tend to act normal in the face of basically any kind of mental health, importance of consent and insecurities that surface when you open yourself up to another person. Really, Stella and Michael both such well-developed characters with problems of their own that it's easy to get caught up in their story. A thoroughly heartwarming, humorous and sexy debut. The thing I loved most about the book is how in the end, the only way Stella knows how to be is her way as to her it isn't a disorder and I appreciated that so much because sometimes everyone's normal is not the same and that's okay, but also that we're all human and some experiences are universal.
THE QUOTES
'Your body wages biological warfare on me.'
'So you're saying I'm your Achilles' heel?'

'People don't like honest. Except for when you're saying good things. Figuring out what people think is good is tricky, especially when I don't know them. It makes conversation a minefield.'

'People called it a disorder, but it didn't feel like one. To her, it was simply the way she was.'