New year! Fucking finally. I've never looked forward to seeing a change in the digits of an year this much. Also, snow weekend basically made my whole month so a good enough January all around.
LIST OF NEWSWORTHY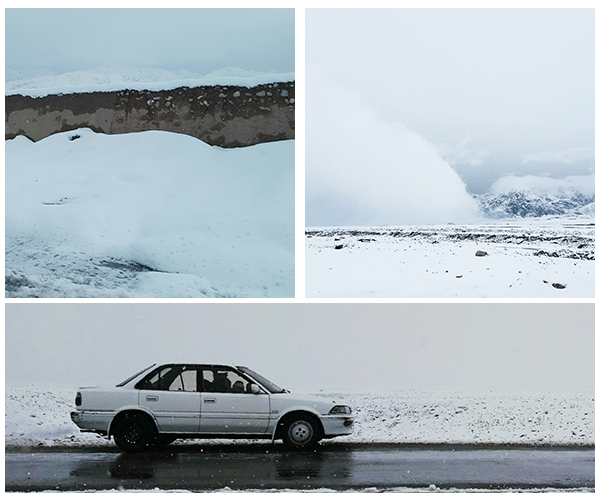 Winter Days
Who'd have known that a way to get me out of the house was to tell me I'd be the one driving, ha. The other day I was running an errand alone so I got kind of nervous and totally forgot to put music on until I was on my way back. FAIL. Also, is it really more fun to drive during the day than it is during the night or is that just me? Been digging the cold weather and all I need is more snow which it's supposed to snow here on Saturday and it should.
Other than that it's been exhausting to be on Twitter for more than 5 minutes bouts. I'm glad there's been so many protests, though so all is not lost.
Getting Back into Blogging
I haven't posted as much as I did in January since…I honestly don't remember but probably 2015. I even wrote a review after 8 months like what is happening here? Into it and having a lot of fun, too.
A Discovery
I randomly discovered ONE OK ROCK one weekend and Sydney was kind enough to send me recs which I still have to make my way through because I got kind of obsessed with their Ambitions album. However, this live performance totally made me emotional. She also shared one of their instrumentals and damn. So good.
TV WATCH
Yeah, haven't been in the mood to watch TV as much…

DC's Legends of Tomorrow – I'm kind of over this show? I really cannot take the villains seriously. If only they would bring back Captain Cold now.
Brooklyn Nine-Nine – So wasn't expecting that ending (!). And I REALLY need someone to tell me the next time we see Pimento on the show, it'll just be his dead body.
This Is Us – THE BIRTHDAY EPISODE AND THE DRIVING LESSON, AAAHH. And I totally called the big Kevin twist. He's just that awful (and predictable in his awfulness). ¯\_(ツ)_/¯
Fresh Off the Boat – So amazing. I really appreciate how they balance Chinese culture and American lifestyle on the show. Also, Jessica and Louis Huang are just the greatest couple.
The Big Bang Theory – I really liked how they setup The Holiday Summation episode.
New Girl – The latest episode was meh but otherwise, it's all going well.
Agents of S.H.I.E.L.D. – I'm loving May's arc even though it was super predictable that that guy would remain an antagonist.
The Flash – ANOTHER EXCELLENT EPISODE. It totally made the month long break worth it especially the turtle, haha. (All we need is Bart Allen to complete the Flash fam and I'm just ! about that).
Supergirl – Basically this: ugh at Mon-el, yay for everything else.
Suits – I really wasn't expecting it to be back already. Mike's storyline was unexpected but I could totally see him doing that long-term, haha.
Empire – I caught up and yeah. I don't think this show will ever know what direction it wants to go in so it just keeps making a mess of things because drama.
How to Get Away with Murder – The flashbacks! So cruel especially because NOW this shows wants to do heartwarming flashbacks? Humph.
LIST OF READS
I started so many amazing books that I should have finished but time sobs. Still  such progress that I read a lot.

American Gods by Neil Gaiman
Sleeping Giants by Sylvain Neuvel (reread)
Waking Gods by Sylvain Neuvel
Six of Crows by Leigh Bardugo
A Darker Shade of Magic by V.E. Schwab (reread)
A Gathering of Shadows by V.E. Schwab (reread)
LIST OF BOOK ACQUISITIONS
Apparently, I'm a bibliomaniac (and the following list proves it).
Mockingbird Vol. 1: I Can Explain by Chelsea Cain, Kate Niemczyk
Goldie Vance Vol. 1 by Hope Larson, Brittney Williams, Sarah Stern
Midnighter, Vol. 1: Out by Steve Orlando, ACO
Lumberjanes Vol. 1 by Noelle Stevenson, Grace Ellis, Shannon Watters, Brooke Allen
Black Canary Vol. 1: Kicking and Screaming by Brenden Fletcher, Annie Wu
Black Panther: A Nation Under Our Feet Vol. 1 by Ta-Nehisi Coates, Brian Stelfreeze
Patsy Walker, A.K.A. Hellcat! Vol. 1: Hooked On a Feline by Kate Leth, Brittney Williams
Blood upon the Sand by Bradley P. Beaulieu
Waking Gods by Sylvain Neuvel
Iron Cast by Destiny Soria
Hidden Figures by Margot Lee Shetterly
The Vagrant by Peter Newman
The Unexpected Everything by Morgan Matson
The Empress Game by Rhonda Mason
Hold Back the Stars by Katie Khan
Hunger Makes the Wolf by Alex Wells
Forsaken Skies by D. Nolan Clark
Final Girls by Riley Sager
The Lives of Tao by Wesley Chu
The Deaths of Tao by Wesley Chu
The Rebirths of Tao by Wesley Chu
The Rise of Io by Wesley Chu
Sofia Khan is Not Obliged by Ayisha Malik
The Star-Touched Queen by Roshani Chokshi
Rosemary and Rue by Seanan McGuire
The Winds of Khalakovo by Bradley P. Beaulieu
Six Wakes by Mur Lafferty
PLAYLIST
Mostly singles because been too restless to listen to a whole album in one go.

How was your January?