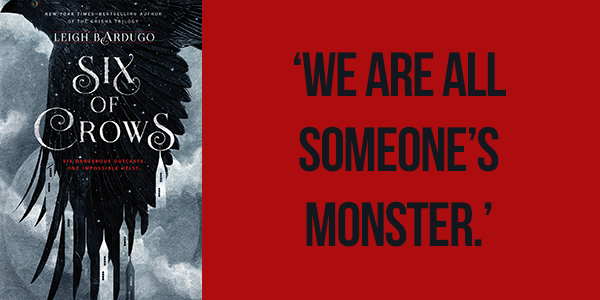 ABOUT THE BOOK
Six of Crows by Leigh Bardugo
young adult fantasy published by Henry Holt & Co. on September 29th, 2015
first book in Six of Crows series
Ketterdam: a bustling hub of international trade where anything can be had for the right price—and no one knows that better than criminal prodigy Kaz Brekker. Kaz is offered a chance at a deadly heist that could make him rich beyond his wildest dreams. But he can't pull it off alone…
A convict with a thirst for revenge.
A sharpshooter who can't walk away from a wager.
A runaway with a privileged past.
A spy known as the Wraith.
A Heartrender using her magic to survive the slums.
A thief with a gift for unlikely escapes.
Six dangerous outcasts. One impossible heist. Kaz's crew is the only thing that might stand between the world and destruction—if they don't kill each other first.
THE RATING
THE REVIEW
Six of Crows is a book that I don't think could have worked as well as it did if it weren't for the multiple POVs of well-established characters. In fact, the factor is rather essential to the plot seeing how the flow of said POVs along with their individual backstories sprinkled in between gave important insights into the present story lines and added another layer to the ongoings in the book. However, that also gave way for some of the plot to get predictable. Nevertheless, it wasn't hard to get hooked after being thrown mid-action into a scene from a day in the life of the Dregs that also immediately set them apart from each other.
I instantly took a liking to Jesper (just as I was expecting to having memorized the character artworks for quite some time now) and the first words he uttered (re: 'Would have liked to steal that') cemented him as my favorite. Jesper is the kind of character that I'd have liked to give a hug because of his tendency to get hurt easily. Yet his role in the thieving squad is that of a comic relief which is also why many of the revelations about him fit him quite well. He has the best lines and his flirtatious attitude towards Wylan is just delightful. In retrospect, it's apparent how Jesper is the opposite of Kaz in every regard from not being able to sit still to being emotionally open where Kaz is unruffled and closed off.
So while the story works well with Kaz being the lead, I wasn't nearly as impressed with him especially considering how his character goes through zero development. All I got from him is that he's someone with an undeserving past that made him a ruthless survivor but in the worst of ways possible. I get him not wanting to reveal himself to others, but to deliberately treat the Dregs like he does quickly got too eh for my liking. (Still waiting for him to apologize to Inej, to be honest). Moreover, he constantly got too dark even when he didn't necessarily need to be. Despite all of that, I did like certain facets of his character and those mainly have to do with his disability and a certain phobia. Props to Bardugo for portraying both so realistically.
Inej is the most resilient of the bunch and when her backstory is taken into account, even more so. It's easy to resonate with her willfulness. I love Inej's character development the most mainly because it stems from wanting to be free of the fear of having her freedom snatched away again (which is quite fitting with her role of being the Wraith) and finding the strength to do so right inside her. It's so amazing to see Inej arrive at the place she does because of how important and a source of courage her family and faith are to her. Inej's badassery is being her own heroine through and through which is fucking fabulous.
Nina is a survivor. She is also someone who doesn't let anything dissuade her and that makes her loyalty admirable as fuck. Being a soldier is as much a part of Nina's identity as being a Grisha is. I respect her so hard for her choices and for her unabashed tendency to admit mistakes just as much as her commitment to righting them. Her being so opinionated certainly improved all her scenes and resulted in the most kickass of lines especially when directed towards Matthias.
Meanwhile, prejudiced against and made to hate all Grishas, Matthias is someone who goes through a significant amount of character development so it was quite easy to see how his story line would progress. Even so, it's interesting to see Matthias struggle with his beliefs and try to come to terms with his changing views about Nina. I didn't appreciate how he thought of her as being 'indecently round' at one point, though. Anyway, pitting the two soldiers against each other clearly paid off and made their dynamic that much more engaging.
Despite not getting a POV of his own, Wylan goes through quite a change in Six of Crows. Clearly unsuited for life as an outcast, he prefers a problem-free one even as he's being intimately introduced to the opposite kind. His evolving sense of humor is largely due to the influence, or as Jesper would say, bad influence of the Dregs and for that I am extremely glad. I enjoyed his moments of cluelessness just as much as his smart thinking ones. While the outcome of the revelation about him was apparent, the revelation itself wasn't what I was expecting it to be so points for that.
In all, each of their dynamic with everyone else and as a squad are done amazingly well. Getting to see the Dregs work together (or sometimes refusing to) and yet not be able to fully acclimate themselves as a group never failed to amuse me. Though I really could have done without all the secrecy surrounding Kaz's plans since it seemed to happen more often as a plot device than a learned character trait. My favorite friendship ended up being Inej and Nina's by far just because of its deep, effortless and genuine portrayal. I might have almost melted when Inej put her head on Nina's shoulder at one point.
Through all the trouble the Dregs keep finding themselves in, Six of Crows raises important questions about the Grishas being seen as less than human and in turn, how disregarding consent and the consequences of addiction never ends well for anyone involved. Moreover, turning slavery and prostitution into a means of self-gain while adamantly disapproving of them on the surface does nothing to change the fact that they're still slavery and prostitution. So the characters having suffered from them, along with the general disposition of the Dregs and a violent and murderous beginning, made me scoff at the Dregs being portrayed as teenagers and not in their 20s as they should have been.
Still, Six of Crows is one of the better fantasy series that young adult has to offer today and I wholly recommend it for never having a dull moment and constantly moving forward against all odds with a diverse set of characters alone.
THE QUOTES
'When everyone knows you're a monster, you needn't waste time doing every monstrous thing.'

'It's not natural for women to fight.'
She rolled her eyes. 'It's not natural for someone to be as stupid as he is tall, and yet there you stand.'

'Usually people don't start hating each other until a week into the job, but you two have a head start.'

'Pull your shirt up over your mouth,' he told Wylan.
'What?'
'Stop being dense. You're cuter when you're smart.'
Wylan's cheeks went pink. He scowled and pulled his collar up.