I almost titled this blog post '2022 Favorites' and then I remembered that monthly recaps were once a thing on here and I could maybe do my comeback post in that format instead. I could blame my break it all on the pandemic, but then I actually stopped writing those back in June 2018 and that was also when I pretty much stopped blogging. I've actually looked at some of the upcoming Top Ten Tuesday topics, though and have been wanting to fully get back into reading (I say when we're already in the second month of 2023). Plus, Ellis getting back into blogging (keyword: occasionally) have me excited enough to try and give it all a go once again.
List of Newsworthy
Persevering Through Grief
The beginning of a year is always, at some level however big, or small, an occasion of joy and seemingly unlimited possibilities, but it all pretty much came crashing down last year when one of my maternal aunts died suddenly on January 9th. Having unknowingly met her alive for the last time ever on 31st December 2021, it seemed like an impossible reality to come to terms to. It might sound cliché but hardly a day ever goes by when I don't think of her at least once. But then it's also such a solid reinforcement that the world truly stops for no one. My thoughts have definitely become more morbid when it comes to the fragility and uncertainty of life.
K-Pop, K-Rock, K-Dramas, K-you name it
I had been listening to K-pop here and there ever since Kiss and Makeup by Dua Lipa and BLACKPINK came out in 2017 and had been a part of several random K-pop listening sessions organized by one of my nieces. However, 2021 was the year I actually sat down and made a chronological playlist of all the K-pop and K-rock songs I had ever listened to (thanks to my last.fm library). Getting into K-dramas next seemed like a natural progression.
Attending a Wedding After Eons
Desi weddings are always an elaborate affair and I have to be honest, I've attended more than my fill. But we had a wedding in the family after quite a long time so I was actually excited to go for once and it was fun. They have really become way more of a spectacle than they used to be which is strange to see it in real life than just on Instagram.
Two Road Trips, Korean Food, FIFA and Late, Late Long Drives Later
November was marked by two road trips to Islamabad with my brother and they ended up serving a mini vacations. I stayed at my sister's and had fun with my nieces stressing over the Twenty20 Cricket World Cup 2022 haha. Also had authentic Korean food for the first time at a guesthouse by a Korean and we were given slippers to wear inside, I loved it.
Also watched FIFA World Cup 2022 for the first time ever and the players being dramatic over their injuries were easily my favorite parts. Not getting over witnessing Morocco making football history anytime soon, though. 😭 Also, the friendship between Kylian Mbappé and Achraf Hakimi, so fucking wholesome.
There were also a couple of long drives at 3:00 AM and it was actually fun even if also a little bit scary? Fun in the sense that it was all girls and we were blasting music and scary in the sense that it was legit 3:00 AM.
TV Watch
There's no doubt that I watch a lot of shows and 2022 was no exception especially since I also started watching K-dramas. Trakt tells me I've watched episodes from 52 shows, up 12 from 2021 and 14 from 2020. Figures since I hardly read and all my free time shifted over to watching everything apparently.

Abbott Elementary (2021-) – Even though this show first came out in 2021, I hadn't been aware of it, or just how good it is until Ellis told me to watch it. I was pretty much hooked from the first scene because of just how refreshing and feel good it is. It deserves all the praise it's getting and probably will be the one show that will go beyond 4 seasons in this day and age of streaming services cancelling shows left and right. Quinta Brunson has done something really incredible here and I'm in awe.
Our Flag Means Death (2021-) – I was vaguely aware of this show having seen people talk about it on Twitter, but essentially, this was C's rec and it turned out to be another instant favorite. This pirate crew really be sharing a single brain cell and it's the best. Plus, the softest queer love story, the non-binary character, the badass Black character who's been married what, 23 times? Every single thing about this show fucking rocks.
Only Murders in the Building (2021-) – I was unsure about watching this one until my niece watched it and won't stop talking about it. Except for a couple of weird casting choices for season 2 that totally ruined the vibe of the episodes they were in (especially Amy Schumer, Cara Delevigne was okay), it's a solid show. And queer! Plus, I just love that it's set in an apartment building and so you have no choice but to be suspicious of every resident at some point. Season 3 is shaping up to be yet another amazing one with the addition of Paul Rudd and Meryl Streep and I just can't wait for it to be back, aahhhh.
Ms. Marvel (2022-?) – Watching Ms. Marvel was such a unique experience, I could totally write a whole blog post about it. From the incorporation of so many desi elements from culture to music and just perfectly capturing the general chaotic vibe of a desi household, Ms. Marvel nailed it on so many levels. Plus, Marvel actually hiring Pakistani actors for some pivotal roles was so great to see. Truly a show made by brown people for brown people (even more so since they did a limited theatrical release since Disney+ isn't here yet).
The Bear (2022-) – I'd been meaning to watch The Bear ever since I got to know that it's mostly set in a restaurant's kitchen and that Ayo Edebiri is amazing in it. I was blown away and on some level, still haven't recovered from the intensity of this show. Holy shit, chef.
She-Hulk: Attorney at Law (2022-?) – She-Hulk is easily one of the most fun and comic accurate Marvel shows to watch, I have no notes. Having to do none of the hard work that Bruce had to do to control her powers? Coming after incels? Therapy bros? A Daredevil cameo? Meta af ending? Nailed it on every level, TBH.

Movie Watch
Over the years, my frequency of watching movies have slowly dwindled down so much that I have been trying to actively make time to at least watch the ones I'm interested in watching and not just delaying them to death.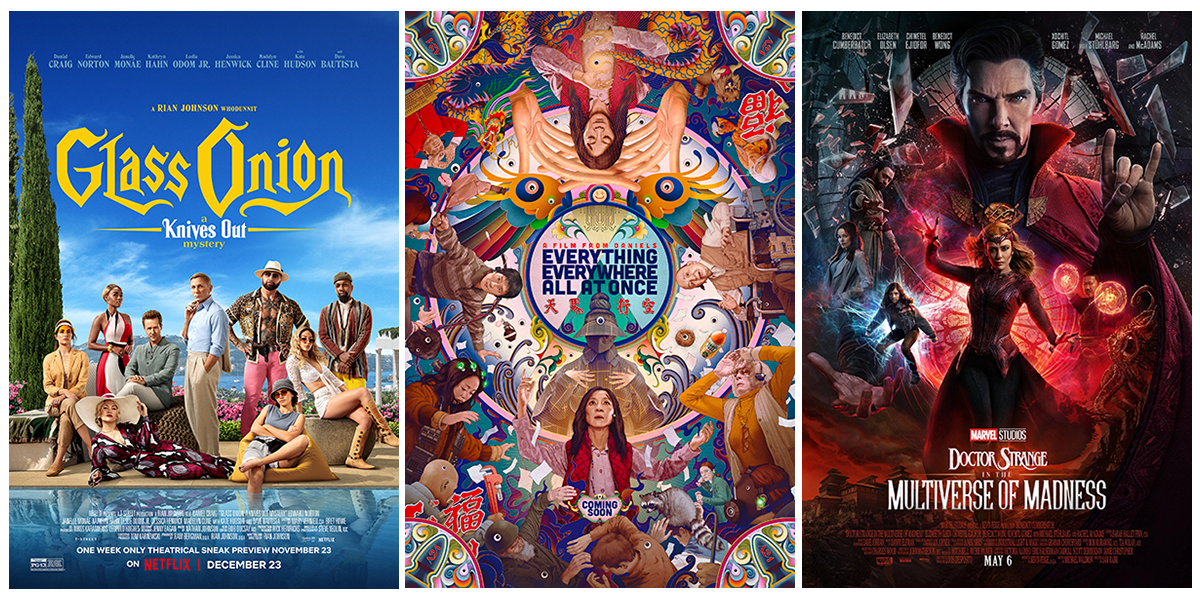 Glass Onion (2022) (9/10) – I've been dying to have more Benoit Blanc in my life ever since I watched the masterpiece that is Knives Out back in 2019 and the wait was definitely worth it. Someone on Twitter described Knives Out as 'a blanket and a mystery novel by the fireplace' and Glass Onion 'as a mystery novel by the beach, cool breeze with an iced drink and a big hat.' Such accurate descriptions, I have nothing more to add.
Everything Everywhere All At Once (2022) (9/10) – This is the one movie that I wanted to watch the most in 2022 and after not finding it on any streaming service more than 6 months after its release, I had to rent it out on YouTube. In all honesty, this has everything that I love in a movie from childhood trauma to multiverse travel and funny moments on top of all the emotionally wrecking ones. Why this wasn't a 10/10 favorite for me is probably because I hyped it a little too much for myself which is why I'm planning to rewatch it and reassess my rating and absolute love for it.
Doctor Strange in the Multiverse of Madness (2022) (8/10) – I know it's been said of several Marvel movies as of late that this one is different, but this one really did. It goes without saying that it's not as much fun/doesn't make much sense if you haven't watched WandaVision, but man, did I love the horror elements in this one. I just had to rewatch when it released on Disney+ and it held up damn fine. Honestly, it's easily one of those movies that I can rewatch again and again.
Honorable Mentions:

List of Reads
2022 was the year I managed to read *drumroll* 19 books and that number includes the comic issues I read. Also, I did most of my reading in January and then nothing in the last 3 months of the year.

Cosmoknights by Hannah Templer (4/5) – Ugh, I loved everything about this and cannot wait to get my hands on the sequel come May 2023.
You Sexy Thing by Cat Rambo (4/5) – First read of 2022 and it turned out to be an adventurous, fun and at times sad and enraging space opera. It wouldn't be the book it is without Niko and her crew and culinary skills and that's what sets it apart from the rest. My favorite dynamic has to be that of Niko and Dabry's especially since their platonic bond is more or less the drift compatible kind.
The Tea Dragon Society by Kay O'Neill (4/5) – I FINALLY GET THE HYPE. I, too, would like to own a tea dragon and care for it now, please. 🥲 Tea dragons are fucking adorable and I'm in love. Plus, the art is extremely adorable.
Blackbird Vol. 1 by Sam Humphries, Jen Bartel (4/5) – This was so good! Getting an entire comic volume with art by Jen Bartel is a treat to behold since we mostly seem to be getting variant covers from her. It's also queer!
Saga Volume 10 by Brian K. Vaughan, Fiona Staples (4/5) – In all fairness, I'm still in the middle of reading volume 10 but I had to include Saga because it's finally back. And it kicked off with a unique bang that only Saga is capable of. 🫠
List of Book Acquisitions
The fact that my book buying tendencies didn't change despite there being a severe lack in my reading is all the evidence that buying books is its own separate thing from reading them. The only thing I didn't buy in all of 2022 was a print book (apart from the special edition of the third Dreamer book, Greywaren since that was a time-sensitive purchase). Not even trying to get into the statistics of it all, heh.
Playlist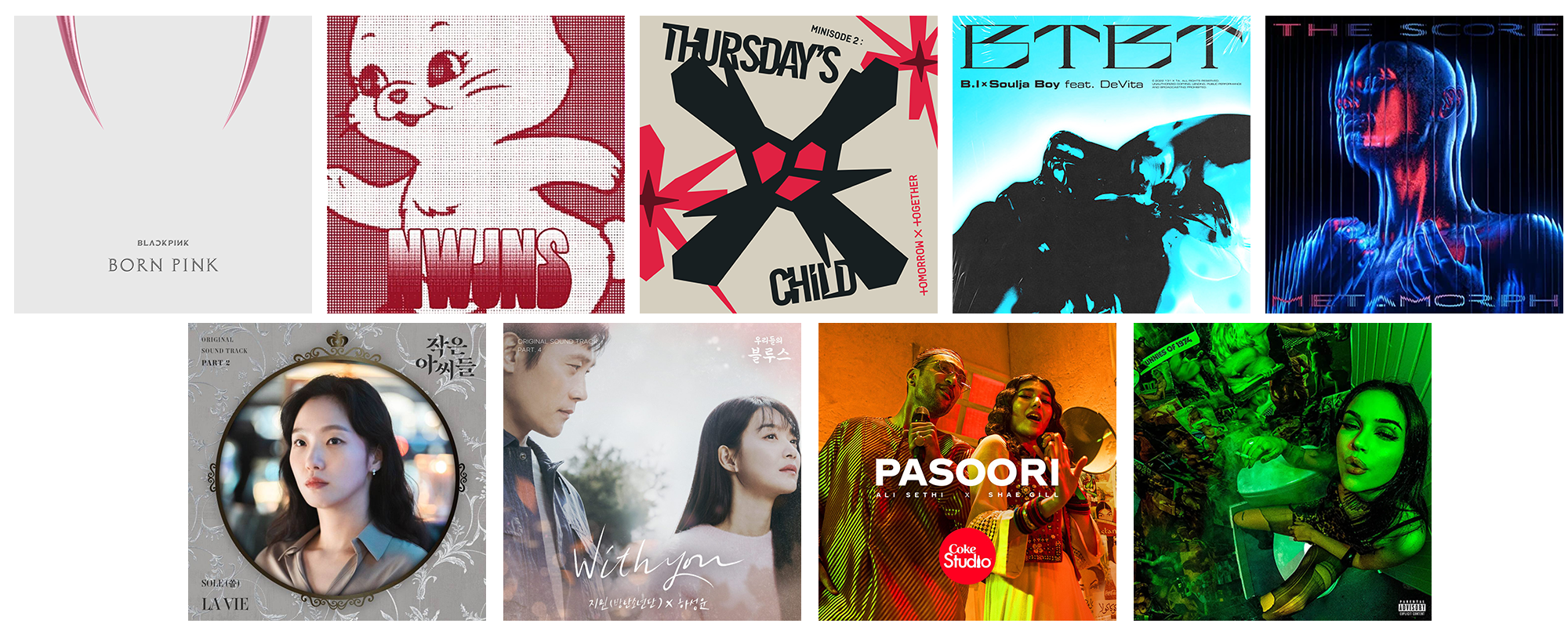 Nothing makes it more clear that 2022 was the year I truly got into K-pop/K-rock than my listening history. But in all fairness, I tend to listen to a lot of artists that just haven't been making much new music so there weren't a whole lot of releases on that end. Plus, I drifted towards upbeat songs more than usual and K-pop was my go-to for that. Here's my annual playlist that is 229 songs deep since Spotify is unable to ever sort out their Your Top Songs ones to make them shareable:
How was your 2022? Favorite show, movie, book, song? Hit me with your recs!