I really wish I hadn't been as busy as I got with work and would have been able to write separate recaps but life happens, I guess. I almost posted my February recap in the middle of March which even sounds awkward, I know.
LIST OF NEWSWORTHY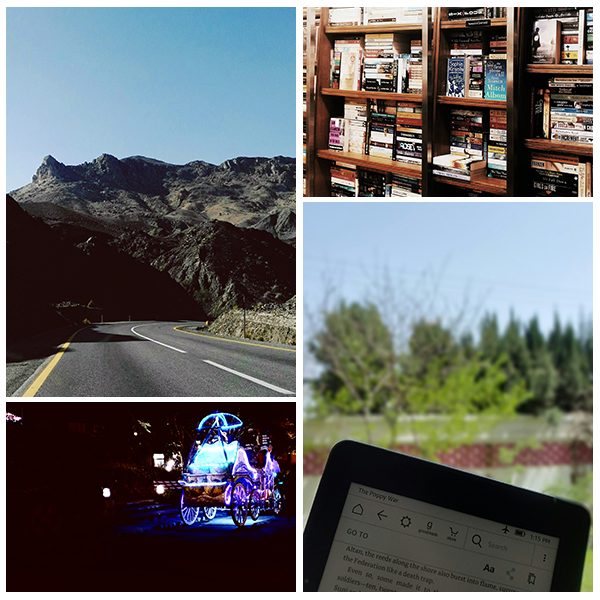 Summer to Actual Spring and then Overworking
All I remember about February is just how humid it got. Like I was fine with January being a lot more like spring than winter in Karachi but humidity in February? Nope. I was fairly busy in February with general life things and then in March I overworked myself which in retrospect, was something I shouldn't have done. It's hard because I definitely measure myself against how productive I have been and working eases that which is a bad idea.
Black Panther, Gipsy Avenger and a Sweet Tooth
Two things I finally got to do in February: go to the movies alone and have a churro. The churro is significant wholly because of how much it got mentioned in Alex, Approximately and when my sister mentioned having one I just had to try it for myself. I was not disappointed. Too bad my city is not good when it comes to being able to trying out new foods.
I continued the newly found tradition of going to the movies alone with Pacific Rim: Uprising and this time I remembered to get caramel popcorn and it was a great day. The cinema that I went to isn't actually that far from home so I even decided to walk to and from there: dedication haha.
TV WATCH
Slowly getting back in the space where I want to watch TV shows, phew.

The Flash – I actually cannot help but spot so many glaring plot holes this season which makes me wonder how they executed the current storyline in the comics. As it goes, there were a couple of filler episodes that I absolutely didn't like much and they clearly show the writers messed up but then Enter Flashtime and Run, Iris, Run happened and abso-fucking-lutely made it all amazing again. It's still a great arc, though as well as A GREAT SHOW AND WESTALLEN REMAINS ICONIC.
Supergirl – I definitely have a hate/like relationship with this show. I love it when the focus is on Lena Luthor, female friendships, female villains and the Danvers sisters. All the rest can go to hell, really.
Philip K. Dick's Electric Dreams – I've only watched the pilot as yet and I was not disappointed. This is the vein of Black Mirror but decidedly not on its level so far. I'll watch it all, though
Black Mirror – Did I finally feel mentally prepared enough to watch the rest of the season after getting too mindfucked by the Crocodile episode? Hell yes! I absolutely loved Hang the DJ and decided to watch Metalhead soon after but ended up hating it because of the moving camera work which always gives me a headache and the fact that it was shot in black and white. Why? I'm relieved that Black Museum didn't disappoint, though and I could have spend all day in that museum, to be honest. Letita Wright is awesome in it and even though I pretty much predicted what was going on, I still loved it.
Jane the Virgin – This is the one show where I never could decide between the two ships and the show ended up giving us both and I love it. What? Haha. Also, can I just say I'm so happy about Petra's arc this season. However, I really feel like they've told the story they wanted to, but we're still getting one more season after this so I wonder what that's about.
Marvel's Agents of S.H.I.E.L.D. – I actually haven't caught up on this yet but it's still going strong.
This Is Us – I finally, finally caught up on season 2. I didn't mean to watch almost all of it over a single weekend and I got so tired of crying, you wouldn't believe but I just couldn't stop. What a mess of a person I can be haha.
On My Block – I didn't even know this show was a thing until I saw some people yell about it on Twitter and decided to check it out. Oh my god, what a ride! This is basically about a bunch of 14-year-old POCs, their friendship and all the drama that comes along with it and I loved every minute of it. Did not like the cheating at all and the use of the word 'bitch' so many times, but apart from that it's a hilarious, dramatic af show that I couldn't get enough of.
MOVIE WATCH
I've been watching so many amazing movies this year, I feel spoiled.

Thor Ragnarok (8/10) – I mainly only knew to expect ridiculousness from Thor: Ragnarok and it more than delivered on that front LOL. I do honestly feel like they underutilized Hela and her arc could have gone so much better. Also, tumblr is quite conflicted about how Loki wasn't Loki in this movie which was a disservice to his character but hmm, I think I liked whatever he had going on in the movie for him.
Black Panther (10/10) – This was probably the most anticipated release for me right after Pacific Rim's sequel and rightly fucking so. WILL PROBABLY NEVER GET OVER ITS AWESOMENESS, NOPE.
Pacific Rim: Uprising (10/10) – Apart from that one plot twist that I 100% was not expecting, will never get over, how dare they, I LOVEDLOVEDLOVED IT. Getting emotional over hugeass jaegers in a cinema, that's me right here. I actually loved how fast they are in the movie and Gipsy Avenger fucking slayed, sobs. I can't wait to rewatch this movie countless times.
LIST OF READS
February was a great reading month and while March was also great quality-wise, it totally sucked quantity-wise and I'm sad about that.

February Reads
Only Human by Sylvain Neuvel – This series finale was everything I wanted it to be and more and I'm emotional about it.
Karen Memory by Elizabeth Bear – This was my first Bear book but definitely not the last! It's a historical murder mystery but with some steampunk elements and the main character is a prostitute. A bit of a mouthful but it totally works!
Alex, Approximately by Jenn Bennett – I read this because it's similar to PS I Like You
The 7½ Deaths of Evelyn Hardcastle by Stuart Turton – This book is fucking cray like I had no idea what it was all leading up to and I ended up enjoying it a whole lot.
P.S. I Like You by Kasie West (reread) – Yeah, so I had to reread this because reasons. It still remains a favorite.
All-New Wolverine Vol. 2: Civil War II by Tom Taylor, Marcio Takara – I will forever be a fan of Laura Kinney being unimpressed as hell with Captain America. Laura and Gabby killed me even more, if that's possible and I surprisingly liked Old Man Logan.
The Wicked + The Divine: 1923 by Kieron Gillen, Aud Koch – This had such stunning art and I personally loved that there was a lot of story than art so it was almost like an illustrated novella.
The Hating Game by Sally Thorne – HOTTEST ELEVATOR KISS, SAY WHAT. No but for real, this book was great and I was amused throughout reading it.
Fence #4 by C.S. Pacat, Johanna the Mad – Shit-talking continues, I love it. I do need it to speed up, though.
Love to Hate You by Jo Watson – Decided to try it out because of a combination of it being cheap, me being weak and liking the premise. It turned out to be an okay read. I wasn't the biggest fan because it kind of veered into new adult category with a little bit of bad-boy-turned-good which is so not my thing.
March Reads
Saga Vol. 6 by Brian K. Vaughan, Fiona Staples – ALL THE FEELS. Sir Robot is finally relevant, this is what I've been waiting for.
Saga Vol. 7 by Brian K. Vaughan, Fiona Staples – Probably the most depressing way to end a comic, I'm just

—

All-New Wolverine Vol. 3: Enemy of the State II by Tom Taylor, Nik Virella – I liked it and I also didn't like it because of so much lost potential. It's still a great series and Laura Kinney still fucking slays.
Clean Room Vol. 1: Immaculate Conception by Gail Simone, Jon Davis-Hunt – This one was a bit of a mindfuck so I'm glad I decided to read it and can't wait to check out the rest of it soon.
Opal by Maggie Stiefvater – 10/10 would not want to be inside Opal's head again, thanks. I did love all the Pynch, though and there were some reveals which hmm.
On the Edge by Ilona Andrews – I was expecting this series to have the same set of characters which is why I wasn't expecting it to get resolved in one book with a happily ever after so I wasn't
The Poppy War by R. F. Kuang – I pretty much have almost no bad things to say about this one. It's violent as hell at times, gets very dark and is just straight-up an awesome military fantasy.
LIST OF BOOK ACQUISITIONS
Oh man, so Marvel started doing these weekly $0.99 per volume sales and I get conflicted on the regular now because do I really need these and bye moneys.

February Acquisitions
Blood Orbit by K. R. Richardson
Dear Martin by Nic Stone
Last Song Before Night by Ilana C. Myer
Dangerous Girls by Abigail Haas
The Wicked + The Divine: 1923 by Kieron Gillen, Aud Koch
Lotus Blue by Cat Sparks
Radio Silence by Alice Oseman
Alex, Approximately by Jenn Bennett
New York 2140 by Kim Stanley Robinson
Night Owls by Jenn Bennett
The Hating Game by Sally Thorne
Ink and Bone by Rachel Caine
Mistress of Rome by Kate Quinn
Saga Vol. 7 by Brian K. Vaughan, Fiona Staples
Saga Vol. 8 by Brian K. Vaughan, Fiona Staples
The Wicked + The Divine Vol. 6: Imperial Phase Part 2 by Kieron Gillen, Jamie McKelvie
On the Edge by Ilona Andrews
Love to Hate You by Jo Watson
March Acquisitions
The Unbecoming of Mara Dyer by Michelle Hodkin
The Evolution of Mara Dyer by Michelle Hodkin
The Retribution of Mara Dyer by Michelle Hodkin
Everybody Lies by Seth Stephens-Davidowitz – an audiobook that I'm excited to get to, whaa
Attack of the Fifty Foot Women by Catherine Mayer – another audiobook that I'm looking forward to
Clean Room Vol. 1: Immaculate Conception by Gail Simone, Jon Davis-Hunt
Opal by Maggie Stiefvater
The Poppy War by R. F. Kuang
Black Bolt Vol. 1: Hard Time by Saladin, Ahmed, Christian Ward
Hawkeye: Kate Bishop Vol. 2: Masks by Kelly Thompson, Leonardo Romero
All-New Wolverine Vol. 4: Immune by Tom Taylor, Leonard Kirk
All-New Wolverine Vol. 5: Orphans of X by Tom Taylor, Juann Cabal
She-Hulk Vol. 2: Let Them Eat Cake by Mariko Tamaki, Georges Duarte
Elektra: Always Bet On Red by Matt Owens, Juann Cabal
Truly Devious by Maureen Johnson
The Final Frontier by Neil Clarke (ed.)
Void Black Shadow by Corey J. White
The Fifth to Die by J. D. Barker – I'm still surprised I got approved for this, can't wait!
Magpie Murders by Anthony Horowitz
The Ninth Rain by Jen Williams
The Salt Line by Holly Goddard Jones
Those Above by Daniel Polansky
The Smiler's Fair by Rebecca Levene
The Hunter's Kind by Rebecca Levene
The Brother Sinister: The Complete Boxed Set by Courtney Milan – Ellis out here trying to really get me to read histrom, haha
PLAYLIST
I still haven't been listening to a lot of music lately and still don't entirely understand why. Posting my February playlist here because I legit have one song on my March playlist, RIP.

How is your spring going so far?