Not a whole lot of reading but lots of hot weather days.
LIST OF NEWSWORTHY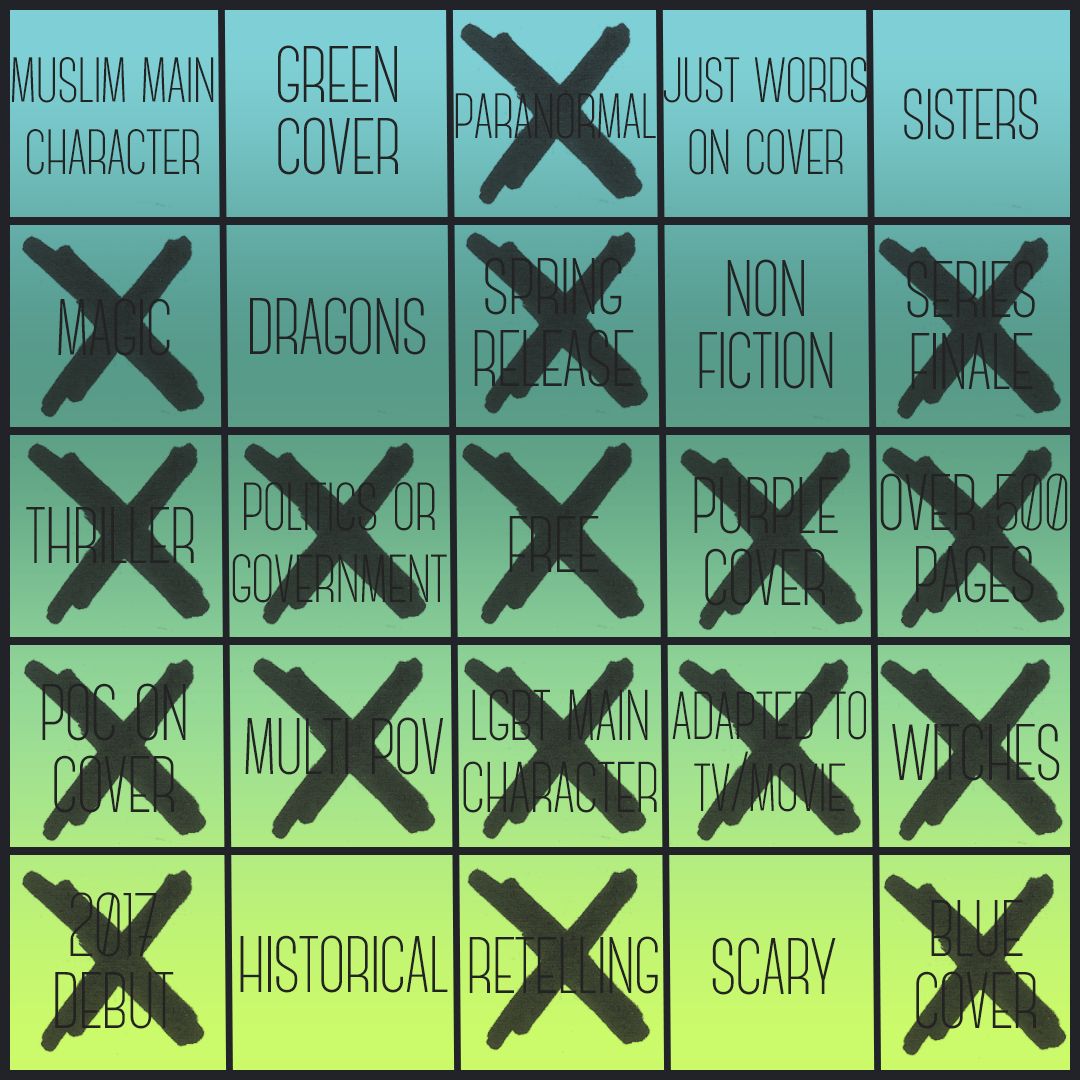 Bookish Bingo Take Four
I wasn't expecting to do so well this time around since April and May weren't such great months in terms of number of books read so I'm pleasantly surprised to have completed three bingos (if only I'd finished Wicked Like a Wildfire and gotten four sigh). I was thinking to stop doing the bingos after the spring one since I've done one for every season, but I really like the squares for the summer one so definitely in again. Meanwhile, the spring list (left to right, top to bottom):
Blackbirds by Chuck Wendig
The Rest of Us Just Live Here by Patrick Ness
All Systems Red by Martha Wells
A Conjuring of Light by V.E. Schwab
Final Girls by Riley Sager
Leviathan Wakes by James S.A. Corey
In the Country We Love by Diane Guerrero
The Emperor's Blades by Brian Staveley
Young Avengers, Vol. 1: Style > Substance by Kieron Gillen, Jamie McKelvie
The Lost and Found by Katrina Leno
The Dream Thieves by Maggie Stiefvater
Good Behavior by Blake Crouch
Hunger Makes the Wolf by Alex Wells
Hold Back the Stars by Katie Khan
Wonder Woman: Warbringer by Leigh Bardugo
Everything All at Once by Katrina Leno
Fasting Days
It's not even been a week since Ramadan started and I have even more of no idea where the time goes. My walks got rudely interrupted, though since I don't have the energy to go at the usual 6 pm and wanted to do them at 6 am instead but I'm too sleepy at that time. The struggle is real.
TV WATCH
Wowow binged a couple of shows and apparently still surprised about it.

Voltron: Legendary Defender – So much better than season 1! I just love all of these characters and the pilot of season 2 was the most hilarious what with Allura and Coran stuck in a time loop. I'm pumped that season 3 is releasing in the fall so not a whole lot of wait.
American Gods – Only watched the first two episodes and they were both badass. I thought the first one was exactly like the book so that was a little jarring. Ricky Whittle plays an outstanding Shadow, though.
Supergirl – Still laughing about Mon-el. I would rather he stayed and died but we can't have everything. Still, just the fact that the last ten minutes of the finale were the best yet since his arrival speaks volumes. Honestly, this show would be so much better without him.
Jane the Virgin – THE FINALE. God, I just love the Villanueva women. It was a little weird to see Tyler Posey in the finale, though.
The Flash – AAAAHHH! Loved everything about the last four episodes and became an even bigger fan of Grant Gustin's acting skills.
Marvel's Agents of S.H.I.E.L.D. – Such a good finale, I'm a fan and just cannot wait for season 5, whee.
Fresh Off the Boat – Kind of cruel to end the season the way they did but it's also gonna be fun so all good.
Brooklyn Nine-Nine – CRUEL, CRUEL FINALE. But give me all the Rosa/Jake team ups and more of Holt's family because they're just the best. I also loved the Terry-centric episode about racial profiling.
Sense8 – PERFECTION IN THE FORM OF A TV SHOW and they freaking cancelled it. How dare they not give Sun the ending that she deserves. Goes for every character, really.
The Big Bang Theory – What is it with cliffhanger finales lately?
Skam – I do like season 4 so far but everything is still coming together so could go either way. Still so glad that they decided to do the final season from Sana's POV. Good choices.
Pitch – Such a good show! I wasn't into the romance they teased towards the end but the rest was just A plus.
Haikyuu! – I finally finished season 1 and still not over it asdfghjkl.
Code Geass: Lelouch of the Rebellion – GIANT ROBOTS MANNED BY HUMANS, 'NUFF SAID. Only one person operates them instead of two like in Pacific Rim, though (so transparent because this is 100% the reason I wanted to immediately watch it). I've only watched like four episodes so no verdict as of yet but I do like it a lot.
iZombie – Only watched the first three episodes and boy, are they fucking up Ravi's character good. He's still better loads better than Major, though (who was peak ridiculous on teenage girl brain LOL).
MOVIE WATCH
Ha.

Trevor Noah: Afraid of the Dark (8

/10) – Not really a movie but standup comedy counts, right? I haven't finished his audiobook yet but I'm so glad I watched this anyway. He has such a great way with accents and is hilarious while pointing out everything that's wrong with the society. 10/10 would recommend.
LIST OF READS
I started May so well and then completely failed in an epic way haha (and still haven't reread any of the Shades of Magic books since March which is unacceptable). Still side-eyeing Final Girls since it broke my streak of 4 and 5-star reads ever since 2017 started. I just don't get the hype surrounding it? Meh.

In the Country We Love by Diane Guerrero
Final Girls by Riley Sager
All Systems Red by Martha Wells

The Rest of Us Just Live Here by Patrick Ness
LIST OF BOOK ACQUISITIONS
I present yet another huge ass book haul.

Written in Red by Anne Bishop

All Systems Red by Martha Wells

Storm Front by Jim Butcher

Born a Crime by Trevor Noah

Bitch Planet, Vol 2: President Bitch by Kelly Sue DeConnick, Valentine De Landro, Taki Soma

Allegedly by Tiffany D. Jackson

Wicked Like a Wildfire by Lana Popović

This Darkness Mine by Mindy McGinnis

They Both Die at the End by Adam Silvera

Traitor's Blade by Sebastian de Castell
Knight's Shadow by Sebastian de Castell
Saint's Blood by Sebastian de Castell
And Then There Were None by Agatha Christie
Steal the Sky by Megan E. O'Keefe
A Gathering of Shadows by V.E. Schwab (third copy err)
The Six-Gun Tarot by R.S. Belcher
The Song Rising by Samantha Shannon
Stiletto by Daniel O'Malley
All-New, All-Different Avengers, Vol 1: The Magnificent Seven by Mark Waid, Adam Kubert, Mahmud Asrar
Invincible Iron Man, Vol. 1: Reboot by Brian Michael Bendis, David Marquez
Moon Girl and Devil Dinosaur Vol. 1: BFF by Amy Reeder, Brandon Montclare, Natacha Bustos
Spaceman of Bohemia by Jaroslav Kalfar
City of Strife by Claudie Arseneault
Uprooted by Naomi Novak
I'm Not a Serial Killer by Barry Lyga
The Custodians of Marvel by Rod Duncan
United States of Japan by Peter Tieryas
The Secret of a Heart Note by Stacey Lee
Harry Potter and the Philosopher's Stone by J.K. Rowling (20th anniversary Gryffindor edition)
PLAYLIST
Not a lot of songs but I sure as hell listened to them on repeat.

How was your May?