So many days spent on the floor overcome by all the feelings…
LIST OF NEWSWORTHY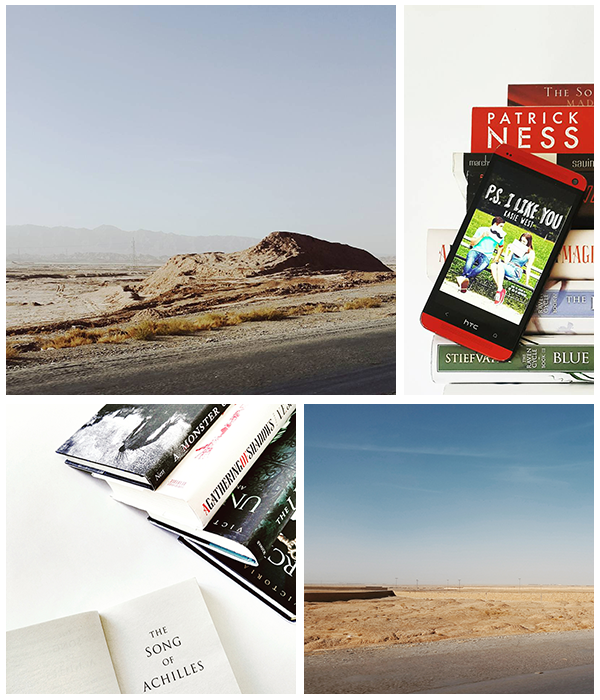 Learning to Drive
Full disclosure, I was never into the actual act of driving despite being very into the concept of it. So when my dad offered me driving lessons in 2015, I couldn't really handle them, would stress out a lot and stopped them. In 2016 however, I decided to take the plunge and now I love it. I guess a lot of it was me not being confident in my ability to be able to drive that it took this long to just be like 'Fuck it, I can do this' and went ahead and did it.
All the Recs
Recommending things and reading/watching recommended things is so much fun so let me list all the instances. First off, I still can't believe that Ellis watched a sci-fi movie AKA Pacific Rim and loved it (despite her yelling at me about the aliens in it which was fun). I then made her buy Sleeping Giants very easily so here's hoping she reads it sometime in 2017. I finally finished The Legend of Korra on the recommendation of Ellis and Yuri!!! On ICE on the recommendation of Crini and so had a very emotional month all around.
Bookstagram Challenge and Me
I participated in the #allthebooksof2016 bookstagram challenge on a whim and never have I ever had to look at my list of reads so often before which is why I kind of got sick of it and decided to skip doing the end of year book survey, ha. It was fun, though I wish I had read more so that I could have included more books to feature. There's always next year, right.
TV WATCH
I only watched a couple of episodes of most of these shows so yeah, even I was surprised about the list being so long again, at first.

Arrow – So I only watched the crossover episode which was terrible and I mainly put this update here to laugh at it again.
This Is Us – I just love this show a lot.
Brooklyn Nine-Nine – I haven't caught up yet but really, I cannot recommend this show enough.
New Girl – Aww man, they really do go all out in some episodes which is why I can't stop watching.
Younger – HOLY, THE SEASON FINALE.
Fresh Off the Boat – I just love their Christmas episodes so much. Also, Evan is the coolest kid ever. Respect.
DC's Legends of Tomorrow – Uh? Oh yeah, the crossover episode was probably the best one yet. I'm still upset at the return of Captain Cold that he doesn't deserve so haven't watched the midseason finale episode yet.
The Big Bang Theory – Raj and Stuart really took the cake for their performances in the last episode that aired.
Agents of S.H.I.E.L.D. – Poor certain character.
Westworld – Oh, so I finished this in about a day which is very unusual for me, but I just couldn't stop watching because there was so much suspense. I liked it a lot, a lot.
Empire – Uh…
The Royals – MY SHIP. I have only watched the premiere of season 3 as yet and I'm just so happy that the ship is so great even if the show itself is so trashy and ridiculous.
The Legend of Korra – I finished! In 2016! Who'd have thought?! It was a long, arduous journey seeing Korra grow so much. ALL THE FEELINGS. I loved the female villains a lot.
The Flash – The Christmas episode was so great. I'm still not over it or a happy af Wally West.
The Fresh Prince of Bel-Air – I'm only 4 episodes in yet but this show is all kinds of amazing.
Yuri!!! On ICE – (Haha so much fun to type that). THIS ANIME. Sorry, what's coherency again?
Skam – Only a couple of episodes in because time. However, I'm so excited to watch the hell out of this show!
Haikyuu!! – Only watched the series pilot yet and it's a new experience in that I've never watched a team-based sports anything.
LIST OF READS
Finally managed to read 8 books AKA my usual monthly average.

Surgeon X #3 by Sara Kenney, John Watkiss
The Piper's Son by Melina Marchetta (reread)
Allies by S.J. Kincaid
Josie & the Pussycats #3 by Marguerite Bennett, Cameron DeOrdio, Audrey Mok
Motor Crush #1 by Brenden Fletcher, Cameron Stewart, Babs Tarr
Every Heart a Doorway by Seanan McGuire
The Diabolic by S.J. Kincaid
The Hate U Give by Angie Thomas
Sweetheart by Chelsea Cain
A Monster Calls by Patrick Ness
Hedgehugs and the Hattiepillar by Steve Wilson, Lucy Tapper
The Ghost Brigades by John Scalzi
Harry Potter and the Chamber of Secrets by J.K. Rowling, Jim Kay (reread)
LIST OF BOOK ACQUISITIONS
Even more sales and deals and me trying to handle them.

Faith Vol. 1: Hollywood & Vine by Jody Houser, Francis Portela, Marguerite Sauvage
1602: Witch Hunter Angela by Marguerite Bennett, Kieron Gillen, Stephanie Hans
DC Comics: Bombshells Vol. 1: Enlisted by Marguerite Bennett, Marguerite Sauvage
Necrotech by K.C. Alexander
Josie & the Pussycats #3 by Marguerite Bennett, Cameron DeOrdio, Audrey Mok
Motor Crush #1 by Brenden Fletcher, Cameron Stewart, Babs Tarr
The Stars Are Legion by Kameron Hurley
The Gentleman's Guide to Vice and Virtue by Mackenzi Lee
Ninefox Gambit by Yoon Ha Lee
The Long Game by Jennifer Lynn Barnes
The Start of Me and You by Emery Lord
A Court of Mist and Fury by Sarah J. Maas
My Best Friend's Exorcism by Grady Hendrix
A Torch Against the Night by Sabaa Tahir
The Last One by Alexandria Oliva
The Governess Affair by Courtney Milan
Surgeon X #4 by Sara Kenney, John Watkiss
Immortal Iron Fist Vol. 1: The Last Iron Fist Story by Ed Brubaker, Matt Fraction, David Aja
PLAYLIST
Not a lot of songs but a lot of listening to the playlist on repeat. I also made a very upbeat, very shippy Yuri!!! On ICE playlist that was pretty much all I listened to during the last 10 days or so of December.

How was your December?