Fall is here and the busy, rushed months are finally over, yes! Cannot wait to try out new kinds of soups.
LIST OF NEWSWORTHY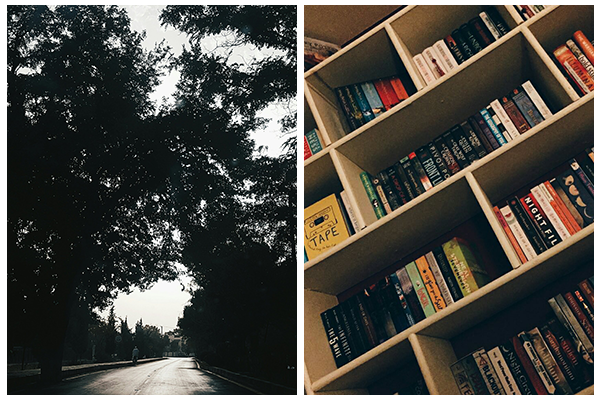 Busy Strikes Again
I started September off well enough in the reading department and then it kind of fizzled out. I finally realized that it's really hard for me to sit and read if I'm annoyed and that was me most of the month. Instead, I just watched a lot of TV shows in my free time as is the norm for me. But I'm finally getting back in the habit via comics now that the regular birthdays, outings and what not are over. Ha, extreme introvert activation or what.
TV WATCH
Oh man, back to watching 20 TV shows in a month then AND SOME HAVEN'T EVEN AIRED YET.

Gilmore Girls – OMG I finished! I actually forgot that this finally happened in September and was so surprised when typing up the post.
DC's Legends of Tomorrow – I finally finished watching season 1 and I don't even remember most of it except Captain Cold, White Canary and Cold Canary scenes. Okay, fine I also remember that ridiculous Hawkgirl and Atom storylines that I'd like to please forget already zzz.
Doctor Who – Halfway into season 3 and wow, am I going slow or what. However, I knew I wouldn't be able to watch much of it with all the shows coming back. I ALSO JUST REALLY WANT TO GET TO SEASON 4 BECAUSE DONNA, OKAY.
Supergirl – I basically watched all of the first season in 3 days because it's really that kind of a show. Again, some things I liked, some things were so predictable, others were not (so I can't even talk about them because of spoilers). But the amount of love interests for Supergirl? Can we not? Also, Carlisle from Twilight as the bad guy was probably the highlight of it all. I was so torn between not taking him seriously and fascinated by him being a very morally ambiguous character.
The Night Manager – So it definitely faltered around episodes 3 and 4 and then got back up in 5 but by that time it also got really annoying because of the romance. I saw it coming from miles and miles away and really, it would have been so amazing without it. I also thought the resolution was very convenient so that kind of dulled the show for me. However, Tom Hiddleston's character was so great.
Voltron: Legendary Defender – This is apparently a reboot and while I liked it, the best part of it all is the team of misfits bonding, Princess Alura and that one queer ship, gaaah.
Blindspot – Since I never managed to watch the later of season 1, I decided to catch up and whoa, so fucked up this show. I'm already a fan of season 2, as well.
Suits – Whoa, I so wasn't expecting things to take that turn. Never mind that my sister saw me catching up and commented on the thing and I was like whaaa-? Thanks for nothing. BUT THE THINGS THAT MIGHT HAPPEN ASDFGHJKL.
The Big Bang Theory – Oh man, season 10's premiere was definitely very dull. I should probably stop watching but it still has its rare moments and I just can't quit.
Brooklyn Nine-Nine – Aahh, season 3 is so good so far! I love it.
New Girl – Definitely a great return.
Agents of S.H.I.E.L.D. – Yo-Yo is my favorite! I don't really get the spirit thing and I want the team back but I'll take this, too.
This is Us – I wasn't planning on watching then I did and it's great so now I must continue.
Empire – I very much wasn't willing to continue but I had to know who ended up dying and yeah, nope. The whole situation is already so sickening and then they make it worse by throwing it in everyone's faces? UGH.
The Flash – I finally got to start my rewatch and though, I won't be able to finish before season 3 airs as I'm still on episode 4 of season 1, I'm so glad I did. I never rewatch shows but damn, I just couldnt not rewatch The Flash.
How to Get Away with Murder – Aaahh, I love it! I really, really hope whoever is dying is someone from the regular cast because damn, that would be so fun and painful. I also appreciate the toll everything has taken on Keating Five because that's the right way to approach things.
Young Justice – Oh man, this show is so good! I'm only 8 episodes in and I see why so many people love it and want season 3. Wally and Artemis are my favorites and I love it whenever they get to team up and go on missions.
Younger – Season 3 is back and DAMN YOU SHOW FOR GETTING MY HOPES UP FOR NOTHING. The horse scene was hilarious, though and such a Younger thing to do.
MOVIE WATCH
I've so many movies ready to watch and then I just…don't? Definitely hoping to watch one tonight.
LIST OF READS
I don't even know anything anymore.

Aristotle and Dante Discover the Secrets of the Universe by Benjamin Alire Sáenz (reread)
Been Here All Along by Sandy Hall
Superior by Jennifer Lack
Young Justice, Vol. 1 by Art Baltazar, Mike Norton
Surgeon X #1 by Sara Kenney, John Watkiss
LIST OF BOOK ACQUISITIONS
So many Kindle deals, again! I only bought 3 books in the first week of September and then so many books were on sale the last week that I couldn't resist. So many are also fitting for October so I'm very excited for that contributing factor, too.
This better not disappoint!
The Body Reader by Anne Frasier
The Suffering by Rin Chupeco
Empire of Storms by Sarah J. Maas
Kids of Appetite by David Arnold
Revenger by Alastair Reynolds
Superior by Jessica Lack
In the Shadow of Blackbirds by Cat Winters

How to Repair a Mechanical Heart by J.C. Lillis
Free to Fall by Lauren Miller
The House of Writers by M.J. Nicholls
Young Justice, Vol. 1 by Art Baltazar, Mike Norton
American Gods by Neil Gaiman
The Upside of Unrequited by Becky Albertalli
The Ship Beyond Time by Heidi Heilig
By Your Side by Kasie West
Surgeon X #1 by Sara Kenney, John Watkiss
PLAYLIST
I feel like I haven't gotten to listen to my September playlist as much as I would have liked.

How was your September?