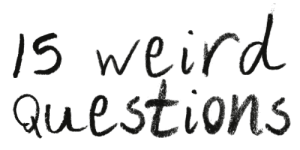 So Ellis very generously tagged me for this tag ages ago and here I am. Note that weird questions don't equal weird answers, but I tried to be interesting.
I. A NICKNAME THAT YOU GET CALLED
Uh, Terri once called me the Feels Troll and honestly, I'm still rather attached to that name. My the childhood nickname, however is pretty similar to my actual name, Sana. However, my nickname won't make sense unless you call me Suh-na and not Sauna or Saana or any such horrendous-sounding variation. Thus, my nickname: Sanu [Suh-noo] (noo as in nook). I don't get called that often now and it's pretty much been the only nickname I ever had. Sorry, my life is so boring in the nickname department. (Lately, I did get called Daughter of Satan, the Satan itself, Satan's mistress and more all of which I owe to someone whose own nickname is Dick).
I'd also like to mention that I discovered only last year that people tend to pronounce my name all wrong (I got called Shannon once over the phone and I totally related to Blue Sargent when she was on the phone with Roger Malory like, how does one get Shannon from Sana?).
II. A WEIRD HABIT
WELL. I can almost always be found peeling the skin off of my lips. Yes, there are days when I've bloody lips (so badass) (read: not) and no, I'm never going to stop even if it makes me look tougher like a loser.
III. A WEIRD PHOBIA
This is not really a phobia, but something that comes pretty close. I cannot look or even think about slithering, slimy creatures without immediately feeling that said slithering creatures are on my body and it's not fun at all. Even typing this up was difficult.
IV. A SONG YOU ARE ASHAMED TO LIKE SO YOU BLAST IT IN PRIVATE
I've no such song. I used to listen to a lot more pop so maybe as late as 3 years ago I would've but now, not at all. Having said it, I'm still reeling from the fact that I like Sleeping Wolf's Sorry which is actually a cover of [redacted]'s Sorry.
V. A PET PEEVE
Do people count? It's just that in order to list pet peeves, I'd have to think about pet peeves and that will just annoy me and I've made it my principle to never annoy myself on purpose.
VI. A NERVOUS HABIT
I don't… know? What I do know is that when I'm nervous I'll just try and not think about the thing that's making me nervous so maybe that's it? This is how unaware I'm about myself and I actually prefer it this way as it keeps life pretty interesting.
VII. WHAT SIDE OF THE BED DO YOU SLEEP ON
I prefer single beds and I do own a single bed which I've been sleeping on for most of my life. However, if I had to pick a side of the bed, single or otherwise, I wouldn't and sleep in the exact middle like, why would you even choose? Logic fails me (well, maybe I fail logic) (only, I like my version better).
VIII. THE NAME OF YOUR FIRST STUFFED ANIMAL
I had this gray stuffed teddy bear that I never named. As a kid, it didn't even occur to me to name things probably because I'm not into naming inanimate objects? Except, I did name my WiFi Gipsy Danger only last year and that's never getting changed.
IX. WHAT DO YOU BUY AT STARBUCKS
Ha, this will shock everyone but I've never had Starbucks mainly because there's no franchise in the country yet and I'm not even tempted to? It's one of those things for me that you hear about so much that they don't interest you anymore. Like it's so amusing how people get crazy over the design of the cups in different seasons? As an environmentalist, it just makes me feel sad because so much wasted ink on cups that are basically just a fancy kind of trash and people going crazy over them? What?
X. BEAUTY RULE
So does putting on moisturizing multiple times a day count? I've to do that because my skin is ultra dry and living in dry weather means I'm moisturizing even during peak heat in the summer. Do I sound like Rogelio from Jane the Virgin yet? Ha! In all honestly, I don't think that a person who wears lipstick and puts on blemish balm cream (only if feeling obligated to look formal) should even have any beauty rules. However, I do try to keep myself hydrated. That one's hard for me, second only to successfully putting on eyeliner.
XI. WHICH WAY DO YOU FACE IN THE SHOWER
Another answer that I actually had to think for a minute. Both ways? Like you have to face the wall when washing your hair and body. At least that's what I consider to be the norm. Other times, I face the shower-head.
XII. A WEIRD BODY SKILL
Raising an eyebrow which I actually made myself learn and it took years to. I can only life my left eyebrow, though. It's just something that always appealed to me and seemed like a cool thing to learn to do.
XIII. COMFORT FOOD
Tea all day, every day. I've mugs that go from containing 500 ml to 250 ml and I keep changing them up throughout the day according to my mood. I drink tea at least 3 times in a day and if I don't, I'll get headaches and murderous urges much more than usual.
XIV. A WORD OR PHRASE THAT YOU SAY ALL THE TIME
I actually have no idea mostly because I talk in Urdu 95% of the time and think in English so welcome to the life of a bilingual. I realize that wasn't the question…
XV. WHAT DO YOU SLEEP IN
Loose-fitting pajamas and a t-shirt. All cotton. Nothing is better, really.
So that's that. Not tagging anyone unless anyone wants to be tagged?
Save