February was the weirdest month ever because I functioned on 4 hours of sleep for three weeks straight and let me tell you, it wasn't fun especially with my erratic as ever work hours. I did end up watching a lot of TV from 5 am till 10 am so I'll admit that was fun. Also, apparently sleep deprivation makes me impulsive because I finally said fuck it and got my own domain and hosting.
LIST OF NEWSWORTHY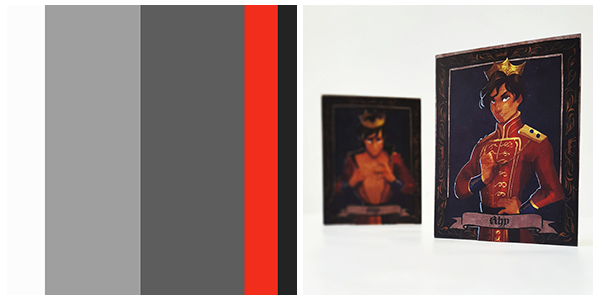 Hello from WordPress!
Well, something came over me around mid February and I decided to move to WordPress. I had always planned to so here I finally am (with thanks to Lillian for answering my stupid domain and hosting related questions). I really thought designing would be hard as fuck and I would fail and I did, at first (mainly because of a stupid tutorial which kept crashing my WordPress after almost every code I put in). Then I found the magic of child themes and after that, figuring out how child themes work was fairly easy. I know the design is super minimal but I love it.
I almost went with the Turkish Sea color palette mixed in with Walking Away. However, I didn't like the look too much and Maraia said that I should have red so that was another factor with going with the current palette re: Greyscale Heartache pictured above (the name could also be a factor, heee). I just love black and white with a popup color.
I do still need to format the posts and right now, I want to go to sleep just thinking about doing that.
I had full plans to reread V.E. Schwab's A Darker Shade of Magic with all the people, but it just didn't happen because life. However, I did take part in the chats and they were so much fun! (I stupidly forgot about the last chat and Schwab was there, boo). I am very excited and fucking scared about A Gathering of Shadows and pretty sure
Maraia
and I both know that I might end up reading it before my copy arrives.
TV WATCH
So much binge-watching!

Jane the Virgin – I REFUSE THE CURRENT SHIP HAPPENINGS (I can be convinced, though). But fuck yeah to female drug overlords. So hot.
Gilmore Girls – I'm currently on season 3. I love Lorelai and Emily Gilmore a lot. Paris is hilarious and Michel is the most relatable. Jess and Luke are both my favorites because of how pissed off they're all the time and my main ship is Rory and Jess, no question about it. Dean can fucking choke on his insecurities and clingy-ness.
The Big Bang Theory – Honestly feeling like it should end now.
Younger – I am learning many terms I would rather not. I really like the show, though (however unbelievable it is).
Brooklyn Nine-Nine – Ahhh! Still in love, obvs.
New Girl – Still not sold by Megan Fox replacing Zooey Deschanel for the however many episodes she is.
Suits – LOVE THE CLUSTERFUCK OF MESSES.
The 100 – I still haven't watched the latest episode that aired and honestly need to distance myself from it for the time being.
The Vampire Diaries – Forever laughing at o.4 ratings and how they cast an Elena lookalike. Can they get anymore desperate? (Yes).
How to Get Away with Murder – I love how this show is so fucked up good.
Coupling – I watched the first episode! It was hilarious and I'm definitely binge-watching it all soon.
MOVIE WATCH
Star Wars: Episode I – The Phantom Menace (6/10) – I still cannot believe I finally watched a Star Wars movie. It was enjoyable.
LIST OF READS
I read three books and I am ashamed. But it's really hard to read when you're sleep deprived for weeks on end. Sigh.

This Is Where It Ends by Marieke Nijkamp
Vortex by S.J. Kincaid
Morning Star by Pierce Brown
LIST OF BOOK ACQUISITIONS
I'm the queen of acquiring more books in a month than reading them for the second time this year. Go me!

Morning Star by Pierce Brown
The Song of Achilles by Madeline Miller
The Awesome by Eve Darrows
Bluescreen by Dan Wells
The Archived by Victoria Schwab
A Darker Shade of Magic by V.E. Schwab
Calamity by Brandon Sanderson
Stars Above by Marissa Meyer
Feed by Mira Grant
Deadline by Mira Grant
Blackout by Mira Grant
And I Darken by Kiersten White (still cannot believe I got approved ajdhlskahs)
PLAYLIST
I have honestly lost count of the number of days I spent listening to Sia's This is Acting on repeat. I hardly ever love all songs on an album and I guess this is what happens when I do.

How was your February?