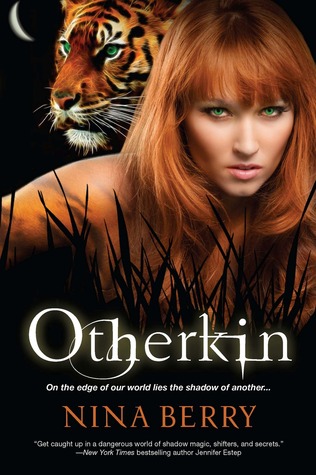 Title: Otherkin (Otherkin, #1)
Genre: Young Adult, Paranormal, Shapeshifters
Publisher: Kensington Teen
Release Date: 31 July 2012
Pages: 320 (eARC)
Synopsis
I thought I knew myself. Then I met Caleb.
Dez is a good girl who does as she's told and tries not to be noticed.
Then she rescues a boy from a cage, and he tells her secrets about herself.
Now inside her burns a darkness that will transform her.
Everything is about to change — and neither Caleb, nor the Otherkin, nor those who hunt them are prepared for what Dez will unleash.
My Rating
* * * *
When secrets lie just beyond a veil of shadow magic and shifters exist alongside the callers of shadows, it is guaranteed that I will be hooked. And I was. There is never a dull moment in this fascinatingly fresh and a whirlwind of a book called Otherkin.
Dez's life is defined by her back brace so she adjusts to it despite the frustration it brings. But it's been two years and Dez is bound to snap and boy, snap she did! Before Dez knew what was happening, she was looking at a tiger in her bedroom mirror who winced when she did. It unfortunately gave a green signal for her to get drugged, shot and then caged.
There she meets Caleb in the neighbouring cage and they both end up escaping the wrath of the Tribunal. But it's really just the beginning because the Tribunal's sole purpose is to eliminate the remaining otherkin: bears, cats, birds of prey, rats and wolves. Hell be damned if these five shifters tribes ever unite to fight the Tribunal!
But Dez knows that the life as she has known is over when the Tribunal attacks again. Her last option is to go to a shifter school in a secret location with Caleb. With a family on the run, Dez has no choice but to at least learn how to shift into her animal form and back at will.
Through it all, Dez remains a strong and independent character who seems to be always battling with her body; first with the back brace then as a shifter. It really emphasizes her human and the animal form and gives her the courage she needs. I admire her will. Caleb is a pretty mysterious character but he is also charming and have the etiquettes of a gentleman. Their chemistry is hot!
The secondary characters from Ximon, the Tribunal head to Morfael, the mysterious teacher to the other shifters: November, London, Arnaldo, and Siku blends well in the world of shifters. The shifter school turns out to be an adventure for Dez and with Caleb becoming distant, Dez really has no way to gain confidence than to embrace what she is. What is Caleb hiding and why is Morfael becoming more secretive every day?
The concept of otherkin is so thrilling, it's like a whole new world. Just like the tagline says, "On the edge of our world lies the shadow of another…" Some of the description in the book took me by surprise with such vivid detail especially that of Morfael's cabin that I was awestruck. Nina Berry has written a fantastic debut that I ended up wanting more; it's that good!
Best Quote:
"I tiptoed to the edge, looking down into the yawning void. For the first time, I felt no dread. That mysterious place, that maelstrom that drew forth the tiger, that was me. I'd been so afraid that I'd cut myself from . . . myself. I'd had no idea what would happen if that girl was ever unleashed.
But now I knew."
Thanks to Kensington Teen and NetGalley for providing me Otherkin for review.