Click the image for tour schedule.
ABOUT THE BOOK
young adult paranormal self-published on 27 November 2012
second book in the Angel Creek series


Becoming a vampire guardian was Dawn Fairchild's ticket out of the Scarlet House. Fresh off a successful mission, life in Angel Creek should have been great. But when her sort-of-maybe-boyfriend, Sebastian, disappears on a quest to help a beautiful vampire from his past, Dawn finds herself amidst a web of danger, lies, and deceit.
Joining forces with Razor, an enigmatic rebel lacking both a verbal and a physical filter, and her band of Misfits—Brooke, Sophie, Hunter, and Seth—Dawn is thrust into a race against the clock to solve the mystery surrounding brutal Born kidnappings and come to terms with the sudden discovery of her own unique powers. With time ticking away and Born vampires' lives in jeopardy, it quickly becomes evident that someone—or something—desperately wants Dawn and is willing to shed any amount of blood to get her.
Dawn has only one chance to face her demons and overcome all obstacles standing in her way as she embarks on the biggest mission of her life—one that threatens a deadly outcome for all involved.
THE RATING
What do you call a book that has a bit of everything? I call it a book by Ada Adams. If someone knows how to write a better book than ReVamped, it's her. Not that ReVamped didn't rock, it totally did. But ReAwakened is something else entirely. We get to see more of the Misfits, the mysterious Razor and discover more things about Dawn's past. Not to forget the hot Dawn and Sebastian kissing scenes which were somewhat frustrating because it wasn't really like they were a couple. Or are they? Ha ha.
First off, I really like the growth in Dawn's character. At the beginning of the book, she's sorting out her feelings and grieving the recent tragic events of ReVamped. But the town of Angel Creek has a habit of attracting trouble and Dawn always has the urge to fight it. I love how her mind works. She is not a damsel in distress in need of a savior. Dawn is big on self-reliance and it is so good to see her in action. Two books in and I haven't found a single bad thing about her. She shines through the darkest of times, is easily annoyed which is adorable and has the best of comebacks ever.
It's not easy being the vampire who harbors such a deep attraction towards Sebastian when there are sinister forces at work trying to mess with Dawn's head. But ever the brave, Dawn is not ready to succumb to the power trying to take over. Unable to confide in anyone, Dawn tries to get back to a normal life. That turns out to be hard when her feelings are all jumbled up and pain seems to be seeping through the dark corners of her mind.
Sebastian has his own past to deal with and with a sudden danger looming, he disappears leaving no trace behind. Dawn is left with no choice but to engage the Misfits in training harder than ever before. The Misfits have also gone through a change especially Hunter. There are vivid action sequences in ReAwakened which really brings out the fighter in each of the Misfits. Brooke tries to change her perspective on life while Seth is finally accepting himself as a vampire. Sophie goes through a big change due to a revelation which totally shocked me. We also get to see a different side of Hunter and his story which was absolutely engrossing. Ethan has his hands full with looking after his mother but we do get to see him and his jovial nature.
ReAwakened has characters who stir something inside of you and their different ways of dealing with pain gets to you. I can't even begin to describe all the laughs I had reading scenes that had Razor in them. Razor is truly a world apart and a great addition to the series. There are also characters that return, villains that are more evil and a lot of suspense that will engage the reader entirely.
Every chapter seemed to be building up to something big and boy, did that deliver! I like my books to be unpredictable and there were things that had me jumping up and down and others that left my mouth hanging. The ending of ReAwakened really opened up a whole new range of possibilities. It's not exactly a fairy tale ending but I would just say that it fits perfectly well with the theme of the book. I don't like the waiting part for books in series but with ReAwakened I got to say, it was totally worth the wait.
'Trouble in paradise? Want me to talk to him for you?' he offered. 'I'm sure I can convince him to come crawling back. Even literally, if you're into that kind of kinky stuff.'
'I reached for her through the darkness, but she was gone. Like dominoes folding over, the rest of the mirrors collapsed down on top of me. The impact caused the world around me to vanish.'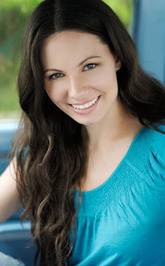 'Many people sing in the shower. I, on the other hand, write scenes in my head and act them out.'
At age five, Ada read her first chapter book – Pippi Longstocking. Ever since that moment, she developed an intense passion for the stories and characters found within the pages of literature.
In her career as an actress and a writer, Ada currently spends most of her days immersed in imaginary worlds. Much like the characters she enjoys playing and writing about, Ada is a martial artist with a Black Belt in Shotokan Karate. She is also a big proponent of lifelong learning, and has attained Bachelor of Arts in Psychology (it aids in creating characters with unique quirks!) as well as a Master's of Science in Education.
Ada strives to bring a fresh voice and perspective to fiction. She has been writing creatively for many years. "ReVamped" is her debut novel.
She lives in Toronto, Canada, and enjoys adventurous nature hikes with her adorable puppies Cara and Oreo.
Ada Adams can be found at
I really had a great time reading ReAwakened and thinking up questions to ask Ada. Thank you so much for the interview. I finally got the word I was looking for to describe Dawn: multi-layered. Also, I gotta go see that vlog now! Now onto the questions:
I read in your bio that you are a "a martial artist with a Black Belt in Shotokan Karate." How did that happen?
I did a vlog about this recently and ended up crediting "Buffy the Vampire Slayer" for my interest in Karate. My parents enrolled me in a class when I was around ten or so, because they thought it would be a fun way to learn some self defense. This was around the same time that I started watching "Buffy" and since I looked up to her skills, I was all for it! Once I began Karate, I loved it. We did a lot of Judo as well, and being one of the only girls in class, I really enjoyed kicking guys' butts.
Dawn is a character unlike any other character I've ever read about. What gave you the idea to write about such a character?
It was important for me to write about a strong female character. At the same time, I wanted her to have many layers to her personality. I didn't want to write about someone perfect who could handle anything and everything thrown at her in a blink of an eye. When I'm writing, I love to write about characters who demonstrate growth as the book and the series progresses, so I always knew that, despite her physical strength and skill, Dawn would have a lot to learn. In "ReAwakened", she showed immense growth and maturity from the beginning of the novel to the end. I'm very proud of her for that. 🙂
What made you write about vampires, such as the Misfits, in a completely new dimension seeing as they're generally portrayed as creatures-who-can-do-nothing-wrong?
I wanted to put a bit of an unusual twist on the genre. We're lucky to have so many wonderful novels about "perfect" vampires available to us, but I never really read anything about the less glamorous side of being undead. I love seeing the Misfits learn and grow as the series progresses.
What was the hardest part of writing ReAwakened?
I don't want to give out any spoilers, but for those who have read "ReAwakened", I think they know my answer and share my pain. It was extremely hard to write "that scene", but there are many reasons why things had to occur the way they did. Plus, it's a great set-up for the next book. The stakes are high and we're going into Book III with a whole new Dawn. I'm very excited.
Everyone should know that you are – ?
An animal-lover chocoholic obsessed with sparkles and "My Little Pony" stuff. I suppose that also makes me a five-year-old at heart.
What question have you always wanted to be asked in an interview and how would you answer that question?
I've always wanted Ellen DeGeneres to ask me to dance with her, haha! Or, better yet, to play a game. I'm a sucker for games. "Five-year-old", what did I tell you?
Lastly, is Angel Creek series supposed to be a trilogy or are we going to get more doses of the awesomeness?
Currently, it's set up as a trilogy (with a possible fourth book). However, I love writing about these characters and their journey, so I'm not sure if the next book really will be the end of it all. I think that the length of the series will greatly depend on the fans. I've already had requests for Hunter and Razor novellas that I am definitely entertaining (and an entire full-length novel of "just Sebastian kissing scenes"). 😉
Thanks for having me on your lovely blog!
Thanks to Ada Adams and Jessirae for providing me a copy of ReAwakened for review.