Hey, everyone!
I'm very happy to kick off the Eileen's Blogoversary Tour! She blogs over at Singing and Reading in the Rain. I haven't known Eileen for a long time, but from all the Twitter chats we did she's an amazing person. She sings so well, she reads and her blog rocks. She's one of my inspirations when it comes to blogging and she's so active on Twitter. One of the best people I know! =D
So, I wish you a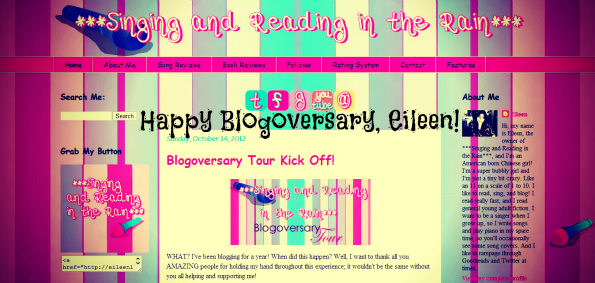 The Interview
Before I begin this interview, I'd like to mention a few things. I wanted to incorporate music as well as books when it came to interviewing Eileen since her blog is like that. So every song that I've included in the questions are either rated 5 stars by Eileen or she has reviewed them on her blog (they're click-able, too!).
I've tried to make it one of a kind interview for a one of a kind book blogger so do comment on how I've fared ya'll!
Q1. A one of a kind book blogger with a dream of making it into the music industry. These are the words that I'll use to describe you. Want to add anything to it?
Ooh I LIKE THAT! 😀 Can I use that for my "About Me" from now on? I TOTALLY CALL USING IT!
Q2. For a bookworm, reading is a form of escapism. So what book do you always fall back on to Give Your Heart a Break?
The Iron Fey series by Julie Kagawa definitely; they're always my guilty pleasures.
Hmmm…if we're talking about a really bad book that makes me go completely Godzilla, it would have to be House of Night by PC and Kristin Cast. Seriously. Before I completely rant about the idiocy of it, I'll just stop typing.
Q4. What genre gets you thinking it's Bad For Me but you still gotta read it.
I think of contemporary because most of the contemporary books I read I absolutely HATE but I still have to read them because the covers are always look pretty. 😀
Q5. Stop reading when tired or wait till the chapter ends?
Definitely when the chapter ends! You don't stop listening to a song you really like halfway through right?
Q6. A fun question: What is the title of one of your absolute favorite song and what characters would you want to star in the book titled so?
ENCHANTED
BY TAYLOR SWIFT! 😀 That was my first Taylor Swift song that probably really resonated within me and jumpstarted my dream of becoming a singer. And there actually is a book called Enchanted made up of a bunch of short stories. I believe. But if there was an actual book called Enchanted, it would probably be a fantasy book or a historical romance. So they'd probably be really classic. Maybe Cass from Venom or Meghan from the Iron Fey to be the leading characters? And then of course their love interests from their own book for the male counterpart 😉
Q7. Best cover you ever did? Post the link, I'd love my readers to listen to you sing!
I think it was
Ronan
by Taylor Swift because it was kind of like a perfect match for my voice, in a manner of speaking.
Q8. Taylor Swift's favorite book is To Kill a Mockingbird, have you read it? If not, then do you plan to or your Swifty-ness is limited to music alone?
Wait. Taylor Swift's favorite book is To Kill a Mockingbird? OMG okay I'm not the biggest Swifty in the world, but she's definitely an inspiration and although I don't know everything about her and I'm not the biggest Swifty, I definitely believe in the influence she has and maybe one day I'll be half as successful.
But to answer your question, I definitely have to read it when I find the time! I think I'll have to read it when I get into high school since I'm sure it's required reading at my high school, so I can kill two mockingbirds with one stone. Ehh? See what I did there? No, okay. But I heard Taylor was really into historical things, so we must have different reading tastes when it comes to that. Maybe if I'm ever famous and meet her, I'll introduce her to young adult fantasy and dystopian books!
Q9. What is the one book you loved but feel weird about it since it's not a genre you're particularly fond of 'cause y'know Anything is Possible.
I loved Venom but it was really weird because I usually see "historical fiction" and RUN. But I still loved the story and the intrigue it had 🙂
Q10. Situational question: Suppose you're stuck in a Payphone, Wide Awake and there are Strange Clouds in the sky and it looks like It Will Rain. There are Wild Horses coming toward the payphone, you can't Breathe and your only chance of escape is to read a quote or a passage from a book to send the horses and the clouds away. What quote or passage would that be, from which book and why?
OOH! This passage from
Speechless
by Hannah Harrington, where one of the characters says,
"Anger is too easy. Love, love takes courage."
Well, it was around that part, and it was so powerful and so sweet that I had to put the book down and go, "Awwww."
Q11. What are the three things in the world that makes you feel Enchanted?
1. Bloggy friends and people who believe in my dream and talent
2. My beautiful brother who's always there to endure my tackle hugs
3. Life 🙂
Q12. Any Titanium plans for the blog in the coming future?
Definitely I'm going to try posting covers once a week on my blog, and developing the musical aspect of it. Oh, and I'd also love to hit 2,000 followers but that's just me at this point being weird.
THANKS FOR HAVING ME ON SANA! I LOVE your questions they made me lol!
Thank you, Eileen for coming over to my blog and giving me a chance to be a part of your blogoversary tour. Tomorrow's stop is a guest post at Amy's blog,
Book Loving Mom
.