I'm extremely honoured to present the exclusive cover reveal of Nicole Wolverton's debut The Trajectory of Dreams. As always, I love it when the cover connects to the storyline of the book and this one really does. I'm so, so excited for The Trajectory of Dreams! The cover gives off a feeling of an explosion about to occur and the upside down concrete and sky with the cloud trail is really unique. You'll definitely give it a second, a third and a fourth look! Such a pretty cover, I think it's perfect.
Thank you, Nicole, for letting me be the one to reveal it.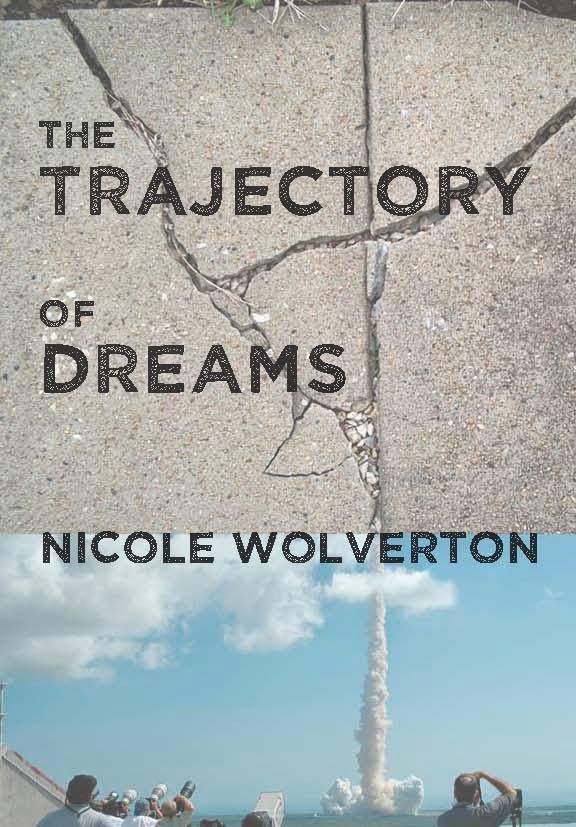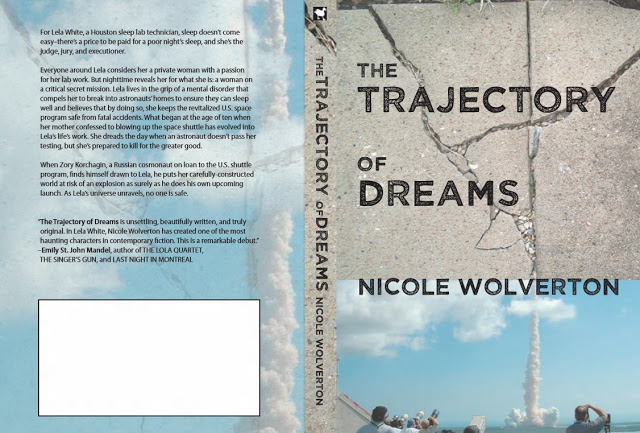 ABOUT THE BOOK
adult psychological thriller published by
Bitingduck Press on
1 March 2013
For Lela White, a Houston sleep lab technician, sleep doesn't come easy—there's a price to be paid for a poor night's sleep, and she's the judge, jury, and executioner.
Everyone around Lela considers her a private woman with a passion for her lab work. But nighttime reveals her for what she is: a woman on a critical secret mission. Lela lives in the grip of a mental disorder that compels her to break into astronauts' homes to ensure they can sleep well and believes that by doing so, she keeps the revitalized U.S. space program safe from fatal accidents. What began at the age of ten when her mother confessed to blowing up the space shuttle has evolved into Lela's life's work. She dreads the day when an astronaut doesn't pass her testing, but she's prepared to kill for the greater good.
When Zory Korchagin, a Russian cosmonaut on loan to the U.S. shuttle program, finds himself drawn to Lela, he puts her carefully-constructed world at risk of an explosion as surely as he does his own upcoming launch. As Lela's universe unravels, no one is safe.
THE EXCERPT
For the good of the shuttle launch and the astronauts, I would kill him. The shuttle program had languished on hiatus for forty-nine months years prior—shut down after the last incident. It was my responsibility to ensure it never happened again.
Meehan rolled again, this time onto his stomach. His arms tightened around his pillow in a bear hug. Within seconds he snored. Not loud—it was more of a wispy grumble. Not the type indicative of obstructive sleep apnea.
All the while adrenaline roller coastered through me, up the steep beginning incline and wailing around the curves and dips.
His breathing evened out and deepened. I tried to control my own, finally sucking in a quiet lungful of air.
I stepped closer, raising the autoinjector. All it would take was a quick jab. He stayed asleep, though, sinking deeper and deeper with each rise of his lungs. My feet moved of their own accord, carrying me around his bed and out his bedroom door.
Some animals are more equal than others. It was definitely true in my case. Years of creeping around, dealing with security systems, and digging into blue prints had left me with skills on par with any professional burglar. They were just animals, though. I was more. I had purpose.
The astronauts I'd studied had gone up and come down—safely. The time would come when they might not get so lucky. A disaster would happen again. We must study the past to predict the future
.
I still remembered the last time in vivid detail. I'd been ten—just turned, in fact, several days prior.
The fireball and puffy cloud trail on the television screen in my elementary school hallway turned my fascination to stomach-churning terror, then back to serrated prickles of dread as the smoky streams from the space shuttle split apart, curling and expanding into antennae. A giant, roiling snail head in a sky so blue it hurt to look at.
ABOUT THE AUTHOR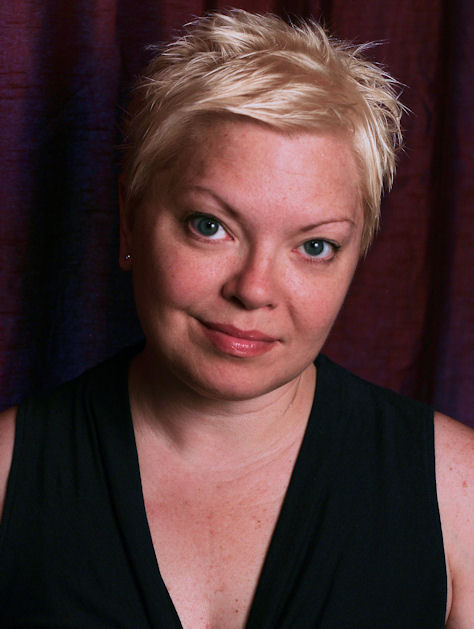 Nicole Wolverton is a freelance writer from the Philadelphia area. Her short fiction has appeared in Black Heart Magazine, The Molotov Cocktail, and Penduline, among others. The Trajectory of Dreams is her debut novel.
When Nicole isn't writing, you can find her on the Schuylkill River paddling with the Philadelphia Flying Phoenix women's dragon boat team, sky diving over New Jersey, or digging around in her gardens. She is founder of Farm to Philly, a website focused on eating locally grown foods and sustainable living.
She attended Temple University.
Nicole Wolverton can be found at
Thanks to Nicole Wolverton for giving me a chance to be a part of the cover reveal of
The Trajectory of Dreams
.