Posting a monthly recap this late into the next month is the new black LOL.
LIST OF NEWSWORTHY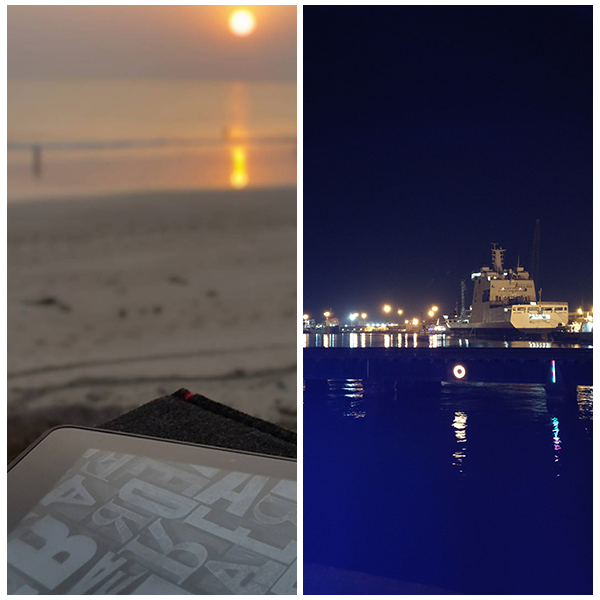 Going Out More
I mean, I know it is a given being in another city and all and I actually do want to get out a lot more since it feels a lot like being cooped up when you're living in an apartment instead of a bigass house. I went to quite a few places and also visited some people and it's been fun. What I don't love is the amount of traffic and the time it takes to get to different places so good thing I can read in the car!
Beaching
I got to go to a beach after more than a decade and it was fantastic and by fantastic I mean deserted and peaceful. While I'm a mountain person and beaches really don't do much for me, I do like being near different types of water bodies. Oh and I also rode a camel and a horse for the first time ever and damn, I'm so not a riding person haha. THe boat ride was much more fun and I'm sad we didn't go during daytime because that's obviously the superior time of the day to visit new-to-you places.
TV WATCH
Wow, a longer list than usual. How?!

Marvel's Agents of S.H.I.E.L.D. – This season is just chockfull of feels and I'm just sobs. Also, it's probably my favorite now.
Black Mirror – I fully intended to watch the whole season but episode 3, Crocodile, fucked me up real good and I have been avoiding the show ever since. I do think the first two episodes didn't really feel like Black Mirror for some reason and then episode 3 took it too far.
The End of the Fucking World – I have only watched the first two episodes, (fail, I know) but I'm definitely watching it all in February since it's fucked up.
The Flash – I actually cannot help but spot so many glaring plot holes this season which makes me wonder how they executed the current storyline in the comics. It's still a great arc, though as well as STILL THE BEST SHOW AND WESTALLEN REMAINS ICONIC.
Supergirl – I definitely have a hate/like relationship with this show. I basically love it when the focus is on Lena Luthor, female friendships, female villains and the Danvers sisters. All the rest can go to hell, really.
Black Lightning – I've only watched the first two episodes and it is great! It has some awkward dialog like all CW shows tend to but I'm loving the dark vibe. Also, the Pearson sisters are badass.
One Day at a Time – OMFG SEASON 2 KILLED ME.
MOVIE WATCH
Sorry for turning this section into taking about movies I planned to watch instead of movies I watched, but I totally failed at watching Thor: Ragnarok like I planned to in January. I'm hopeless, I know.
LIST OF READS
I got to read so many great books in January that I would totally pat myself on the back for my own reading choices if I could, ha.

Into the Drowning Deep by Mira Grant – DAMN, I'm on a mission to get everyone to read this fantastic book! It's a slow burn kind of a suspense but the payoff is so fucking worth it.
Saga Vol. 2 by Brian K. Vaughan, Fiona Staples – You know when books try to talk bad about a female character just because the main character have a little something going on but then you actually end up loving them? That's basically what happened here with Gwendolyn. I'm so glad she's actually a part of the comics instead of being this vague female character that got wronged.
The Seven Husbands of Evelyn Hugo by Taylor Jenkins Reid – SO GOOD! The WLW OTP basically destroyed me and then that plot twist happened.
Saga Vol. 3 by Brian K. Vaughan, Fiona Staples – Volume three introduced a couple of romantic pairings and can we just not? I'm so here for a bisexual Gwendolyn, though.
Mariam Sharma Hits the Road by Sheba Karim – I think the best thing about this book is how it tackled Islamophobia in one of its scenes and I'd probably recommend this book for that alone. I do have a lot of thoughts because road trip! friendships! gay Muslims! so hopefully, I can make myself write a review.
Saga Vol. 4 by Brian K. Vaughan, Fiona Staples – Definitely the most disappointing volume so far because suddenly there had to be a marriage conflict and what's better than dangling a possible cheating storyline. NO THANKS. It's still good, though.
Saga Vol. 5 by Brian K. Vaughan, Fiona Staples – This volume just fell short for me because I'm not a fan of any of the current arcs except for Gwendolyn and co. Sigh.
Fence #3 by C.S. Pacat, Johanna the Mad – SO GOOD. I'm loving how they're expanding on it all and introducing some fantastic characters like the Black woman fencing coach. YESSSS.
Join by Steve Toutonghi – This was fucked up and way more science-y than usual so I couldn't really care about the characters and the end kind of left me ?
All-New Wolverine Vol. 1: The Four Sisters by Tom Taylor – SO GOOD, SO PURE, SO ASLKDJHDF. I just love Laura Kinney so fucking much and the story arc of this volume is life-ruining levels of good.
Summer of Salt by Katrina Leno – I STILL HAVEN'T RECOVERED, IT IS SUCH AN AMAZING BOOK.
LIST OF BOOK ACQUISITIONS
Book buying remains out of control in the new year, ha.

Snow Falling by Jane Gloriana Villanueva, Caridad Piñeiro
Mariam Sharma Hits the Road by Sheba Karim
The Devils's Revolver by V. S. McGrath
Iron Gold by Pierce Brown
Fence #3 by C.S. Pacat, Johanna the Mad
Children of Time by Adrian Tchaikovsky
A Red Peace by Spencer Ellsworth
Annihilation by Jeff VanderMeer
A Study in Honor by Claire O'Dell
Side Life by Steve Toutonghi
Failure to Communicate by Kaia Sønderby
Daughter of the Pirate King by Tricia Levenseller
Only Human by Sylvain Neuvel
Summer of Salt by Katrina Leno

If We Were Villains by M.L. Rio
PLAYLIST
I actually listened to zero music in January and I don't even how or why.
How was your January?