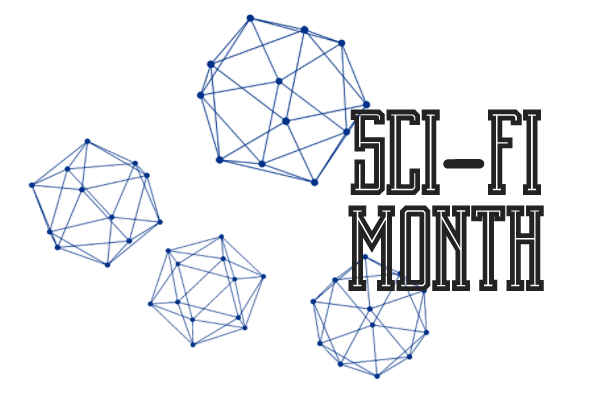 Another year, another sci-fi month hosted by Rinn. This is my fourth year of participating in the event and I'm a day late with the introductory post but hey, at least it's here. I remember I couldn't participate to the extent that I wanted to last year so this year, I'm definitely making up for the slack.
Ultimate Nerd Party AKA Books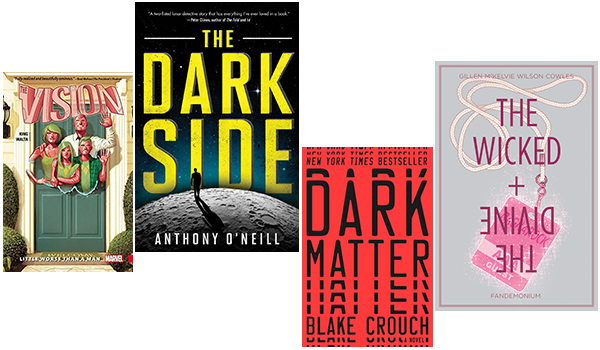 I'm already in the middle of several sci-fi books (please don't ask how) which I would like to finish. But apart from those, I really want to catch up on comics. I'll definitely be reading The Vision, Ms. Marvel, Paper Girls as well finally, finally catching up on The Wicked + The Divine. As for books that I've yet to start, I've quite a few to choose from but I really want to get around to reading The Long Way to a Small, Angry Planet by Becky Chambers, Dark Matter by Blake Crouch and The Diabolic by SJ Kincaid. I also plan to finally read Catalyst by SJ Kincaid as well as finish up my reread of Chaos Walking trilogy by Patrick Ness.
Reluctant Nerd Party AKA Movies

I haven't been the biggest movie watcher this year and have watched a grand total of 8 (!) movies this year which I'm having a hard time believing. However, I do want to watch some movies before the year is over and as I mostly watch action movies anyway, it shouldn't be that much of an effort.
I've been wanting to rewatch Mad Max: Fury Road for more than a year now so I hope to finally make time for that. I also want to watch Suicide Squad because of Viola Davis, Will Smith as well as these two gif sets. I'll probably also rewatch Pacific Rim mainly because why not and because I've been wanting to make a gif set or two.
Enthusiastic Nerd Party AKA TV Shows

I vastly prefer TV shows to movies so I'm definitely going to watch way more of them. First up is The Flash, my current favorite, which I'm slowly rewatching along with watching the latest season. I also plan to finish Black Mirror which shouldn't take long because of the number of total episodes and Young Justice even though I'm very nervous to and not ready for the show to be over. Supergirl does way more female villains than any other show so it's definitely on the list. And lastly, finally start Westworld and Class.
Internet Nerd Party AKA Posts
Like always, I'll at least do a few posts and hopefully a couple of reviews. I want to do at least one discussion post and a couple of lists posts. There's already a top ten Tuesday coming up next week that I want to science up as well as a movies-related one later on in the month.
Are you participating in sci-fi month? Have any recommendations for me?