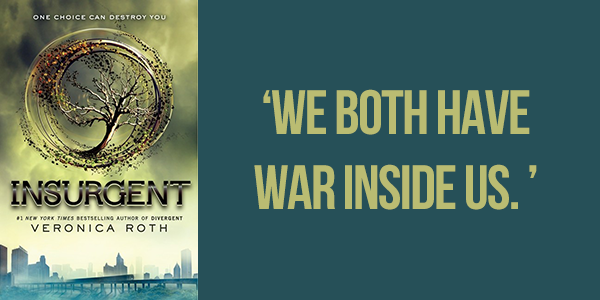 ABOUT THE BOOK
Insurgent by Veronica Roth
young adult sci-fi dystopian thriller published by Katherine Tegen Books on May 3rd, 2012
second book in Divergent trilogy
One choice can transform you-or it can destroy you. But every choice has consequences, and as unrest surges in the factions all around her, Tris Prior must continue trying to save those she loves-and herself-while grappling with haunting questions of grief and forgiveness, identity and loyalty, politics and love.
Tris's initiation day should have been marked by celebration and victory with her chosen faction; instead, the day ended with unspeakable horrors. War now looms as conflict between the factions and their ideologies grows. And in times of war, sides must be chosen, secrets will emerge, and choices will become even more irrevocable-and even more powerful. Transformed by her own decisions but also by haunting grief and guilt, radical new discoveries, and shifting relationships, Tris must fully embrace her Divergence, even if she does not know what she may lose by doing so.

THE RATING
THE REVIEW
Note: There will be spoilers below, proceed at your own risk.
There are books that needn't exist because they don't seem to serve a purpose, especially those comprising of 500+ pages that go on and on and on. What happened in the first 70 pages of Insurgent could have been resolved by page 140 and that's stretching it a lot. But oh no, after numerous plot inconsistencies, overused tropes and lots of dragging on, we come to a lukewarm revelation. In other words, the plot of Insurgent could have been shrunk to fit inside Divergent for that how little of a plot it has.
I restarted this series feeling like I should give Tris and Four one more try but yeah, that didn't happen. I was already wary of them after Divergent and then both the characters devolved spectacularly like you wouldn't believe in Insurgent. I have to applaud the many instances where Tris and Four are basically the same aren't-very-nice-person(s)-ever. I just cannot see them 'in love' after the way they lied through their teeth to each other throughout the book. Theirs is not a healthy relationship and these characters are not the ones that were in Divergent which you'd think would improve things, but no.
So Tris is going all out on the whole too stupid to live scenario like chill down on the stupid, yo. Even without considering she is the most rare Divergent to ever exist (YA heroines be our special snowflakes, right), she chooses to go with her instincts when it comes to Marcus. This just goes to show conflict for the sake of conflict because there will obviously be consequences of pitting Marcus against Tobias. Then you have Tobias working in secret with his factionless mother, Evelyn, so he's just as closed off as Tris is. Yet he does have half an ounce more intelligence than Tris because of the reason why he infiltrates the Erudite headquarters. However, that's it. That's all I have to say about him.
What bothered me most about Insurgent is how the subject of depression and suicide is taken so lightly. Like, it's a dystopia so it's fine? No, it's never fine. I get that the situation is so dire that Tris just wants to stop fighting and die but man, handing yourself over to the enemy would just prompt the enemy to hunt more Divergents when their experimentation turn out to be successful. It felt like Roth was vying to portray all three sides of Tris and failed to portray them well (or at all because let's admit, factions never made sense to begin with). Sacrificing herself to save others (and getting others to off herself in the process) is the Abnegation in her, the Erudite is going with her instincts because what's thinking things through when you're high on Divergent brain and the Dauntless is just driving it all home. In short, Tris's actions are just plot devices on top of plot devices and all because of fucking serums which are the biggest and the most convenient plot device of all in the series.
That brings me to the ever-present serums. A list of serums that cannot affect Divergents: simulation serum, truth serum, mind-controlling serum, please-stop-talking serum, more serums that I don't care about. Except peace serum. It's safe to assume that peace serum is probably some kind of a drug which is why it affected Tris as much as it did. However, what's in the rest of the serums that is so fucking useless in altering the chemistry of Divergents' brains? The inconsistency of the plot is just shoddy as hell. How was this even allowed?
Going with the theme of Divergent, there's still no worldbuilding in Insurgent. What there is in abundance of are descriptions of all the different factions headquarters. Amity are the happy-go-lucky community of farmers and only because they're getting drugged via their bread. Candor is all out on black and white because what says honesty like black and white in a checkered pattern all over a place. Erudite fucking wear glasses to prove their intelligence and have the cleanest labs there ever were. Fuck you, Erudite for the wear glasses, will nerd out trope. Also, surprise, surprise! Abnegation live in houses that are clones of each other. Why the fuck do the Abnegation need so many resources for houses when they're the selfless faction?
In all, Insurgent is a joke of a book and I was laughing by the time I finished reading it. In retrospect, I seem to find it more problematic than funny which is sort of sad. However, I'm still laughing about how this is a bestseller and weeping for all the trees that were sacrificed for this useless piece of fiction that renders itself absolutely shitty with a crappy as fuck ending.
THE QUOTES
'Do remember, though, that sometimes the people you oppress become mightier than you would like.'