December was the best because I read and reread some of my favorite books.
LIST OF NEWSWORTHY
Winter season is my favorite!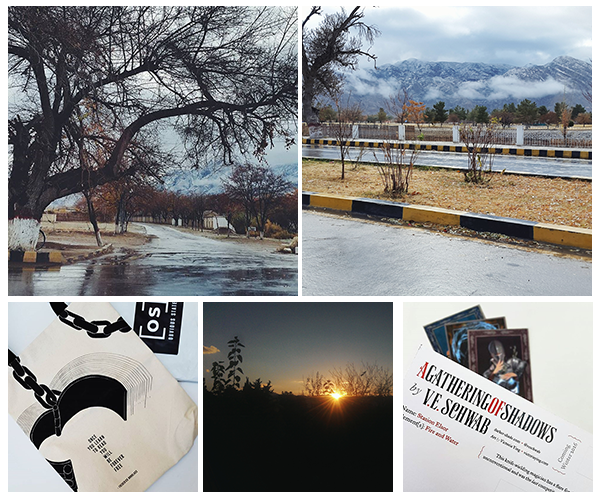 But Books
To be honest, all I remember about December was reading and rereading a lot of books. My brain has this habit of blocking out all the bad stuff so all I remember is Phryne Fisher! The 100! This Savage Song! Harry Potter! and probably in that order, too.
The 100
Smack dab in the middle of December, we got the trailer for season 3 of The 100 and there was much feelings going around. So fucking excited about the third season!
TV WATCH
I spent half of December under the spell of Miss Fisher's Murder Mysteries and rightly so.

The Royals – Eleanor and Jasper need to do something.
iZombie – Kind of slipping off into meh territory, but Ravi makes things better so.
Empire – Gaaah, this fucking show! It wreaks havoc on my nerves and that finale and the wait till March ajdslkgh.
The Vampire Diaries – At the rate they keep killing off characters, they wouldn't need to cancel the show because everyone would be dead soon.
Arrow – Arrow picked itself in lieu of the crossovers and I'm not complaining.
Fresh Off the Boat – All the yesses! I love the Huangs so much.
The Flash – SO MUCH AWESOME! The last couple of episodes, especially the crossover ones were amazing.
Brooklyn Nine-Nine – SQUAD GOALS.
Agents of S.H.I.E.L.D. – !!!
Scream Queens – I've no idea why it's even been renewed for a second season.
Heroes Reborn – Oh, look this show decided to reveal stuff halfway into the freaking season.
Miss Fisher's Murder Mysteries – I didn't watch any of the shows in later half of December because of THIS FABULOUS SHOW. Phryne Fisher is my latest favorite female character.
MOVIE WATCH

Drop Dead Gorgeous (7/10) – Hilarious movie that I watched on the recommendation of Maraia.
LIST OF READS
Planetfall by Emma Newman
The Scorpion Rules by Erin Bow
A Darker Shade of Magic by V.E. Schwab (re-reread)
Insignia by S.J. Kincaid
Harry Potter and the Chamber of Secrets by J.K. Rowling
Harry Potter and the Prisoner of Azkaban by J.K. Rowling
This Savage Song by Victoria Schwab
The Raven Boys by Maggie Stiefvater (audiobook reread)
The Cormorant by Chuck Wendig
Hedgehugs by Steve Wilson, Lucy Tapper
Harry Potter and the Goblet of Fire by J.K. Rowling
LIST OF BLOGPOSTS
There's an ARC giveaway still going on for Map of Fates by Maggie Hall. Learn more here.
I posted my 2015 end of year books survey and cheated a lot as always.
LIST OF BOOK ACQUISITIONS
Much Kindle deals, most money spent.

The Rithmatist by Brandon Sanderson
Legacy of Kings by Eleanor Herman
Partials by Dan Wells
Sea of Shadows by Kelley Armstrong
On the Edge of Gone by Corinne Duyvis
The Cormorant by Chuck Wendig
Passenger by Alexandra Bracken
This Savage Song by V.E. Schwab
Eleven Things I Promised by Catherine Clark
A Drop of Night by Stefan Bachman
Front Lines by Michael Grant
The Dream Thieves by Maggie Stiefvater (finally own a hardcover copy!)
PLAYLIST
Pretty much listened to a few songs on repeat.

How was your December?