It's that time of the year again!
2015 READING STATS
NUMBER OF BOOKS YOU READ.
Ninety-one (this number includes comic issues, volumes, etc).
NUMBER OF REREADS.
Sixteen.
GENRE YOU READ THE MOST FROM.
Fantasy all the fucking way! Also, way more sci-fi than ever before which makes me very happy.

BEST IN BOOKS
I. BEST BOOK YOU READ IN 2015?
I really do not want to lose my sanity BUT if I really have to choose the top three, I'd choose The Piper's Son by Melina Marchetta, The Ask and the Answer by Patrick Ness and This Savage Song by Victoria Schwab.
II. BOOK YOU WERE EXCITED ABOUT AND THOUGHT YOU'D LOVE BUT DIDN'T?
Fairest by Marissa Meyer which disgusted me to no end. Meh.
III. MOST SURPRISING (IN A GOOD OR BAD WAY) BOOK YOU READ IN 2015?
I knew I'd love A Madness So Discreet by Mindy McGinnis, but I was still surprised how much I did.
IV. BOOK YOU 'PUSHED' THE MOST PEOPLE TO READ (AND THEY DID) IN 2015?
A Darker Shade of Magic by V. E. Schwab as well as The Raven Boys by Maggie Stiefvater (absolutely no one is surprised).
V. BEST SERIES YOU STARTED IN 2015? BEST SEQUEL OF 2015? BEST SERIES ENDER OF 2015?
Best series I started this year is definitely A Darker Shade of Magic by V.E. Schwab which I read three times so that should be enough proof.
Best sequel has to be Golden Son by Pierce Brown because fucking hell, that book just flips everything on its head quite a few times.
Best series ender is Winter by Marissa Meyer because it's just (shippy) perfection.
VI. FAVORITE NEW AUTHOR YOU DISCOVERED IN 2015?
Melina Marchetta. I actually read Jellicoe Road a year before, but I don't think it was the right Marchetta book for me to start with (and I want to reread it at some point, of course). However, after reading Lumatere Chronicles as well as Saving Francesca and The Piper's Son, I'm a lifetime fan of her books.
VII. BEST BOOK FROM A GENRE YOU DON'T TYPICALLY READ/WAS OUT OF YOUR COMFORT ZONE?
The Diviners by Libba Bray because I'm not a big consumer of historical YA, but now I damn sure am. Definitely going to make it a point to read more historical YA.
VIII. MOST ACTION-PACKED/THRILLING/UNPUTDOWNABLE BOOK OF THE YEAR?
Illuminae by Amie Kaufman and Jay Kristoff which is just fucking aldkjhfgs.
IX. BOOK YOU READ IN 2015 THAT YOU ARE MOST LIKELY TO RE-READ NEXT YEAR?
Hahaha so many because it's such a high for me now. Mostly I plan to read The Raven Cycle by Maggie Stiefvater (re: seasonal rereads as coined by Ellis) and This Savage Song by Victoria Schwab four times next year.
X. FAVORITE COVER OF A BOOK YOU READ IN 2015?
A Darker Shade of Magic by V.E. Schwab because of minimalism, The Walls Around Us by Nova Ren Suma because of the illustration and Winter by Marissa Meyer because the apple freaking glows. (Notice the red in all three and I wasn't even going for that similarity).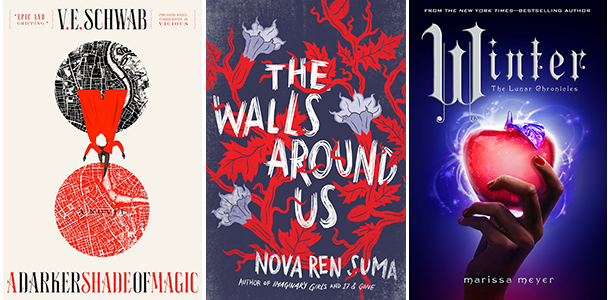 XI. MOST MEMORABLE CHARACTER OF 2015?
This is just mean. My first pick would obviously be Todd Hewitt (from Patrick Ness's Chaos Walking series). Second pick would be Froi (from Melina Marchetta's Lumatere Chronicles). Third pick would be Miriam Black (from Chuck Wendig's Miriam Black series). Fourth pick would be–okay, stopping.
XII. MOST BEAUTIFULLY WRITTEN BOOK YOU READ IN 2015?
The Piper's Son by Melina Marchetta. So much heartache ffs.
XIII. MOST THOUGHT-PROVOKING/LIFE-CHANGING BOOK OF 2015?
More Than This by Patrick Ness because it's about life as much as it's about death. I also love it because of personal reasons.
XIV. BOOK YOU CAN'T BELIEVE YOU WAITED UNTIL 2015 TO FINALLY READ?
The Night Circus by Erin Morgenstern. I get weekly urges to reread because of how beautiful and  magical it is.
XV. FAVORITE PASSAGE/QUOTE FROM A BOOK YOU READ IN 2015?
I loves quotes a lot so here, have a few:
'Oh, you're one of those,' the princess said.
'One of what?'
'One of those who needs to be told their worth over and over by others. Do you know who tells me my worth, Phaedra of Alonso?'
The princess pointed a hard finger at her own chest.
'Me. I determine my own worth. If I had to rely on others I'd have lain down and died waiting.' – Quintana of Charyn by Melina Marchetta

'You shy, Francesca?' Javier asks me later on.
I shake my head. 'Not really.' I'm just sad, I want to say. And I'm lonely. – Saving Francesca by Melina Marchetta

'Maybe she'd always been there. Maybe strangers enter your heart first and then you spent the rest of your life searching for them.' – The Piper's Son by Melina Marchetta

'It's not that you should never love something so much that it can control you.
It's that you need to love something that much so you can never be controlled.
It's not a weakness.
It's your best strength.' – The Ask and the Answer by Patrick Ness

'We don't hinge on universes. We hinge on little things.' – A-Force #2 by G. Willow Wilson
XVI. SHORTEST AND LONGEST BOOK YOU READ IN 2015?
824 pages of Winter by Marissa Meyer and I read a lot of comic issues that had as low as 20 pages.
XVII. BOOK THAT SHOCKED YOU THE MOST?
Golden Son by Pierce Brown and that shock is a shock that I'm not getting over anytime soon.
XVIII. OTP OF THE YEAR (YOU WILL GO DOWN WITH THIS SHIP!)
Todd/Viola from Chaos Walking by Patrick Ness and Kai/Cinder from The Lunar Chronicles by Marissa Meyer.
XIX. FAVORITE NON-ROMANTIC RELATIONSHIP OF THE YEAR?
August and Kate from This Savage Song by Victoria Schwab, hands down. I also adore Darrow and Sevro's relationship in Golden Son by Pierce Brown as well as the working-together-of-sorts of Seth, Tomasz and Regine in More Than This by Patrick Ness.
XX. FAVORITE BOOK YOU READ IN 2015 FROM AN AUTHOR YOU'VE READ PREVIOUSLY?
Well, it's time to switch things up. Cress by Marissa Meyer in which after-the-kidnapping scene is my favorite.
XXI. BEST BOOK YOU READ IN 2015 THAT YOU READ BASED SOLELY ON A RECOMMENDATION FROM SOMEBODY ELSE?
Crini recommended Insignia by S.J. Kincaid to me and it's all sorts of science fiction fun. Cannot wait to read Vortex in January!
XXII. NEW FICTIONAL CRUSH FROM A BOOK YOU READ IN 2015?
I don't do crushes/book boyfriends but the male characters that I absolutely loved this year were Kai from The Lunar Chronicles and Magiano from The Rose Society by Marie Lu because Kai is so fucking sassy and Magiano is a thief.
XXIII. BEST 2015 DEBUT YOU READ?
Simon vs the Homo Sapiens Agenda by Becky Albertalli. This was the second book I read this year and I'm still not over the cute.
XXIV. BEST WORLD-BUILDING/MOST VIVID SETTING YOU READ THIS YEAR?
Picking anything other than Firefight by Brandon Sanderson would be a lie and I don't want to say anything about the world-building as that would be a spoiler.
XXV. BOOK THAT PUT A SMILE ON YOUR FACE/WAS THE MOST FUN TO READ?
Lock In by John Scalzi because the main character is so carelessly straightforward and the plot is so good.
XXVI. BOOK THAT MADE YOU CRY OR NEARLY CRY IN 2015?
That would be a lot. Ten to be exact and you can see which ones here.
XXVII. HIDDEN GEM OF THE YEAR?
The Walls Around Us by Nova Ren Suma. It was a mindfuck of a book and I love those.
XXVIII. BOOK THAT CRUSHED YOUR SOUL?
Quintana of Charyn by Melina Marchetta, Monsters of Men by Patrick Ness and This Savage Song by Victoria Schwab.
XXIX. MOST UNIQUE BOOK YOU READ IN 2015?
Sleeping Giants by Sylvain Neuvel which releases in April 2016 and everyone should get on it.
XXX. BOOK THAT MADE YOU THE MOST MAD?
Legend by Marie Lu and not in a good way because of the insta-love which totally turned me off and then the plot was too predictable for me to enjoy the damned book.
BLOGGING/BOOKISH LIFE
I. NEW FAVORITE BOOK BLOG YOU DISCOVERED IN 2015?
I hardly did any blog discovering this year so I only discovered Aentee's blog, Read at Midnight. Favorite non-book blog discovery would be Maraia who doesn't blog (yet).
II. FAVORITE REVIEW THAT YOU WROTE IN 2015?
My review of Blue Lily, Lily Blue by Maggie Stiefvater which is also the longest review I've ever written (re: 1K words).
III. BEST DISCUSSION/NON-REVIEW YOU HAD ON YOUR BLOG?
I enjoyed listing my favorite heroines in books and TV shows in a top ten Tuesday post so that one would be it.
IV. BEST EVENT THAT YOU PARTICIPATED IN?
As always, I love taking part in bout of books because it's always so much fun.
V. BEST MOMENT OF BOOKISH/BLOGGING LIFE IN 2015?
Just all the times I got to talk about Ronan Lynch and The Raven Cycle. I live a pretty simply life, really.
VI. MOST POPULAR POST THIS YEAR ON YOUR BLOG?
My interview with Becky Albertalli who is an amazing person and you should all go read the interview here.
VII. POST YOU WISHED GOT A LITTLE MORE LOVE?
My post about sci-fi in YA because everyone should get on reading YA sci-fi.
VIII. BEST BOOKISH DISCOVERY?
Rereading as well as buddy reading books with friends!
IX. DID YOU COMPLETE ANY READING CHALLENGES OR GOALS THAT YOU HAD SET FOR YOURSELF AT THE BEGINNING OF THIS YEAR?
Ha nope. I did manage to read more than 75 books (as was my original goal), but I only reached 39/50 for 2015 PopSugar Reading Challenge.
LOOKING AHEAD
I. ONE BOOK YOU DIDN'T GET TO IN 2015 BUT WILL BE YOUR NUMBER ONE PRIORITY IN 2016?
The Archived and The Unbound by Victoria Schwab. I'm super nervous and now I'm being forced to read them next year…
II. 2016 NON-DEBUT YOU ARE MOST ANTICIPATING?
And I Darken by Kiersten White. I love how purple and fierce that cover is (I don't even like flowery covers, what happened to me?!). The Ottoman Empire setting totally sold me on it. Nevernight by Jay Kristoff because fledgling assassin. I actually have at least three dozen books under this category and I better stop listing now…
III. 2016 DEBUT YOU ARE MOST ANTICIPATING?
Since I've already read and loved The Girl from Everywhere by Heidi Heilig, I'm going to pick Rebel of the Sands by Alwyn Hamilton which I've heard so many good things about. Also, Riverkeep by Martin Stewart.
IV. SERIES ENDING/A SEQUEL YOU ARE MOST ANTICIPATING IN 2016?
The Raven King by Maggie Stiefvater, no question about it. Also, this was my answer last year as well so asdjdjfhsls.
V. ONE THING YOU HOPE TO ACCOMPLISH OR DO IN YOUR READING/BLOGGING IN 2016?
Just blog more quality stuff, that's pretty much it.
VI. A 2016 RELEASE YOU'VE ALREADY READ AND RECOMMEND TO EVERYONE?
I've read three and they're all my favorite which has never happened before (in terms of review copies, that is). They are: The Girl from Everywhere by Heidi Heilig, Sleeping Giants by Sylvain Neuvel and This Savage Song by Victoria Schwab.
Did I repeat myself too much? How was your 2015 reading-wise?