Science fiction is important simply because it makes us question society much more than any other genre. It not only explores science in all its glory and ugliness, but also compels the reader to think about something in a new way. It appeals to the sense of wonder. It asks insightful questions and poses implications of societal practices in a complex setting that is akin to our present world and so allows us to see ourselves objectively.
Science fiction matters because even in the most screwed up of all screwed up science fiction worlds, it all boils down to human emotion.
It is a vast genre with dozens of sub-genres and themes which when combined with other genres is pretty much a self-supporting entity. There are no limits as to what a single science fiction story can constitute to as long as there's a willingness to suspend belief on the reader's behalf.
YA science fiction isn't as all-encompassing as adult science fiction but hey, it's getting there which is amazing because what we'll always need more of is science fiction (and just for the hell of it, fantasy). No other genre is going to help us in case of a zombie apocalypse, anyway.

Space is the Final "Fun-tier"
Space is infinite which means stories set in space are large-scale and adventurous as hell (which sometimes means chunky books which means I'm all set for life). There's almost always a serious conflict, sometimes an all-out war, between (or among) opponents in possession of badass but dangerous tech and superhuman abilities. It's not fun if it's not a fair fight, anyway.
While outer space stories are my favorite, I'm not as invested in spaces operas because those tend to be melodramatic about romance and have characters that are over-the-top.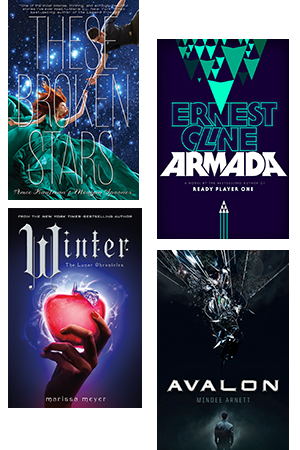 Most Notable
// Across the Universe by Beth Revis
// The Lunar Chronicles by Marissa Meyer
// Starbound by Amie Kaufman, Meagan Spooner
// The Illuminae Files by Amie Kaufman, Jay Kristoff
Personal Favorites
\ Armada by Ernest Clin
\ Illuminae by Amie Kaufman, Jay Kristoff
Under the Radar
// Avalon by Mindee Arnett
// Earth & Sky by Megan Crewe
// Stitching Snow by R.C. Lewis
// Spinning Starlight by R.C. Lewis
// Inherit the Stars by Tessa Elwood
Cyberpunk and Post-Cyberpunk
In cyberpunk, rapid technological change plays a pivotal role in giving rise to an oppressive society with corrupt values. The more immersive the technology becomes, the more the social implications arise. More and more people living in such a futuristic world opt to escape it via virtual reality. Meanwhile, certain cyberpunk characters take it upon themselves to overthrow mega-corporations and powerful AIs.Futuristic settings in cyberpunk aren't necessarily dystopian anymore (more accurately known as post-cyberpunk) since they're saturated with optimism and may even end on a hopeful note. However, they're still post-industrial tales peppered with conspiracy theories, fairy tale retellings, virtual reality, gaming, hackers, vigilantes, superpowers, consumerism, what-the-fuckery, war, art and so much more.
Most Notable
// Ready Player One by Ernest Cline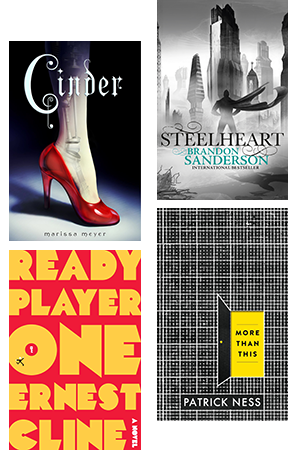 // The Lunar Chronicles by Marissa Meyer
// The Mortality Doctrine by James Dashner
// Insignia by S.J. Kincaid
Personal Favorites
\ Reckoners by Brandon Sanderson
\ More Than This by Patrick Ness
\ The Lunar Chronicles by Marissa Meyer
Under the Radar
// Feed by M.T. Anderson
// The Summer Prince by Alaya Dawn Johnson
// Zer0es by Chuck Wendig
// Futuristic Violence and Fancy Suits by David Wong
Cancelling the Apocalypse
Apocalyptic science fiction is as bleak as it gets as the society as we know it starts to disintegrate which is why the level of science fiction depends on the type of apocalypse. However, these stories are usually about hardships a small group of characters face as everything turns to dust around them. Understandably, the genre isn't as popular as post-apocalyptic stories which occur after some time has passed and takes place in a completely different setting than before the apocalypse. They are also known to address the implications of the apocalypse itself because even if the world has ended, not everyone died and humans are, after all, masters of fucking up.
In relation to both the genres is climate fiction (cli-fi) which, being an environmental science major, I've a special attachment to. In retrospect, all three of these genres as well as dystopia can and do crossover into each other which makes things more fun, in my opinion. However, it does make it difficult to decipher what genre such a book really belongs to.
Most Notable
// Chaos Walking by Patrick Ness
// The 5th Wave by Rick Yancey
// Newsflesh by Mira Grant
// Unwind Dystology by Neal Shusterman
// Rot and Ruin by Jonathan Maberry
// The Maze Runner by James Dashner
// Legend by Marie Lu
// Dust Lands Moira Young
// Penryn and the End of Days by Susan Ee
// Not a Drop to Drink by Mindy McGinnis
Personal Favorites
\ Not a Drop to Drink by Mindy McGinnis
\ Chaos Walking by Patrick Ness
Under the Radar
// Razorland by Ann Aguirre
// For Darkness Shows the Stars by Diana Peterfreund
// Partial Sequence by Dan Wells
// The Rule of Three by Eric Walters
// Breathe by Sarah Crossan
// Earth Girl by Janet Edwards
// Fallen World by Megan Crewe
// Zero World by Jason M. Hough
// In the After by Demitria Lunetta
// Elusion by Claudia Gabel, Cheryl Klam
Dystopian Sci-Fi
The line between dystopia and science fiction is a blurred one at best since that's where it gets difficult to define what's sci-fi and what's not because not all dystopia is sci-fi. Longtime sci-fi readers tend to consider them separate but that's not usually the case with YA readers of the genre since dystopian sci-fi is much more popular and known than just dystopian fiction to them.
While, dystopia and sci-fi both try to answer the what ifs, dystopia is highly focused on political and cultural aspects of society than technological advancement. More importantly, dystopia is big on rebellion but since it's a futuristic concept where society has experienced/is experiencing cataclysmic levels of decline, the presence of sci-fi is usually limited to a heavy reliance on advanced technology.
Most Notable
// The Hunger Games by Suzanne Collins
// Uglies by Scott Westerfeld
// Red Rising by Pierce Brown
// Divergent by Veronica Roth
// Matched by Allie Condie
// Delirium by Lauren Oliver
// The Chemical Garden by Lauren DeStefano
// Gone by Michael Grant
Personal Favorites
\ The Hunger Games by Suzanne Collins
\ Red Rising by Pierce Brown
Under the Radar
// Reboot by Amy Tintera
// Arclight by Josin L. McQuein
// Coda by Emma Trevayne
// Alienated by Melissa Landers
// The Blackcoat Rebellion by Aimee Carter
// Prisoners of Peace by Erin Bow
Wibbily Wobbly Timey Wimey
Time travel and parallel universes and alternate histories are very complex genres despite having an extremely low level of real science. In fact, such stories are less fantasy as they're based in reality and more speculative than science fiction. However, for such stories to work, some science has to be involved to some extent without the limitations that comes attached with science fiction itself.
Most Notable
// Hourglass by Myra McEntire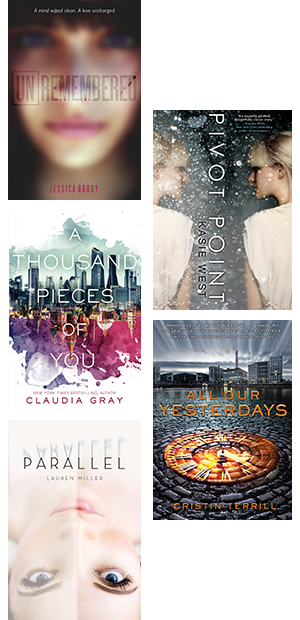 // Pivot Point by Kasie West
// Firebird by Claudia Gray
// Unremembered by Jessica Brody
// Wolf by Wolf by Ryan Graudin
Personal Favorites
\ All Our Yesterdays by Cristin Terrill
\ Pivot Point by Kasie West
\ Parallel by Lauren Miller
\ The Girl from Everywhere by Heidi Heilig
Under the Radar
// Time Between Us by Tamra Ireland Stone
// Dissonance by Erica O'Rourke
// Dark Passages by Ilsa J. Bick
// The Here and Now by Ann Brashares
// Loop by Karen Akins
// Timeless by Alexandra Monir
// Tempest by Julie Cross
// River of Time by Lisa Tawn Bergren
// Backward Glass by David Lomax
// So Close to You by Rachel Carter
// My Super Sweet Sixteenth Century by Rachel Harris
Futuristic
Aliens, zombies, rogue AIs, or microbiological science fiction, futuristic stories are mostly about the effects of technology on the world. It can take place in near or far future, but the key identifying elements are the realistic characters and believable plots.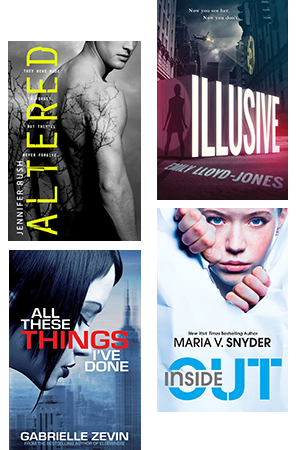 Most Notable