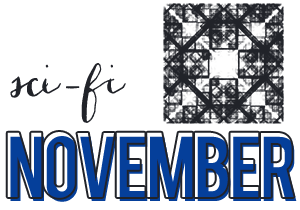 This is my third year of taking part in
Sci-Fi Month
that Rinn has been hosting
since 2013 and it's always fun to be a part of it regardless of how much I suck at sticking to my to-read and to-watch lists.
As in the past, I don't have super ambitious goals in regards to blogging because of how I am as a person.
Sci-Fi on the Screen
I'm planning to watch more TV shows than movies this month and since I regularly watch Arrow, The Flash and Agent's of S.H.I.E.L.D., what's a couple more.
Jessica Jones – I'm super excited for the upcoming Marvel's Jessica Jones! It's a sci-fi crime drama releasing on November 20th on Netflix. Netflix have some really amazing shows so I'm sure this will be great, too.
Daredevil – I watched the pilot of Marvel's Daredevil a couple of months ago and I really want to continue watching it this month. There's also a Daredevil-Jessica Jones crossover in the works so that's also a motivating factor. However, I don't know when exactly that's slated to occur.
Doctor Who – I will be continuing watching it as it's about time!
The X-Files
– I've been a spectacular watcher of this show as I've only managed to watch
two
episodes out of 200+ so I'll give this a try. Again.
I have no idea what sci-fi movies I'll be watching but I do want to rewatch Inception because I only ever watched it once in a cinema.
Sci-Fi on the Page
The Lunar Chronicles
by Marissa Meyer – I was browsing through my old sci-fi month posts and it's a little sad that I was planning to read The Lunar Chronicles last year and failed to. It's alright though, because Winter is finally releasing and I just really want to read that book the most. So yes, I'm definitely going to read the series this month!
Insignia by S.J. Kincaid – Crini recommended it to me a while ago and I only just bought it yesterday since it's a Kindle deal.
Lock In by John Scalzi – I started this only yesterday and it's such a classy combination of murder mystery and androids. Really enjoying it!
Planetfall by Emma Newman – I have no idea what's this book is about except that colonization is involved. When it comes to books, I sometimes love going in blind.
I do have some other sci-fi books in mind but it all depends on my mood reading tendencies.
Sci-Fi on the Blog
I've been an unmotivated blogger for most of 2015 but, I do have some ideas that I want to write posts about. To list a few:
– Science fiction in YA which will be an introduction post of sorts.
– A post about books set in space because they're my favorite.
– Sci-fi titles are some authors working on.
Are you taking part in Sci-Fi Month? Do you like sci-fi? Recommend me something!