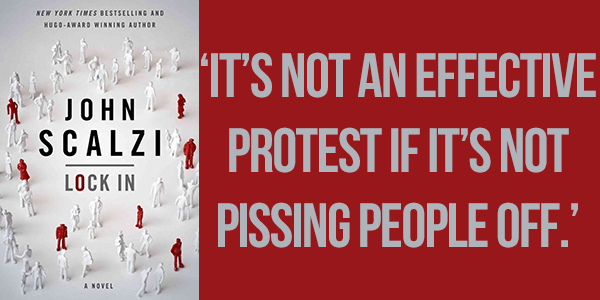 ABOUT THE BOOK
Lock In by John Scalzi
adult cyberpunk mystery crime science fiction published by Tor on August 26th, 2014
first book in Lock In series
Not too long from today, a new, highly contagious virus makes its way across the globe. Most who get sick experience nothing worse than flu, fever and headaches. But for the unlucky one percent – and nearly five million souls in the United States alone – the disease causes "Lock In": Victims fully awake and aware, but unable to move or respond to stimulus. The disease affects young, old, rich, poor, people of every color and creed. The world changes to meet the challenge.
A quarter of a century later, in a world shaped by what's now known as "Haden's syndrome," rookie FBI agent Chris Shane is paired with veteran agent Leslie Vann. The two of them are assigned what appears to be a Haden-related murder at the Watergate Hotel, with a suspect who is an "integrator" – someone who can let the locked in borrow their bodies for a time. If the Integrator was carrying a Haden client, then naming the suspect for the murder becomes that much more complicated.
But "complicated" doesn't begin to describe it. As Shane and Vann began to unravel the threads of the murder, it becomes clear that the real mystery – and the real crime – is bigger than anyone could have imagined. The world of the locked in is changing, and with the change comes opportunities that the ambitious will seize at any cost. The investigation that began as a murder case takes Shane and Vann from the halls of corporate power to the virtual spaces of the locked in, and to the very heart of an emerging, surprising new human culture. It's nothing you could have expected.
THE RATING
THE REVIEW
Lock In takes the classic FBI-esque crime fiction and adds sci-fi themes and elements to give a futuristic retro feel to the world it takes place in. It starts out pretty ordinarily as a rookie FBI agent arrives on his first ever crime scene and then it dives off headfirst into organized crime investigation where nothing makes sense at first but by the end, it all fits together perfectly. It's light because of the witty dialog, but it's also deep as subtle societal implications are present throughout the book and those, I always appreciate.
A few decades ago, the world had to readjust itself by dividing into two communities due to a pandemic of Haden's. The syndrome affects every victim with different intensities of paralysis and changes in neural function, one percent of whom are affected in a way that locks in their fully-functioning brains into completely paralyzed bodies. There have never been a shortage of funding because the First Lady became the first victim of Haden's. However, now that a bill has been passed to stop Haden's government funding, things are about to get difficult for its sufferers.
Former Haden's poster-child, Chris Shane joins FBI a day before a Haden's-related crime is committed. What follows is a week-long investigation into the crimes because they don't just stop at one. Not knowing that his partner is a former Integrator, Chris is puzzled at her nonplussed reaction to his appearance. Integrators are former sufferers of Haden's whose neural networks allow locked in Hadens to connect to their bodies for a limited time. However, Chris is wearing a threep, meaning his consciousness is connected to a humanoid aka a Personal Transport while his body lies in a cradle at home.
Lock In is a classic crime fiction with instances of police procedures, interrogations and what not. When combined with the presence of locked in Hadens however, it takes the mystery to another level because of the amount of politics and science involved. It's a thought-provoking read because so many questions arise as to the use and maintenance of threeps, their living conditions, whether they really are victims since they're living as normal lives as they can. In a way, they've conquered Haden's even if they were born with it and had to be brought up in the Haden's-only virtual reality, Agora.
I'd highly recommend Lock In because it makes for a clever storytelling with a straightforward writing style. There's nothing that's lacking in Lock In. I loved Chris's personality, his self-deprecating humor, his relationship with his parents, but his partnership with Vann is the highlight of the book because of how well their personalities gelled together. Moreover, Scalzi doesn't succumb to stereotypical descriptions of diversity so it's refreshing to see diversity being treated without having made a big deal out of it. Lock In is a fantastic start to a series and left me with wanting just the right amount of more.
THE QUOTES
'Making people change because you can't deal with who they are isn't how it's supposed to be done. What needs to be done is for people to pull their heads out of their asses.'

'I don't think you fully appreciate what I meant when I said you are magnificently fucked.'