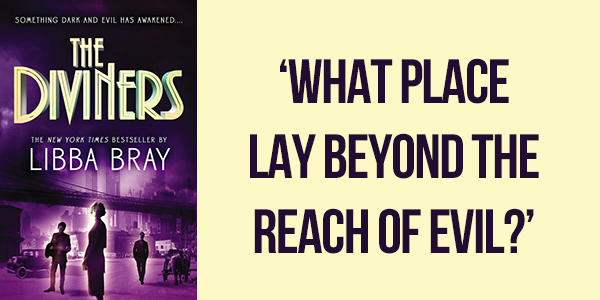 ABOUT THE BOOK
The Diviners
by
Libba Bray
young adult historical paranormal fantasy published by Little, Brown on September 18th, 2012
first book in The Diviners series
Do you believe there are ghosts and demons and Diviners among us?
Evie O'Neill has been exiled from her boring old hometown and shipped off to the bustling streets of New York City–and she is pos-i-tute-ly ecstatic. It's 1926, and New York is filled with speakeasies, Ziegfield girls, and rakish pickpockets. The only catch is that she has to live with her Uncle Will and his unhealthy obsession with the occult.
Evie worries he'll discover her darkest secret: a supernatural power that has only brought her trouble so far. But when the police find a murdered girl branded with a cryptic symbol and Will is called to the scene, Evie realizes her gift could help catch a serial killer.
As Evie jumps headlong into a dance with a murderer, other stories unfold in the city that never sleeps. A young man named Memphis is caught between two worlds. A chorus girl named Theta is running from her past. A student named Jericho hides a shocking secret. And unknown to all, something dark and evil has awakened….
THE RATING
THE REVIEW
The Diviners is one of the more classy young adult books in existence today because it's truly one of a kind. Being as chunky as the book is, it's fitting that the story encompasses so much from bloodied history to evisceration of evil to a very diverse set of characters. For such a story to work and work well, The Diviners have a colorful set of characters that I absolutely adore. Not only that, the setting just clicks with the dark, eery atmosphere of the book.
As the Solomon's Comet is to make its pass of earth, the time for Armageddon to be unleashed on the planet draws closer and someone has returned to fulfill the evil prophecy. But nothing is ever as simple as that and so there's a string of murders to solve in a city full of strange occurrences, unknown powers and wicked intentions.
When Evie gets into trouble for her drunken attempt to vilify a young man, her parents choose to send her away to her bachelor uncle all the way to New York City to cool things down in Ohio. In New York City, Evie is reunited with Mabel and is ecstatic to be there as her Uncle Will isn't the all that restrictive as long as Evie stays out of trouble. She meets Sam, Jericho as well as Theta and Henry, each of whom have their own life troubles to deal with. Then there's Memphis and his little brother as well as his best friend, Gabriel who are just trying to survive life in the twenties.
Evie is very carefree and loud in her ways even if she doesn't really like herself all that much. However, I really liked her. As much as she's rash and moody, she's also very outspoken and opinionated. Jericho is this quiet and bookish boy who think he's a freak and I just love him the most as he's amazing all around. Memphis is a poet, Henry is a pianist; really, everyone in this book is so dynamic and their interactions with each other are so interesting, especially the friendship of Theta and Henry. More, please.
The historical setting of the roaring twenties is done amazingly well. It's apparent just how much research went into constructing the world with such vivid details of how life used to be in a bygone era. The language, the fashion, the lifestyles just work together as a single unit to transport the reader to that time with breathtaking ease.
On a deeper level, there's a lot of moral relativism, agnosticism, religious philosophies as well as political notions in The Diviners, as the characters often find themselves discussing one philosophy or the other. I find such talk fascinating because its edutainment value really opens up the mind to how the world works. I particularly enjoyed reading about theodicy because it's a very relatable and oft-repeated philosophy in today's world.
The Diviners is one hell of a creepy book. I love reading horror because it's so much fun! I will admit that I avoided reading this at night when I got slightly spooked out a couple times. Still, there's murder, there's cannibalism, there's utter gore; all of which I found oh-so-enticing to read about. The whole cast of characters is lively and there are some very hilarious moments despite the plot being so grim. There's a lot to The Diviners and in essence, it's a perfect read to immerse yourself in on a rainy day.
THE QUOTES
'There were few things worse than being ordinary, in Evie's opinion. Ordinary was for suckers.'

'There is no greater power on this earth than story.' Will paced the length of the room. 'People think boundaries and borders build nations. Nonsense—words do. Beliefs, declarations, constitutions—words. Stories. Myths. Lies. Promises. History.'

But what was the point of living so quietly you made no noise at all? 'Oh, Evie, you're too much,' people said, and it wasn't complimentary. Yes, she was too much. She felt like too much inside all the time. So why wasn't she ever enough?

'There is nothing more terrifying than the absoluteness of one who believes he's right.'

'People will believe anything if it means they can go on with their lives and not have to think too hard about it.'