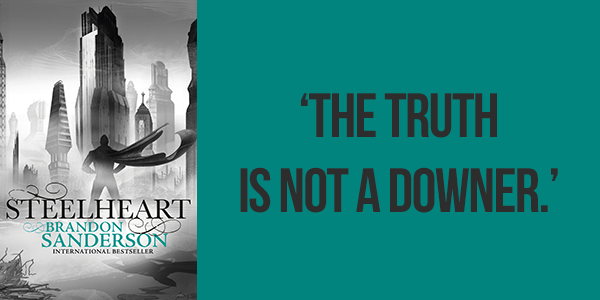 ABOUT THE BOOK
Steelheart by Brandon Sanderson
young adult fantasy science fiction published by Gollancz on September 24th, 2013
first book in Reckoners series
Ten years ago, Calamity came. It was a burst in the sky that gave ordinary men and women extraordinary powers. The awed public started calling them Epics. But Epics are no friend of man. With incredible gifts came the desire to rule. And to rule man you must crush his wills.
Nobody fights the Epics…nobody but the Reckoners. A shadowy group of ordinary humans, they spend their lives studying Epics, finding their weaknesses, and then assassinating them.
And David wants in. He wants Steelheart – the Epic who is said to be invincible. The Epic who killed David's father. For years, like the Reckoners, David's been studying, and planning – and he has something they need. Not an object, but an experience.
He's seen Steelheart bleed. And he wants revenge.
THE RATING
THE REVIEW
Steelheart is Brandon Sanderson winning the science fiction genre with one clean move because it's Brandon Sanderson and also, because he can. Supervillains is where the good stuff's at because the supervillains in the world of Steelheart have subtle weaknesses which makes things super fun. Also, there are no good Epics which really is how it'd go down if it ever came to that. So it's up to the humans to rid the world of Epics while risk losing the leftover resources, that are available in the first place because of Epics rule hierarchy, in the process. Still, that's just being too lazy to challenge the supervillains which is where David and the Reckoners come in.
The future was shaped ten years ago when Calamity rose, gifting a number of humans with superpowers that tipped the scales in their favor. Now the future is here and Epics run the world. One of the most powerful Epics, Steelheart, chose Newcago as his city to reign over which many do not appreciate. Least of all, David Charleston as David lost his father because of Steelheart.
For a story of revenge, you'd think that Steelheart would be this hardcore story with lots of destruction, but it's not that. Yes, there's a lot of destruction, especially because the city is all steel thanks to Steelheart. Yet, it's also thought-provoking because as evil as Steelheart is, his way of ruling has made sure that that the city's basic needs are fulfilled. So the world is constantly toeing the line of falling into utter chaos and chaos ensuing from time to time. Yet there's no stopping the Epics especially when some Epics have prime invincibility which means that they cannot be killed via conventional methods of well, killing.
David is one of those protagonists who dive headfirst into trouble and I loved him for that from the beginning. It's amazing because David is determined to kill Steelheart despite the obstacles and it's hilarious as all he has to gone on with are his awkward nerdy personality, his research on Epics and his ridiculous metaphors. Seriously though, he has a habit of making up the most ridiculous metaphors and like, that should be a talent. David likes to improvise and make rash decisions and is so not fit to be a Reckoner which makes his dynamic with them that much more interesting.
The Reckoners are a group of rebels who took it upon themselves to take out Epics, mostly small time, and their latest plan has led them to Newcago. They have access to some really impressive gadgets and technology that David thinks could be put to some better use like taking out Steelheart. Megan is one of my favorite secondary characters in Steelheart because she's badass and pretty passive so it takes a hell of an effort to impress her. Prof is a mystery however, he's a great leader which really comes into play towards the end. Tia, Abraham and Cody have all their little quirks, too.
The world-building is awesome and there's really no other word to describe it. Steelheart packs a punch as the plot twists fit right into the fast-paced story. The aspects of politics in light of villainy, morality and human nature are brilliantly put together. Steelheart is intense as fuck and doesn't really give the reader room to breathe and take in what's happening and just moves on to more action which I loved. The ending makes total sense and ups the ante even more which I'm so ready to explore in Firefight.
THE QUOTES
'Sometimes, son,' my father said, prying my fingers free, 'you have to help the heroes along.'

'Never throw the first punch. If you have to throw the second, try to make sure they don't get up for a third.'

'She can shoot like a dream and she carries tiny grenades in her top, a bit of my addled mind thought. I think I might be in love.'