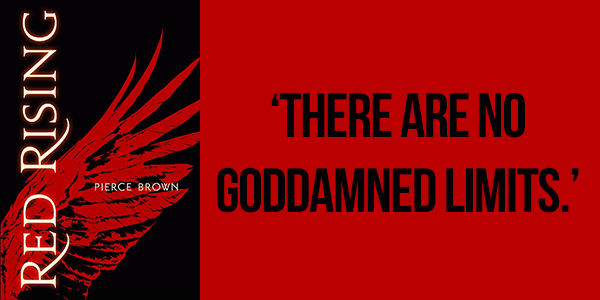 ABOUT THE BOOK
Red Rising by Pierce Brown
young adult fantasy space science fiction dystopia published by Del Rey on January 28th, 2014
first book in Red Rising trilogy
The Earth is dying. Darrow is a Red, a miner in the interior of Mars. His mission is to extract enough precious elements to one day tame the surface of the planet and allow humans to live on it. The Reds are humanity's last hope.
Or so it appears, until the day Darrow discovers it's all a lie. That Mars has been habitable – and inhabited – for generations, by a class of people calling themselves the Golds. A class of people who look down on Darrow and his fellows as slave labour, to be exploited and worked to death without a second thought.
Until the day that Darrow, with the help of a mysterious group of rebels, disguises himself as a Gold and infiltrates their command school, intent on taking down his oppressors from the inside. But the command school is a battlefield – and Darrow isn't the only student with an agenda.
THE RATING
THE REVIEW
Dystopia and I often do not go along together because the genre has a habit of leaving me underwhelmed due to lack of something or the other. So I'd start by admitting that I wasn't expecting much from Red Rising and wouldn't have read it if it wasn't for a review copy. Moreover, seeing the many comparisons to Victoria Aveyard's Red Queen, which failed to impress me, had made me wary of Red Rising which is a damn shame because this book is amazing as fuck.
The beginning of Red Rising totally baffled me because I so wasn't expecting that storyline, but I rolled with it like you do and was rewarded for it. In one of the mining colonies on Mars, Darrow is one of the best Helldivers tasked with mining helium-3 out of Mars which will help terra-form it into a habitable planet. He's just trying to live a simple life until an incident happens that changes everything. From then on, things changed so fast and so brutally that I was hooked. Initially, Darrow thinks that he's been forced into a life that he didn't ask for to carry out a mission that he didn't want to do anything with. So it's really amazing to see just how the revelation hits a special kind of nerve in Darrow and then it is on.
For Darrow to infiltrate the Golds, he goes through a series of physical transformations that are just too painful and revolting. However, that's the thing about Red Rising; it gets more and more horrifying with each major plot twist. What really impressed me was the Passage because it's really the point at which it's apparent just how at odds Darrow really is with himself. Still, that's nothing compared to what happens within House Mars, how cunningly the Golds work whether in his own house, in other houses and how it's all so messed up even up on the Olympus among the Proctors. That's really the best portion of the book because I couldn't get enough of how everyone was just trying to battle it out as best as they could. Even battling it out for fun, for fuck's sake. And oh, the looming truth involving Cassius totally delivers and the face off with the Jackal is done so fucking brilliantly.
Red Rising is really about Darrow rising from being a lowColor slave for all the mid and highColors to transforming into a highColor himself and the consequences that comes with that transformation.  In all honesty, as the story progresses, Darrow's character development seems like a step back from who he was because his rages comes into extended play. Darrow is not a nice character despite his constant struggle with using violence for selfish means by being driven to his limits. All of the Golds seem to struggle with it at some point because guilt is also involved sometimes. Still, it's understandable how Darrow gets the hierarchy and dynamics of highColors politics the best because of where he comes from.
Red Rising does not hold back and so, is chockfull of all kinds of violence. It is a fast-paced and action-filled story of vengeance and warfare with a set of characters who you can't help but love to hate and still have room left for admiration. I fucking loved everything about it because it explores human behavior in face of adversary brilliantly. Red Rising also explores the wicked side of it which is even more impressive to read about. I was thoroughly entertained!
THE QUOTES
'Look into yourself, Darrow, and you'll realize that you are a good man who will have to do bad things.'

'See. That's what I don't get. If I am a good man, then why do I want to do bad things?'

'I look at him for a moment. Words are a weapon stronger than he knows. And songs are even greater. The words wake the mind. The melody wakes the heart. I come from a people of song and dance. I don't need him to tell me the power of words. But I smile nonetheless.'