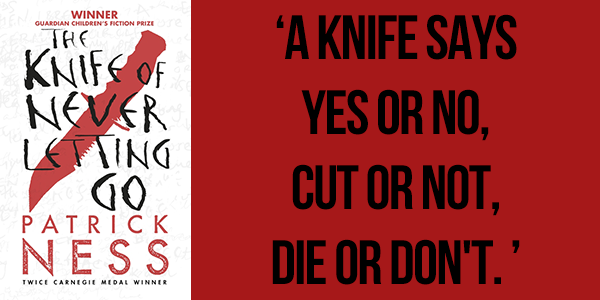 ABOUT THE BOOK
The Knife of Never Letting Go by Patrick Ness
young adult post-apocalyptic science fiction published by Walker Books on May 5th, 2008
first book in Chaos Walking trilogy
Imagine you're the only boy in a town of men. And you can hear everything they think. And they can hear everything you think. Imagine you don't fit in with their plans… Todd Hewitt is just one month away from the birthday that will make him a man. But his town has been keeping secrets from him. Secrets that are going to force him to run…
THE RATING
THE REVIEW
The Knife of Never Letting Go is probably the most difficult book I've ever had to read and then reread. It's ninety percent pain and ten percent sass so it doesn't go down smoothly, nope. It's also pretty much jumping from one adversity to next all the while hoping for some kind of relief. I just love it so much.
Todd didn't ask for a lot of things. Mainly, he didn't ask to be the only remaining boy in a town full of men. He didn't ask for a dog as a birthday present, he didn't ask to go pick apples from the swamp, he didn't ask to be forced out of his home just like that; he didn't ask for any of it. But why would he have asked for any of it, anyway. It's just how life works. Nobody said life would be fair. So we have Ness piling hard choices over hard choices on Todd; making him think long and hard, pushing him to his limits to shape him into a man of integrity and truth. It hurts so damn much because it's all so apparent in his Noise.
The concept of Noise is such an eye opener because of so many reasons. First, it shows what kind of terrible things a person can think about from day to day, hour to hour, minute to minute. When there isn't any choice but to have others listen to your thoughts all day long, it's dulling. Second, it takes away any hope of Todd ever having a childhood in a town like Prentisstown because there's just no end to nasty, ugly thoughts of men. Third, while Noise is a subtext in the post-apocalyptic world of Chaos Walking, it's something that's very real in our world. It's our minds known only to ourselves but, in the New World it's an impossibility which is such a thought-provoking concept.
The secondary characters in The Knife of Never Letting Go are very well-written, as is the norm in Ness books. There's Manchee. Oh, Manchee. He's the one companion that Todd didn't ask for but absolutely needed. Despite there not being many animals in young adult books, Manchee is a favorite because he talks and thinks and is just so honest and adorably innocent.
From the reader's point of view, we don't get to know much about Viola because Todd doesn't know much about her. Yet that doesn't stop me (and Todd) from admiring her. She's one hell of a girl! So brave and strong-willed which just goes to show just how good her upbringing was. She compliments Todd in all the ways that counts and stands up for herself when it comes to Aaron which is so satisfying to read about.
From the moment Aaron was introduced, I hated him and everything he stood for. I'm sure Mayor Prentiss is going to be playing a bigger role in the second and third books. However, in this book, Aaron is the worst. He's the Dolores Umbridge of Chaos Walking; infuriating as hell but there for a very important reason. Aaron reinforces Todd's strength of character just as much as the knife does. Aaron is the obstacle that everyone have to face in their lives, a breathing, living obstacle that pulls a person in two opposite directions. That forces you to choose.
Reading The Knife of Never Letting Go is like an experience in hope and hurt and everything and nothing in between. It's Todd, Manchee, and Viola banded together in search of a life away from all the crazy. It's them trying to put their best foot forward and believing in the goodness of people they meet on their journey. It's riddled with fantastic life truths placed so casually that you're traumatized for life and you don't even realize until you are. It's beautiful and the ending is the worst and I've never been so afraid to continue a series before.
THE QUOTES
'Life ain't fair.

It ain't.

Not never.

It's pointless and stupid and there's only suffering and pain and people who want to hurt you. You can't love nothing or no one cuz it'll all be taken away or ruined and you'll be left alone and constantly having to fight, constantly having to run just to stay alive."The only place you belong is the place you can never go back. And so yer always alone, forever and always."The Noise is a man unfiltered, and without a filter, a man is just chaos walking.'

'War is a monster…War is the devil. It starts and it consumes and it grows and grows and grows…And otherwise normal people become monsters, too.'

'Who am I to stop the end of the world if it keeps on coming?'