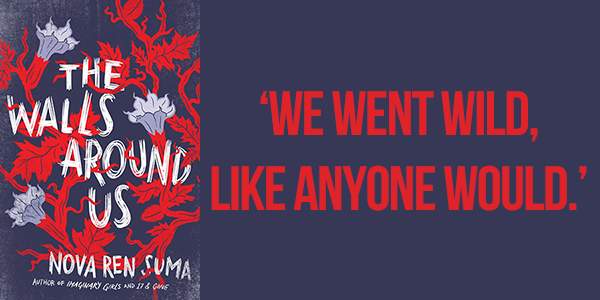 ABOUT THE BOOK
The Walls Around Us by Nova Ren Suma
young adult paranormal thriller published by Algonquin Young Readers on March 24th, 2015
"Ori's dead because of what happened out behind the theater, in the tunnel made out of trees. She's dead because she got sent to that place upstate, locked up with those monsters. And she got sent there because of me."
On the outside, there's Violet, an eighteen-year-old dancer days away from the life of her dreams when something threatens to expose the shocking truth of her achievement.<
On the inside, within the walls of the Aurora Hills juvenile detention center, there's Amber, locked up for so long she can't imagine freedom.
Tying their two worlds together is Orianna, who holds the key to unlocking all the girls' darkest mysteries . . .
What really happened on the night Orianna stepped between Violet and her tormentors? What really happened on two strange nights at Aurora Hills? Will Amber and Violet and Orianna ever get the justice they deserve—in this life or in another one?
In prose that sings from line to line, Nova Ren Suma tells a supernatural tale of guilt and of innocence, and of what happens when one is mistaken for the other.
THE RATING
THE REVIEW
The Walls Around Us is a very peculiar story that builds to a crescendo—then shudders to a halt before starting up again to tie up all the loose ends. In other words, it reads like two different stories are on a collision course and when they crash, all hell breaks loose. Suma paints a very grim picture of a female juvenile detention center located in the middle of nowhere with no way out, but death. Yet that's not all; coming from a small town with nothing out of the ordinary parents is Violet, a star ballerina whose claim to fame is built on the foundation of guilt.
The Wall Around Us begins with an odd glimpse into what happens when a bunch of girls, locked up in tiny prison-like cells, are set free. These are girls, some barely into their teenage years, with blood on their hands. Locked up in a juvenile detention center, Amber committed a crime none would expect a thirteen-year-old to commit. An expert at minimizing disturbances as best as a detente can, one strange night Amber is thrown in for a loop that forever alters the course of her sentence.
In stark contrast is Violet, living her dream of being enrolled into Julliard, which makes her an object of absolute envy in a town filled with narrow-minded and highly judgmental people. She's pretentious, she's unbelievable, and she's wired to only make sure that nothing comes in the way of her future. She's one of those friends Ori wished she had only to realize how wrong she turned out to be. Ori is the only common link between Amber and Violet; the kind of link that only gets stronger as secrets come to light, complicating things further even as they simplify.
Suma tells the story of what it does to girls locked up at such young ages with nothing but crappy food and savage personalities for company. It's horrifying, it's terrible, and it's nothing to be proud of. Taking away freedom does strange things to a human being and stranger still to teenagers who are unable to understand the extent of their crimes. The life they could have had is replaced by years of resentment that stems from being ordered around in limited space. It's self-destructive to an extreme especially when not all the juvenile detentes are guilty.
Gradual, pulsating and incredibly ominous, The Wall Around Us is a book that completely boggles the mind. Suma isn't afraid to pose uncomfortable questions about human beings that are so far-gone that there could be no saving them, but who still hunger for justice, for freedom. If you ever wondered if teenage girls are capable of doing the unthinkable, look no further than the oddly psychological and incredibly thrilling, The Walls Around Us.
THE QUOTES
'When people decide there's ugliness inside you, they'll be looking to find it on your face.'

'She didn't look like a killer at all to us, and this the opinion of killers.'

'I knew that just because people on the outside were free and clean, it didn't mean they were the good ones. They were the worst kind of liars. They were total assholes. They were traitors. They were bitches. They were snitches. They were cowards. They claimed they had your best interests at heart, but really they were in it for themselves. They said what they wanted about us. They threw us under buses, and then they walked away. Not everything said about us by those on the outside was the truth, not even close.'