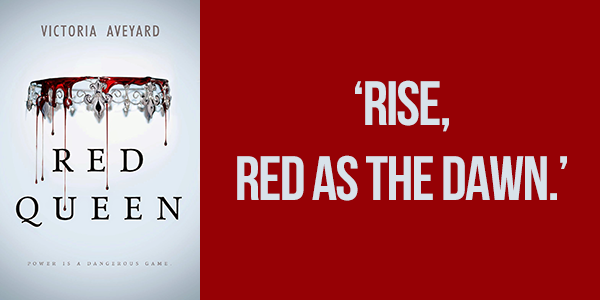 ABOUT THE BOOK
Red Queen by Victoria Aveyard
young adult fantasy dystopia published by HarperTeen on February 10th, 2015
first book in Red Queen trilogy
The poverty stricken Reds are commoners, living under the rule of the Silvers, elite warriors with god-like powers.
To Mare Barrow, a 17-year-old Red girl from The Stilts, it looks like nothing will ever change.
Mare finds herself working in the Silver Palace, at the centre of those she hates the most. She quickly discovers that, despite her red blood, she possesses a deadly power of her own. One that threatens to destroy Silver control.
But power is a dangerous game. And in this world divided by blood, who will win?
THE RATING
THE REVIEW
Intrigue, poverty, politics, and power, Red Queen is a highly addictive book that you just don't want to stop reading. A sweepingly gorgeous setting with lavish dresses, elaborate feasts and vivid action, Red Queen seems to have it all. With a centuries old war raging between classes and the dying hope of rebellion, there's no lack of drama and betrayals in Red Queen. Given that, there were quite a few elements that didn't sit well with me and that's what made all the difference in my opinion about the book.
When it comes to dystopia, some things can get pretty repetitive and fantasy dystopia is no different. Red Queen is a mixture of Aimee Carter's Pawn, Amy Ewing's The Jewel, and X-Men thrown in together in a world divided by the color of blood. Moreover, there are certain elements from Suzanne Collins' The Hunger Games and Leigh Bardugo's Shadow and Bone that come into play. As a result, while the concept is nothing short of gripping, the mash-ups are hard to ignore. Yet what makes Red Queen stand out is not class inequality or how one Red can challenge Silvers all on her own, it's how shock and awe have been put to use.
In the world of Red Queen, Reds are far from impervious to poverty and exploitation and Mare Barrow is no exception. Born in the slums of Norta, Mare is a no-good Red who only knows how to be a thief. From the get-go, Mare Barrow is a flawed character and it shows. Forced to give up her home and work under the Silvers is the last she wants, but has, to do. She knows that otherwise she'll be sent to war once she turns eighteen, what with there being a severe lack of employment and high disposability of Reds.
The characterization of Mare is somewhat impressive despite the few clichés thrown in. What bothered me is the high amount of antagonism shown towards Mare by female Silvers. It's a classic case of mean girls ganging up on the timid one, only Mare isn't timid and that's appreciable. Her hate towards Silvers propels her into discovering just how powerful she is, because she knows she'll be eaten alive if she isn't prepared. All in all, she ends up as a pretty standard heroine in a typical dystopian world.
Given the hype, I can understand the potential of and appreciation for Red Queen. For me, despite the ample amount of captivating action and court politics, there's something lacking in its execution. The romance is quite telling as I found it a bit predictable. Mainly, what I found off-putting is that an essential part of the plot relies upon romance. With a rebellion growing stronger day by day, that's something that just didn't make sense to me. Consequently, Red Queen is a kind of a book that one can only make up their mind about after reading it themselves.
THE QUOTES
'Here on the road with nothing but darkness around me, I tell a stranger how terrible I am."And I know there are thousands, millions more. A million forgotten wrongs.'