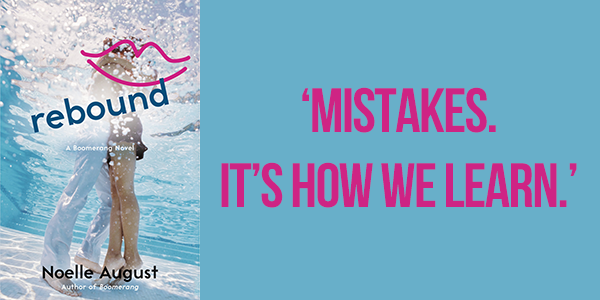 ABOUT THE BOOK
Rebound by Noelle August
new adult contemporary romance published by William Morrow Paperbacks on February 10th, 2015
second book in Boomerang series
Adam Blackwood has it all. At twenty-two, he's fabulously wealthy, Ryan Gosling-hot and at the top of the heap in the business world. His life is perfect, until a scandal from his past resurfaces and knocks the tech wunderkind down, throwing his company, Boomerang, a hook-up site for millennials, into chaos.
Three years ago, Adam married his high school love—and then lost her in a tragic accident. Now, the heartbreak and guilt he's tried to bury with work and women begins to take over his life.
Alison Quick, the twenty-one-year-old daughter of a business tycoon—and the very ex-girlfriend of Boomerang's former intern, Ethan—has a problem of her own. She's got one chance to prove to her father that she deserves a place in his empire by grabbing control of Boomerang and taking Adam down.
But as Alison moves in on him, armed with a cadre of lawyers and accountants, she discovers there's much more to Adam and Boomerang than meets the eye. Will earning her father's approval come at the price of losing her first real love? It appears so, unless Adam can forgive her for wrecking his life and trying to steal his livelihood. But Alison hopes that old adage is right. Maybe love can conquer all.
THE RATING
THE REVIEW
Rebound dives straight into action at Galliano's Halloween party where Alison arrives, dressed as Catwoman no less, to scope out the employees of Boomerang. Her eyes eventually go to Adam, dressed as Zorro, and as the attraction seems to be mutual, they end up dancing. One thing leads to another and they find themselves making out in a car and sharing secrets in a gazebo, but then Cookie arrives to inform Adam about Alison being at the party and because Alison is right there…things get very awkward very fast. Way to burst the sexual attraction bubble.
However, they're now aware of their undeniable connection with each other and so, the damage has been done. But as they have to remain aloof and professional at Boomerang from the next day onwards, their work has really been cut out for them. Adam doesn't want to jeopardize his chance of losing the investment money and Alison has to prove herself to her father. Thus, begins the shenanigans.
Adam Blackwood, the owner of Boomerang, is planning to launch Blackwood Entertainment with the help of money from Quick Industries. Driven by his tragic past, Adam built Boomerang from nothing and he's proud of it. But he's hiding a secret that he can only get away from when he surfs. So when he finds out that Alison is no stranger to mistakes like him, he wants to get to know her better. In his own rigid-and-proud way which no, Adam.
Alison Quick, Ethan's ex and the daughter of Graham Quick, has been employed by her father to ascertain if investing in Blackwood Entertainment will be worth it. Determined to prove to her father that she's the best at her job despite her many mistakes, Alison can't let Adam be a distraction. However, Graham has his own agenda and it's time to see if Alison would rise up to the task of challenging her father's way of doing business.
Despite being angsty and sometimes over-dramatic, I somewhat enjoyed reading Rebound. However, I was bothered by the fact that Alison felt free about vocalizing her sexual desires only with Adam. It apparently hadn't been the case ever before and came as a slight annoyance. It's well-known that she's no stranger to partying and then there's the case about what happened with Ethan. Other than that, I wasn't a fan of Adam because of how he saw Alison as to be the one and described her vagina as err, 'home.' Who does that? So yeah, I definitely liked Alison way more than Adam and even she annoyed me a couple of times. Yet she came through and Adam didn't, so there's that.
Rebound is, for the most part, an engaging read with a couple of unexpected plot twists and revelations thrown in that work despite the predictability factor. It's much more serious and angsty than Boomerang (which I usually like but didn't this time around). Also, I wasn't a fan of how everything turned out because it felt too easy to me. It has its moments but mainly, I found Rebound to be definitely lacking. Maybe if the romance was stretched out over a longer period of time, it'd have all worked better for me? Still, try it, you might end up enjoying it more than I did.
THE QUOTES
'Suddenly all of it feels like such treacherous terrain, like it's unsafe to love or trust in any direction. Like it's unsafe to love or trust me.'

'You've got to let the bad shit be what it is sometimes.'