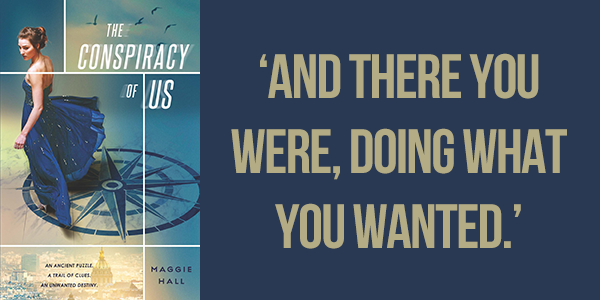 ABOUT THE BOOK
The Conspiracy of Us by Maggie Hall
young adult contemporary thriller published by Putnam Juvenile on January 13th, 2015
first book in The Conspiracy of Us trilogy
Avery West's newfound family can shut down Prada when they want to shop in peace, and can just as easily order a bombing when they want to start a war. Part of a powerful and dangerous secret society called the Circle, they believe Avery is the key to an ancient prophecy. Some want to use her as a pawn. Some want her dead.
To unravel the mystery putting her life in danger, Avery must follow a trail of clues from the monuments of Paris to the back alleys of Istanbul with two boys who work for the Circle—beautiful, volatile Stellan and mysterious, magnetic Jack. But as the clues expose a stunning conspiracy that might plunge the world into World War 3, she discovers that both boys are hiding secrets of their own. Now she will have to choose not only between freedom and family–but between the boy who might help her save the world, and the one she's falling in love with.
THE RATING
THE REVIEW
Fast-paced and chockfull of adrenaline pumping action, The Conspiracy of Us is an international thriller spanning two continents. A dash of realism with a unique twist involving the conspiracy theory of Alexander the Great and the Diadochi in the same vein as Dan Brown's The Da Vinci Code, with romance thrown in for good measure, The Conspiracy of Us is a highly captivating read.
Avery West's only family is her mother and together, moving from one town to another, they somehow survive. However, all that moving has taught Avery to not get attached because it only brings about friendships that aren't meant to last and pain that she can do without. So it's no surprise when her mother tells her that they're moving out of middle-of-nowhere Maine before the weekend's over. As her mother leaves for a two-day business trip and Avery having had enough, she agrees to be Jack Bishop's date for prom that night.
At prom, things escalate quickly when Stellan gets involved along with whatever Jack is up to. Faced with a choice of meeting a filthy rich Alistair family who she is probably related to, Avery finds herself on a private plane en route to Paris. In Paris, Avery is forced to run for her life amid a wild goose chase for answers about her connection to a family that might just prove fatal for her.
The beginning of The Conspiracy of Us is nothing out of the ordinary but what makes it different from all the other hot-new-guy-at-school-and-a-sudden-excursion-abroad is what comes after it. Yes, there are cheesy lines and Avery isn't always a model decision maker but she's a fleshed out character who tends to make mistakes every now and then. In spite of her mistakes, Avery is clever and a quick learner who isn't about to give up control of her life as the battle for power rages on.
Maggie Hall has done an amazing job of weaving an irresistible plot about conspiracy fiction that I don't think has ever been done before in young adult fiction. Hall has flawlessly captured the quiet grandeur associated with a terrible weight of responsibilities and lavish lifestyles in secret societies. Full of gore, violence, breathtaking locales, swoonworthy scenes and a close look into the blithe lifestyle of the ultra rich, there's not one wasted moment in The Conspiracy of Us. A splendid, heart-stopping start to a trilogy, I highly recommend The Conspiracy of Us!
THE QUOTES
'Is it possible to feel nostalgic for something that never actually happened? If it was, it was a shade of toska. A craving for something you couldn't possibly understand. A craving I was finally letting myself feel, only to wish I hadn't.'

'Sometimes I can't tell if you're trying to interrogate me, or kill me, or sleep with me.'