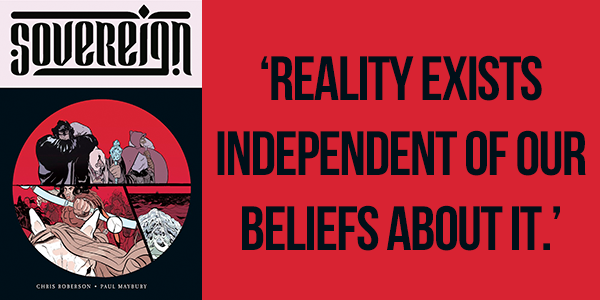 ABOUT THE BOOK
Sovereign, Volume 1 by Chris Roberson and Paul Maybury
historical high fantasy comics published by Image Comics on December 16th, 2014
first volume in Sovereign comic series
An epic fantasy in the tradition of Game of Thrones, Sovereign is set in a world which once knew gods, demons, and magic, and to which all three are returning. New York Times bestseller Chris Roberson joins artist Paul Maybury to tell the story of masked undertakers facing the undead with swords, of civil wars and cultures in collision, and of ancient threats emerging from the ashes of history to menace the future.
Collects Sovereign #1-5, plus extras.
THE RATING
THE REVIEW
Sovereign is a multi-layered, high fantasy that spans different colliding cultures who must fight together to stop the creatures of the other worlds squeezing their way into Khend as the four domains of their world draw close together. The politics and power take a backseat in the face of dangerous inhuman forces. The concept of Sovereign is as complex as it is intense and that's the beauty of it all.
The Luminaries have stepped out of their walls of silence to carry out their sacred duty and warn the Horselords about the coming apocalypse. They're masked outcasts who no longer plan to ignore the world around them. On their journey to Khend, they encounter demons from the unreal inhabiting dead bodies of the lowlanders. As their duty, they tend to the dead by easing their passage into the next world.
Unexpectedly, the emperor of Khend, Sanram Rahn, has died without naming his successor which creates conflict among his three sons. Meanwhile, the travelers from Albelund come across an apparently dead monster, Finback, attempting to attack their ship. They see many a strange things and arrive at the palace at the same time as the Luminaries. In the palace, arguments ensue among the three groups but come to a close when the emperor rises from the dead.
In the Unreal, there are countless domains of which the World Tree is but a small component. When the four domains of the World Tree draw away from it and closer together, a new epoch arrives out of fire and battle at the time of Convergence. This is what the Luminaries fear, that as the walls of their world are weakened, anyone from demons to insane gods will be able to cross into Khend to quell their hunger for light and heat.
Being as multi-layered as Sovereign is, it's not easy to gather what's actually happening right away but it doesn't take long to be enchanted by the vastness of the plot. The story-telling aspect of the comic is well-executed with a plot twist that I didn't see coming. Maybury's rusty artwork goes well with the concept of Sovereign, taking into account the many terrains and kinds of ethnicity. Sovereign gets many points for its originality as well as the world-building. While volume one of Sovereign proved to be compelling enough, I hope the second volume will be better.
THE QUOTES
'The dead feel no shame for what the light will expose, but instead fear what the darkness holds.'

'There are realities beyond the realms of senses, and the world is larger than any of us imagine.'