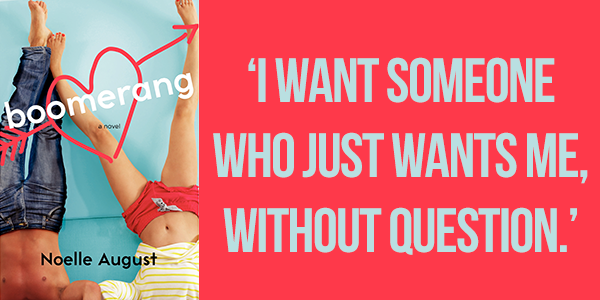 ABOUT THE BOOK
Boomerang by Noelle August
new adult contemporary romance published by William Morrow Paperbacks on July 8th, 2014
first book in Boomerang series
Welcome to Boomerang.com, the dating site for the millennial gen with its no-fuss, no-commitments matchups, and where work is steamier than any random hook-up.
Mia Galliano is an aspiring filmmaker. Ethan Vance has just played his last game as a collegiate soccer star. They're sharp, hungry for success, and they share a secret.
Last night, Ethan and Mia met at a bar, and, well . . . one thing led to another, which led to them waking up the next morning—together. Things turned awkward in a hurry when they found themselves sharing a post hookup taxi . . . to the same place: Boomerang headquarters.
What began as a powerful connection between them is treated to a cold shower courtesy of two major complications. First, Boomerang has a strict policy against co-worker dating. And second, they're now competitors for only one job at the end of summer.
As their internships come to an end, will they manage to keep their eyes on the future and their hands off each other, or will the pull of attraction put them right back where they started?
THE RATING
THE REVIEW
It is a known fact that new adult can get repetitive, dull, and eye-roll worthy which made me go from being wary about the genre to completely writing it off. I figured I've had enough, but then Boomerang happened. Boomerang has been making enough waves that even I got curious about it. Lighthearted and fun, it promised what most in the genre never do, which meant that there's an actual plot to go with the ample amount of foreplay and sex.
Mia Galliano and Ethan Vance are vying for the same position at Boomerang, a fun, no-fuss dating website. However, they meet at a bar the night before they're to start working at Boomerang and hook up. Waking up next to each other, their combined hangovers and forgetfulness over how the night actually went is hilarious. Awkward banter ensues and much to their surprise, they end up taking the a taxi to the Boomerang headquarters. The discovery that they're going to be each other's competition from now on means that the game is on.
The mystery of how they spent their night together nowhere near solved and their attraction for each other going strong, Mia and Ethan know that a lot is at stake. The fact that the internship is an essential step to having a successful career makes them step back and analyse the whole ordeal of trying to win the position and resisting each other. Told in alternate point of views, it made things rather fun and awkward.
Mia is a strong heroine in that she isn't oh-so-shy when it comes to sex and her body which is very refreshing in a new adult book. Mia and Ethan both experienced issues in their previous relationships but that didn't get in the way of their lives. As such, Ethan isn't one of those guys who turn angsty and self-controlling as a result of a bad relationship. Eventually, in between dating Boomerang customers and working together to impress the investors, Mia and Ethan get to know each other more and become friends of sorts.
The actual details of what happened on their hookup night are present in bits and pieces throughout the book which are pretty entertaining and fun. The positive portrayals of family dynamics, friendships and how they can be crazy in a good way are much appreciated. The aspect of finding one's self, even if it's just about discovering what to do in life, is understandable as it's a natural part of life at age 21. So there are no tortured young people trying to solve their problems with meaningless sex here.
Boomerang comes with drama, fun, and heated moments yet I wasn't completely won over by it. For me, Boomerang was missing a spark that would have made it amazing for me. I guess that has to do with a tad bit of predictability that comes attached with rom-coms. Despite that minor issue, I do look forward to reading more from Noelle August aka the author duo, Veronica Rossi and Lorin Oberweger. Overall, Boomerang is a much-needed fun, smexy addition to the new adult genre.
THE QUOTES
'I wonder if Ethan feels like I do sometimes. Like I'm playing at adulthood. At being confident in totally strange situations.'

'I want to be able to look at a person and say, 'I want you.' Or 'I really like you so much.' It's like none of us – not me, not any of my friends, no one I know, will ever just put themselves out there and say, 'I want to be with you.' We're all scared of giving up the power of being the person who cares less.'