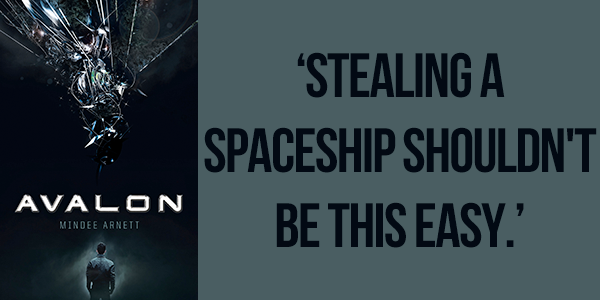 ABOUT THE BOOK
Avalon by Mindee Arnett
young adult science fiction published by Balzer + Bray on January 21st, 2014
first book in Avalon duology
Of the various star systems that make up the Confederation, most lie thousands of light-years from First Earth-and out here, no one is free. The agencies that govern the Confederation are as corrupt as the crime bosses who patrol it, and power is held by anyone with enough greed and ruthlessness to claim it. That power is derived from one thing: metatech, the devices that allow people to travel great distances faster than the speed of light.
Jeth Seagrave and his crew of teenage mercenaries have survived in this world by stealing unsecured metatech, and they're damn good at it. Jeth doesn't care about the politics or the law; all he cares about is earning enough money to buy back his parents' ship, Avalon, from his crime-boss employer and getting himself and his sister, Lizzie, the heck out of Dodge. But when Jeth finds himself in possession of information that both the crime bosses and the government are willing to kill for, he is going to have to ask himself how far he'll go to get the freedom he's wanted for so long.
THE RATING
THE REVIEW
Anything that has to do with science fiction or criminals of any sort perks me up and I just have to read it asap. Avalon promises both of these and in space! Corruption, crime lords and spaceships, what could go wrong? Many things, apparently.
But first, a thing about two-dimensional characters. I like my books to be character driven or at least books with characters who are developed enough that they don't turn out to be bland. Jethro and his crew are developed but it's the kind of development that has already occurred and we're just getting the end result of that. I guess I just didn't find them well-written. For instance, all Jeth wants is freedom by flying away in Avalon, but he his responsibilities holding him back (such as his younger sister and the rest of the crew). His situation is a bit tragic, true, but that didn't really make me feel much of anything.
Jeth's dead parents spaceship, Avalon, is in the hands of a crime lord who is also his boss. Since Jeth and his crew are best thieves this side of the universe, Hammer seems to have no intention of letting go of them. Still, Jeth manages to strike up a deal to venture into the don't-go-there-sudden-deaths-may-occur Belgrave Quadrant to salvage Donerail in return for ownership of Avalon. What they find there, shocks them.
Avalon is action-packed and laden with secrets, twists, and turns throughout. Much of the story details the crew's mission to salvage Donerail so, everything adds to the action. There is a romance but it felt rushed to me because I thought it was more of a plot device than actual romance. There are also betrayals and problem solving as well as banter to lighten up the grave situations the crew keeps finding itself in.
What I enjoyed about Avalon is the worldbuilding. Though we don't get to know how civilization came to be in space, we do know that the Interstellar Transport Agency controls everything and even in space, no one is free. I found the concept of space travel via metagates and metadrives to be exciting because it added to just how big and dangerous the setting of Avalon is.
As much as unputdownable Avalon is in terms of plot, the bland characters and Jeth's inner conflict didn't do much for me. Readers who are more into some heavy sci-fi elements and don't mind lack of unique characterization might end up enjoying Avalon. As for me, I might pick up Polaris since it's a duology and I want to know how it will end.
THE QUOTES
'He didn't know if it was real, if freedom was something you could earn or win after a long, hard fight, or if it was just an illusion.'

'For the first time in his life the idea of freedom might not exist at all threatened to overwhelm him. Was the promise of freedom just something the desperate and oppressed clung to because they didn't have anything else? Had it always been just a dream, a fantasy built up in the mind of a boy forced to grow up too soon?'