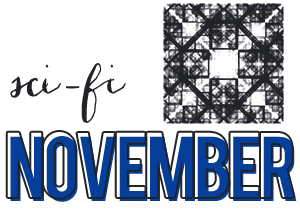 Take out your light sabers 'cause it's
that
time of the year again. Last year, the month long event was hosted by
Rinn
and this year it's being co-hosted by her and
Oh, the Books!
Like last year, I wouldn't be posting as much as I've yet to write the posts despite having written all my ideas down. I'm not a hardcore sci-fi reader or sci-fi anything, to be honest. Yet I do enjoy the genre thoroughly and some of my favorite movies are sci-fi like Inception, Avatar, The Adjustment Bureau, and Megamind. When it comes to books, I only recently read Ernest Cline's Ready Player One before which I've only read YA sci-fi and Dan Brown books. I guess I got too distracted by YA fantasy to read much of anything? Oops. But sci-fi fantasy counts so it's all good.
My plans for celebration of sci-fi aren't as ambitious as they were last year because I always fail. Darn it.
Sci-Fi on a Screen
For all my love for the genre, there are some essential sci-fi movies I haven't yet watched but really want to. I'm planning to watch all the X-Men movies and whoa, there are a lot of them (meaning that I might not watch all seven of them).
X-Men
X2
X-Men: The Last Stand
X-Men Origins: Wolverine
X-Men: First Class
The Wolverine
X-Men: Days of Future Past
And oh, I'd be continuing watching Doctor Who.
Sci-Fi in Graphics
It's my goal this year to read at least one manga and I think I'll go for sci-fi fantasy graphic novels. I was a huge Archie Comics reader and then I just drifted into the world of books without any illustrations.
The Wicked + The Divine
Volume 1 by Kieron Gillen and Jamie McKelvie – This I really want to read because it's totally calling to me.
Saga
Volume 1 by Brian K. Vaughan and Fiona Staples – Everyone raves about this graphic novel series and now I'm curious.
Sci-Fi to Read
There are some YA titles that I've been saving up to read in November which is basically Marissa Meyer's The Lunar Chronicles. I'd be rereading Cinder because I really want to and Fairest releases in January so it also helps with that.
Cinder by Marissa Meyer (reread)
Scarlet by Marissa Meyer
Cress by Marissa Meyer
Sci-Fi to Post
My plans are still under wraps so stay tuned!
Do you like sci-fi? Are you taking part in Sci-Fi November? What are some of your favorite sci-fi reads?