Of trends and lesser-knowns.
Classic When it Comes to Island Settings
Stranded with Suspense and Murder
I've watched one too many movies where a group of people get stranded on an island only to find that their number is decreasing one by one. Nothing good could come out of
that
.

In Gretchen McNeil's Ten, it was supposed to be a three-day party weekend on an island. But now it's all about one person having a killer party. Similarly, Abigail Haas' Dangerous Girls and Dangerous Boys is all about everything gone wrong when a brutal murder happens. Running for your life has a new meaning and it's Haas.
However, in Megan Shephard's The Madman's Daughter, we go back in time on a remote tropical island to uncover the truth about Juliet Moreau's mad, mad father. Whereas Francis Hardinge's The Lost Conspiracy is more about adventure than murder but there's definitely something sinister going on.
Threats and Unraveling Truths On an Island
What is it about islands that's just so damn creepy, anyway?
I mean, yeah, they could be romantic and beautiful like that one time in Stephenie Meyer's Breaking Dawn
(barf). However, islands are majorly full of truths and mystery and if you want to get off one, you gotta figure out the truth. For instance, how in Suzanne Collins' Catching Fire, the arena was in a jungle with the Cornucopia situated on an island.
But could island settings also be something wrought with a different kind of a danger?
Ransom Rigg's Miss Peregrine's Home for Peculiar Children is spine-tingling for a sinister reason and Marcus Sedgewick's Midwinterblood is an unsettling story about immortality set in the future on an, you guessed it, island.
Anna Collomore's The Ruining features insanity and I bet that insanity on an island is worse than in other place. There's just something about it… Moving on, E. Lockhart's We Were Liars is creepy on a private island.
But it's not always psychological as Austin Aslan's The Islands at the End of the World is a bloodchilling dystopia set on Hawaii featuring an epileptic main character. Moreover, Allegra Goodman's The Other Side of the Island is all about finding out the truth and Lynne Matson's Nil and Nil Unlocked feature an island that's full of dangers and a terrible truth.
Francine Prose's The Turning takes place on an isolated island where things are bound to get spooky and Megan Crewe's The Way We Fall is about a community surviving on an island after it's been quarantined because of a virus.
Crash! Now Survive
For some reason, crashing on islands isn't as popular as one would think. It is a chilling scenario, though to find yourself on an island with no way out. How would you survive?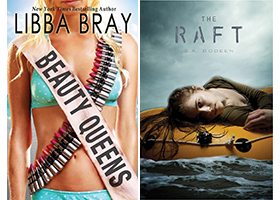 Libba Bray's Beauty Queens is perhaps a stellar book when it comes to suvival because you got a bunch of beauty pageant participants on an island. Fun times ahead, eh? Contrastingly, S. A. Bodeen's The Raft is about a couple of survivors, one of whom is unconscious for a better part of the book.
Basically, books set on island make me wish never to be on one. Do you like books set on islands? Does it get old for you fast or does the thrill of it all excites you?