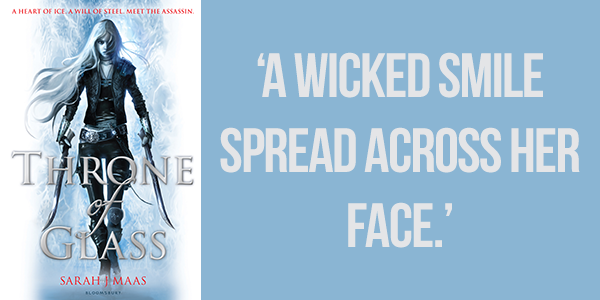 ABOUT THE BOOK
Throne of Glass by Sarah J. Maas
young adult fantasy published by Bloomsbury Publishing on August 2nd, 2012
first book in the Throne of Glass series
In the dark, filthy salt mines of Endovier, an eighteen-year-old girl is serving a life sentence. She is a trained assassin, the best of her kind, but she made a fatal mistake: she got caught.
Young Captain Westfall offers her a deal: her freedom in return for one huge sacrifice. Celaena must represent the prince in a to-the-death tournament—fighting the most gifted thieves and assassins in the land. Live or die, Celaena will be free. Win or lose, she is about to discover her true destiny. But will her assassin's heart be melted?
THE RATING
THE REVIEW
When it comes to books, attachment to characters is very important to me and everything else is secondary. If I don't give a fuck about a character, the plot won't do much for me. This was pretty much the case with me reading Throne of Glass for the third and possibly, the last time. I found the writing to be repetitive and even groan-worthy and the plot patchy at times. However, I did still like some things so there's that.
First off, I don't know how I didn't spot all the instances where so much emphasis is put on the collective beauties of Celaena and Dorian and even Chaol, at times. It becomes redundant and annoying and undoes the seriousness of things. Secondly, the love triangle. I don't mind characters having crushes left and right, but to switch from Chaol to Dorian in the same fucking paragraph is just not good storytelling. Thirdly, I just don't like Celaena as much anymore. Her arrogance knows no bounds and honestly, that made me grow tired of her endless claims of being the best when she was stupid enough to get poisoned.
The thing about Celaena is that she's not realistic, at least not in this book. There are several sides to her character and not every side is actually believable. She has anger management issues which renders her childish and whiny more than anything else. Also, I get that being a slave didn't break her spirit, but there isn't much difference in her character arc from The Assassin's Blade to Throne of Glass in between which is a year spent in Endovier as said slave. In other words, I would have believed her to be girly and assassin-y if it weren't for Endovier as the whole look!-girls-can-be-anything aspect felt more forceful than natural.
Celaena started out as being mostly unaffected by Dorian to talking Dorian off during each and almost everyone of their interactions and I bet it would have not been happened if Dorian wasn't so taken by her. I never saw the chemistry there and will never get why there was a need for it to happen in the first place. On the other hand, she didn't receive the best of welcome by Chaol and their relationship took a lot of time to evolve into something more than mutual dislike which is why their relationship dynamic seemed much more realistic to me.
Points for world-building and the intrigue of magic being outlawed. I also liked how it is apparent who Celaena really is quite a few times. I appreciate it when plot-points in series are tied throughout the books the way the are in Throne of Glass. I do have some questions as to how Elena can see some things and not the others, though. Like isn't that a super convenient plot device? Also, if more focus was put on the actual trials it would have definitely improved the book by a landslide as it severely lagged in the middle. As a whole, I liked Throne of Glass okay, but it's nothing out of the ordinary.
THE QUOTES
'How long was I asleep?' she whispered. He didn't respond.
'How long was I asleep?' she asked again, and noticed a hint of red in his cheeks.
'You were asleep, too?'
'Until you began drooling on my shoulder.'

'Sometimes, the wicked will tell us things just to confuse us–to haunt our thoughts long after we've faced them.'