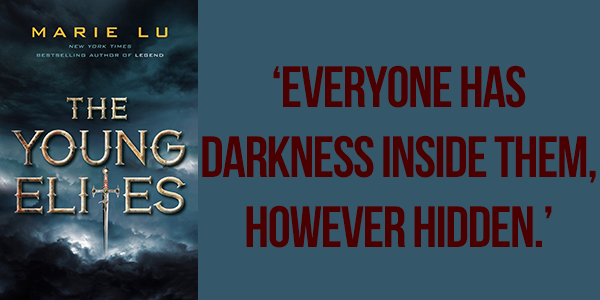 ABOUT THE BOOK
The Young Elites by Marie Lu
young adult fantasy published by Putnam Books for Young Readers on October 7th, 2014
first book in The Young Elites series
I am tired of being used, hurt, and cast aside.
Adelina Amouteru is a survivor of the blood fever. A decade ago, the deadly illness swept through her nation. Most of the infected perished, while many of the children who survived were left with strange markings. Adelina's black hair turned silver, her lashes went pale, and now she has only a jagged scar where her left eye once was. Her cruel father believes she is a malfetto, an abomination, ruining their family's good name and standing in the way of their fortune. But some of the fever's survivors are rumored to possess more than just scars—they are believed to have mysterious and powerful gifts, and though their identities remain secret, they have come to be called the Young Elites.
Teren Santoro works for the king. As Leader of the Inquisition Axis, it is his job to seek out the Young Elites, to destroy them before they destroy the nation. He believes the Young Elites to be dangerous and vengeful, but it's Teren who may possess the darkest secret of all.
Enzo Valenciano is a member of the Dagger Society. This secret sect of Young Elites seeks out others like them before the Inquisition Axis can. But when the Daggers find Adelina, they discover someone with powers like they've never seen.
Adelina wants to believe Enzo is on her side, and that Teren is the true enemy. But the lives of these three will collide in unexpected ways, as each fights a very different and personal battle. But of one thing they are all certain: Adelina has abilities that shouldn't belong in this world. A vengeful blackness in her heart. And a desire to destroy all who dare to cross her.
THE RATING
THE REVIEW
This book right here is not about a hero, it's about how a villain is made and that's the essence of The Young Elites. It's everything I loved about it. Marie Lu crosses all boundaries of predictability and goes into the uncharted territory of shock and awe that many seldom cross. The Young Elites is the amalgamation of everything I've come to adore about the fantasy genre; the violence of Susan Ee's Angelfall, the sweeping world of Sarah J. Maas' Throne of Glass, the wickedness in V. E. Schwab's Vicious and that something that sets The Young Elites apart from every other.
Adelina Amouteru is a survivor of the blood fever that took her left eye and marked her as a malfetto. It's not a victorious survival for she is marred for life, and on the continent of Kenettra, being a malfetto is akin to a death sentence. Stripped of respect and his reputation as a merchant, her father went to extreme lengths to make Adelina show powers not of this world, to be worth something. To be a young elite. The constant abuse of his father, the love he showered her younger sister Violetta with, and the final straw which drove her to the edge. Adelina escapes from his prison only to constantly find herself behind more and more bars.
Teren Santoro is the Lead Inquisitor, working to eliminate all malfettos and always on the lookout for the young elites. His character surprised me the most. He is one of those who despises malfettos and he's wicked to his bones. Self-righteousness drives him which is revealed through the changes in perspective. Teren's definitely someone to fear because he doesn't spare anyone who crosses him, least of all a malfetto who dared defy him. So seeing him on par with Adelina is something to behold.
Enzo Valenciano is the leader of the Dagger Society, one of the groups of young elites who hope to find more like them and plan to bring down the king and queen. There's not much we get to know about him; he's no open book and I preferred it that way because of the events that took place. There's so much mystery surrounding him and all of his scenes with Adelina were underlaid with such power and sensuality that I wanted more.
The violence in the story is so well-crafted that I could feel the delicious darkness inside Adelina and oh, what darkness it is! It churns and churns and builds up into something that's mindblowing. But the darkness is not limited to Adelina, oh no every character is dark and I supposed much of it is because of the kind of world they live in and what they have to endure on a day to day basis, I just know that I thoroughly enjoyed it. The secondary characters are well-defined especially Raffaele who I adored but it was Spider that I loathed. The next installment in the series is definitely going to be bigger and more badass and I just can't wait to delve back into the world of The Young Elites. Marie Lu decided to wrench my happiness away and now I'm not quite sure what to make of that ending. And oh, that dagger on the cover? It actually shows up in the book.
THE QUOTES
'Be true to yourself. But that's something everyone says and no one means. No one wants you to be yourself. They want you to be the version of yourself that they like.'

'No one ever gives me their kindness without hoping for something in exchange.'