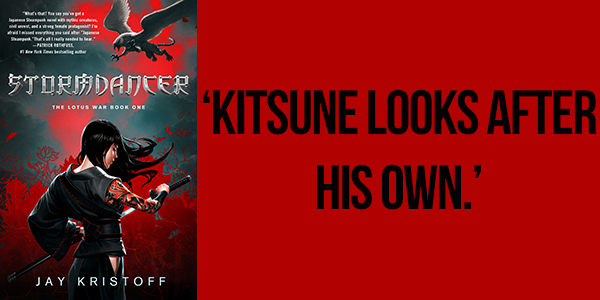 ABOUT THE BOOK
Stormdancer by Jay Kristoff
young adult steampunk fantasy published by Thomas Dunne Books on September 18th, 2012
first book in The Lotus War trilogy
A DYING LAND
The Shima Imperium verges on the brink of environmental collapse; an island nation once rich in tradition and myth, now decimated by clockwork industrialization and the machine-worshipers of the Lotus Guild. The skies are red as blood, the land is choked with toxic pollution, and the great spirit animals that once roamed its wilds have departed forever.
AN IMPOSSIBLE QUEST
The hunters of Shima's imperial court are charged by their Shōgun to capture a thunder tiger – a legendary creature, half-eagle, half-tiger. But any fool knows the beasts have been extinct for more than a century, and the price of failing the Shōgun is death.
A HIDDEN GIFT
Yukiko is a child of the Fox clan, possessed of a talent that if discovered, would see her executed by the Lotus Guild. Accompanying her father on the Shōgun's hunt, she finds herself stranded: a young woman alone in Shima's last wilderness, with only a furious, crippled thunder tiger for company. Even though she can hear his thoughts, even though she saved his life, all she knows for certain is he'd rather see her dead than help her.
But together, the pair will form an indomitable friendship, and rise to challenge the might of an empire.
THE RATING
THE REVIEW
Stormdancer, ah where do I even begin. Okay, I admit that I had a hard time adjusting myself to the terminology vomit which is why it took me more than a month to finish it. Also, I just wasn't ready for it when I started reading it, I guess. However, once I got determined to continue reading Stormdancer, I was quickly absorbed into the story and what a story it turned out to be! Jay Kristoff does like to tear readers into pieces and leave them an emotionally unstable mess. I got teary eyed twice while reading it which hardly ever happens. Emotionally overwhelmed like you don't even know (or maybe you do if you've read Stormdancer).
In the wounded land of Shima, it's hard to find a soul who hasn't been touched by the impurity of the blood lotus. If it's not addiction to smoking the wretched weed or slaving in a field of the blood lotus, it's getting choked by the chi exhaust. There is no wilderness save for the arashitora and the war has made everyone bitter, poor and tired to the bone. It seems like it's an end of the Shima Isles but the hunt for a thunder tiger is a game changer.
Yukiko is my home girl. She's such a striking combination of brave and weak and broken and whole that I just couldn't help but admire her from page one. She's lived such a difficult life and the pain never ends, not for her. She's a rebel at heart and never the one to ever back down from a challenge because her will is made of steel. Yet she's still young and has flaws and makes mistakes that are so human, it's heartbreaking. Never have I ever been so glad that she found a friend in a thunder tiger.
Buruu is a myth made flesh and blood, a son of the thunder god Raijin; an unconquerable arashitora with equal amounts of sarcasm and loyalty. My heart bled for him, his despair, his crippled self, and his wounded heart. How he went from a ragey beast to a purring thunder tiger is so, so moving to read about because 'feathers grow back, sisters do not.'
Stormdancer is all-encompassing in that it has equally captivating characters and a complex, solid plot. The dirty dealings of the Shōgun and the Lotus Guild are something to read about from the disgraceful actions of Yoritomo to the horrifying mindset of an Artificer. Moreover, the secondary characters are fleshed out so well. Yukiko isn't the only appealing female character (though, she's the best) because there's the exotic Kasumi, the beautiful Kaori, the flawless Lady Tora Aisha and a playful Michi. In terms of the male characters, I found Akihito to be a gift for Masaru and Daichi for Yukiko, Kin is so fine, and Hiro ended up complicating matters for me. And oh, Yoritomo. Let me count the ways how I loathe thee. His villainy is commendable though so, kudos to Jay Kristoff for making me feel this way about yet another evil character.
Stormdancer is pure bliss of a book for a fantasy lover. From the terrible oni to the majestic arashitora, from the red skies of the Kigen City to the endless rain of the Iishi Mountains, from the grief stricken Masaru to the rebellious Yukiko, Stormdancer is an absolute joy and utterly miserable book to read. Joy because there's so much grandeur and utter misery because it's just such a moving story. Stormdancer starts out complicated, there are moments of mirth and there are moments of all-consuming rage and in between it all lies a truly invincible friendship and that's where all the beauty lies.
THE QUOTES
'To be a servant can be a noble thing, but only as noble as the master served.'

'Dying is easy. Anyone can throw themselves onto the pyre and rest a happy martyr. Enduring the suffering that comes with sacrifice is the real test.'