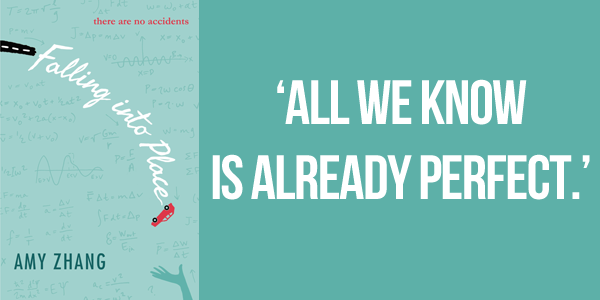 ABOUT THE BOOK
Falling into Place by Amy Zhang
young adult contemporary published by Greenwillow Books on September 9th, 2014
On the day Liz Emerson tries to die, they had reviewed Newton's laws of motion in physics class. Then, after school, she put them into practice by running her Mercedes off the road.
Why? Why did Liz Emerson decide that the world would be better off without her? Why did she give up? Vividly told by an unexpected and surprising narrator, this heartbreaking and nonlinear novel pieces together the short and devastating life of Meridian High's most popular junior girl. Mass, acceleration, momentum, force—Liz didn't understand it in physics, and even as her Mercedes hurtles toward the tree, she doesn't understand it now. How do we impact one another? How do our actions reverberate? What does it mean to be a friend? To love someone? To be a daughter? Or a mother? Is life truly more than cause and effect?
THE RATING
THE REVIEW
Falling into Place is the kind of contemporary I've been gravitating towards more and more. Oh yes, I like the fluff, the snark, the flirtiness but man, I love the messy-because-miserable even more. It's raw and gritty; just how life is. You just don't know if the ending would leave you a big grin, teary sad or if it will punch you in the gut. I like books that leave an impact on me, shake me to the core and hurt my heart. Falling into Place will keep doing all of these things to me for a long time to come because fuck, Liz Emerson left an impact on me.
Liz Emerson, you're such a hard person to like, but I like you anyway. You were constantly in a bad place, but you had a conscience anyway. Isn't it such a human thing to crush someone to pieces because that's what you're used to doing, even though you know what you're doing is essentially wrong? You've blown the stigma associated with unlikeable characters out of the water because damn, why should I've to stop myself from liking you as a character because of your past of morally questionable actions? I don't have to and I don't.
It's one thing to have some bad days in your life but to have a life made up wholly of bad days that just go worse day by day is what Liz Emerson's life has been like lately. There's a point beyond which humans just give up and for some, it's a daily struggle between giving in and giving up. Liz has went beyond that point the moment she let herself go but instead got suspended between life and death. This story takes place in such a moment.
Friendships begin in the unlikeliest of ways and that's exactly how the friendship among Liz, Julia and Kennie began. They look after each other but they also give each other space. They don't get on each others' backs when it comes to stopping them from making mistakes which doesn't always work to their advantage as it's not the wisest thing to ever do. Still they know each other and that's what really counts even if they don't tell each other every single thing. Then there's Liz's mother who never knew how to be one. As she sits in the waiting room trying to stop her brain from going into overdrive of worst case scenarios, she realizes she isn't ready to stop being one. It's the stuff made of heartbreaks. Liam, who still has happiness inside of him even when Liz lost hers bit by bit whenever she crushed another human being.
Falling into Place is beautiful, overwhelming, poignant and comes from a place of deep-rootedness. Life has a funny way of balancing things but it isn't always fair in doing so because things that were once lost might never recover in the shape they were lost. It may pain you to read Falling into Place or it may not because it's also a book that not everyone would see for what I saw or feel the things that I did. Amy Zhang is a fabulous writer and that I want to read more of her books because damn, I had tears in my eyes when I finished reading Falling into Place.
THE QUOTES
'The textbook made the world black and white and drew a very uncompromising line between what was and what could never be, as though everything was already dictated and Liz's only job was to keep breathing.'

'Some people died because the world did not deserve them.
Liz Emerson, on the other hand, did not deserve the world.'