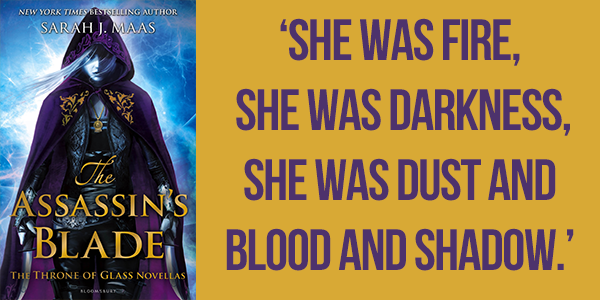 ABOUT THE BOOK
The Assassin's Blade
by
Sarah J. Maas
young adult fantasy publishe
d by Bloomsbury Childrens
on 4 March 2014
prequel to the Throne of Glass series
Celaena Sardothien owes her reputation to Arobynn Hamel. He gave her a home at the Assassins' Guild and taught her the skills she needed to survive.
Arobynn's enemies stretch far and wide – from Adarlan's rooftops and its filthy dens, to remote islands and hostile deserts. Celaena is duty-bound to hunt them down. But behind her assignments lies a dark truth that will seal her fate – and cut her heart in two forever…
THE REVIEW
The best thing about The Assassin's Blade is how each of the five novellas tell a different story but form a whole arc from when Celaena was an annoying, selfish and arrogant assassin to everything that led her towards her enslavement in the Salt Mines of Endovier. Much is revealed about Celaena Sardothien's life before the events of Throne of Glass. I am definitely curious about how these novellas will come into extended play later on in the series.
However, The Assassin's Blade and I seem to have lost some love on my reread as I ended up finding the novellas less enjoyable. Apparently, I had forgotten much of the plot of the novellas and could only wonder at the importance of The Assassin and the Healer and The Assassin and the Underworld. I had the most fun reading The Assassin and the Desert because of Ansel. Still, my favorite novella is The Assassin and the Empire and that's because of Sam. Obvs. And oh, I liked how the novella cleverly hinted at her true identity.
I was not expecting to like Yrene at all, but her personality is in such a contrast to Celaena's that I kept rooting for her till the end. Ansel of Briarcliff is just so violent and twisted and please let there be more of her later in the series. Farran and Arobynn are despicable as fuck and I really can't wait for their impending deaths later on in the series because that needs to happen. Especially Arobynn's.
There's no doubt that Celaena Sardothien is a strong character who can be immature and unapologetic as fuck. She can also be gullible which is understandable, I guess, with her not going through the worst of it yet. She's just so angry at everything and even though I know why she's angry, I couldn't help but think that much of that anger is displaced. The only way it'd make sense is if the King knew everything from the beginning and that it all had to go down this way.
Sam Cortland, where do I begin and where do I end? I don't think there's anyone who's read Throne of Glass series and not fallen in love with him. There were legit tears in my eyes at the end. Again. I now see just how important Sam is to Celaena's arc and story line and that's really something to take in. Poor Sam.
I'd definitely recommend starting the series with The Assassin's Blade and not Throne of Glass as that's the weakest book in the series. There's also a bit of foreshadowing in each of the novellas which I always enjoy. Despite not being necessary to the main plot of the series, it's interesting to see just how it all started and then there's also Sam.
THE QUOTES
'If you can learn to endure pain, you can survive anything. Some people learn to embrace it-to love it. Some endure it through drowning it in sorrow, or by making themselves forget.Others turn it into anger.'
'Life isn't easy, no matter where you are. You'll make choices you think are right, and then suffer for them.'