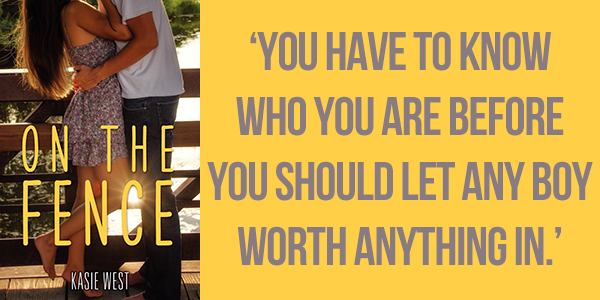 ABOUT THE BOOK
On the Fence by Kasie West
young adult contemporary romance published by HarperTeen on July 1st, 2014
For sixteen-year-old Charlotte Reynolds, aka Charlie, being raised by a single dad and three older brothers has its perks. She can out-run, out-score, and outwit every boy she knows–including her long-time neighbor, and honorary fourth brother, Braden.
But when it comes to being a girl, Charlie doesn't know the first thing about anything. So when she starts working at a chi-chi boutique to pay off a speeding ticket, she finds herself in a strange new world of makeup, lacy skirts, and bedazzlers. Even stranger, she's spending time with a boy who has never seen her tear it up in a pick-up game.
To cope with the stress of faking her way through this new reality, Charlie seeks late night refuge in her backyard, talking out her problems with Braden by the fence that separates them. But their Fence Chats can't solve Charlie's biggest problem: she's falling for Braden. Hard. She knows what it means to go for the win, but if spilling her secret means losing him for good, the stakes just got too high.
THE RATING
THE REVIEW
Admittedly, I was nervous about reading On the Fence because I loved The Distance Between Us and I didn't think Kasie West could top Caymen. However, Charlie is way different than Caymen and there's really no comparison between the two contemporaries other than that Kasie West wrote them. Moreover, On the Fence is not as light as it seems to be from the cover. There's Charlie's tomboyishness, family dynamics, awkward miscommunications, and a boy next door so it's sort of a book I knew I'd enjoy. And I did.
On the Fence is an endearing book with a main character who's into sports and is treated almost like a boy by her three older brothers and her next-door-neighbor-who-used-to-be-my-best-friends-but-is-now-best-friends-with-one-of-my-brothers, Braden. Almost but not quite. Three brothers and Braden equals a lot of banter especially because Charlie isn't the one to ever back down. She's competitive like that. However, Charlie's pretty clueless when it comes to how to be a girl. She never knew how. She feels the absence of a mother more than she could ever show and because no one in her family likes to talk about it, she has no one to open up to. That is, until the late night fence talks start with Braden.
The thing about their fence chats is that they act like nothing-going-on-here-dude about it during the day which is not something they really planned. It just happened. So they fight, tease, and pull each other's legs during the days and everything is subdued and personal during the nights. Braden is the epitome of the boy next doors because so adorable and funny and I was shipping them real good.
Charlie's brothers are either really protective of her or just really good friends with her especially Gage. However, I feel like I only really got to know Gage. Gage is the definitely the fun brother. Still, I'd have loved to know more about her brothers as well as her cop Dad who is overly protective in the Charlie's-my-little-girl way yet still caring and strict in a fatherly way.
Charlie struggles with nightmares about her mother's death and something is definitely off there. Her job at the boutique starts out pretty weird but turns into something much more. She manages to become friends with girls which is a totally new territory for her. Yet she cannot find it in herself to show her girly side to her family, then some boy starts paying her attention and her fence chats with Braden get pretty personal. Basically, everything just piles up and forces Charlie to just deal. Emotionally, Charlie needed to really grow and she does and I loved how Kasie West made that happen.
Kasie West has a phenomenal understanding when it comes to fleshing out her characters because this is the fourth book I read by her and I just need more, okay. I liked how everyone in Charlie's family is so close to each other despite everything. There was a couple of occasions where I had no idea what was happening and I got too frustrated with Charlie to just open her eyes. Still, On the Fence is an enjoyable read with fantastic character development and some pretty intense moments. Basically, it's everything you want to read during the summer so go on right ahead!
THE QUOTES
'You can only be you. No matter how much you might want to be the person they think you should be, you can't change who you are. It's up to them to accept you.'

'She felt like her life and everything it had ever contained were crashing down and burying her alive.'