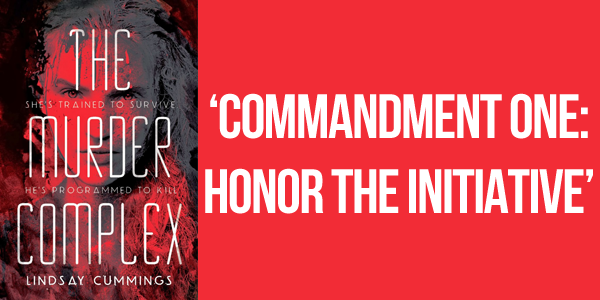 ABOUT THE BOOK
The Murder Complex by Lindsay Cummings
young adult science fiction dystopia published by Greenwillow Books on June 10th, 2014
first book in The Murder Complex series
An action-packed, blood-soaked, futuristic debut thriller set in a world where the murder rate is higher than the birthrate. For fans of Moira Young's Dust Lands series, La Femme Nikita, and the movie Hanna.
Meadow Woodson, a fifteen-year-old girl who has been trained by her father to fight, to kill, and to survive in any situation, lives with her family on a houseboat in Florida. The state is controlled by The Murder Complex, an organization that tracks the population with precision.
The plot starts to thicken when Meadow meets Zephyr James, who is—although he doesn't know it—one of the MC's programmed assassins. Is their meeting a coincidence? Destiny? Or part of a terrifying strategy? And will Zephyr keep Meadow from discovering the haunting truth about her family?
THE RATING
THE REVIEW
The more I think about it, the more I feel that The Murder Complex would have made headlines if it was released a couple of years ago. I say this because the predictability factor wouldn't have been as big as there were a lot of dystopias being released back then. However, The Murder Complex is a compelling and an action-packed read with a few elements that really put me off. Basically, The Murder Complex takes place in a pretty inventive world however, it's also overwrought with insta-love, weirdass curse words, and an overall chaotic storyline.
Yet, with a title like that, a book is expected to be filled with violence and blood and gore and it is which I just loved. There are fight scenes, chasing scenes, and murders that I was fully engaged in the story. The overpopulated world of The Murder Complex is a dark, stingy place to live in. Meadow lives in the Shallows with her family, everything is rationed, and people earn Creds.
Meadow is badass. She's strong, knows her way around, and is protective towards her family. She has to be since her mother is dead. I admired her will and the way she handled herself around pirated and the Initiative itself. Yet she got so swoony and lovey dovey towards Zephyr that it was like she was suddenly a completely different person.
Zephyr is a tortured soul who doesn't know what he's grieving for. He's a killing machine and the murders he isn't aware he's been committing are subconsciously affecting him pretty badly. I liked his thought process solely because of that reason. I also really admired the friendship between Talan and Zephyr. At one point, however, he comes close to dying after trying to commit suicide and that scene is pretty good. But when he turns into a murdered, damn he's unrecognizable.
Despite there being some really dark elements, the book fell short for me. Honestly, I'd have been all over it if not for all those aspects in the book similar to other books in the genre. Even the plot twist fell short because it's always something that has a likelihood of happening and when it did happen, I was sorely disappointed. Overall, I found The Murder Complex to be a forgettable read.
THE QUOTES
'Sometimes we have to give up little pieces of our humanity so that we can keep living.'

'I lose myself in the pumping of my legs, the hammering of my heart. I'm all body, and no mind.'